Makeup Mistakes That Make You Look Older
Shutterstock
We all want to look fresh-faced and younger, and makeup can be a great aid to that, but sometimes makeup mistakes can be more aging than no makeup at all. Keep in mind that your makeup style needs to evolve and adapt to your changing skin as you age. Tried and true techniques from your high school years will no longer cut it 15, 20, or 30 years later. 
You might be an old hand at applying your makeup, and if you're not careful, you can end up looking older, too. We've compiled a list of the most common makeup mistakes that will actually add years instead of removing them. Keep reading to find out if you're committing any of these aging mistakes and what you can do to correct them.
Foundation faux pas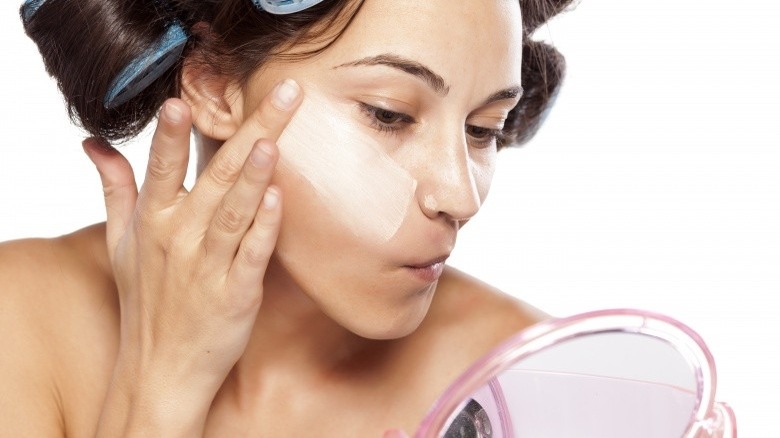 Shutterstock
Makeup mistakes that age you can start right at the foundation — literally. Foundation forms the base of any look, but as you age you need to be aware that your foundation needs will change. As Maybelline New York artist Melissa Silver explains, "No foundation is better than bad foundation, but good foundation is best." If you skip foundation, your skin tone will be uneven. If you apply your foundation too heavily, it can settle into fine lines and creases, highlighting your imperfections.
Use a formula that is heavy enough to smooth out your complexion without becoming cakey. Drier skin is common as you age, so you may be happier with a liquid or cream foundation, or even a tinted moisturizer, instead of a powder foundation which can make your skin look flaky. Finally, even if you've been using the same shade of foundation since 8th grade, don't forget to check for a better match or formulation occasionally — you may be surprised at the results! 
Using the wrong type of foundation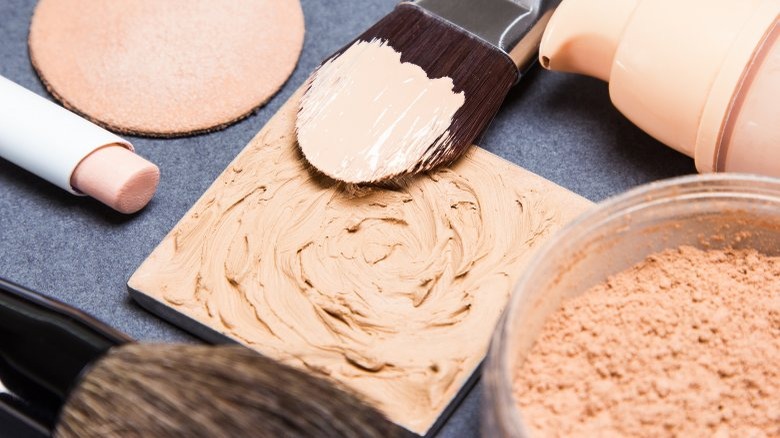 Shutterstock
There are so many different foundation formulas available from liquid to gel, cushion, mousse and powder. But not all are created equally for everyone. You need to know which ones will give you the most youthful appearance and which ones will add years to your face. Makeup artist Hillary Kline Kline explained, "Nobody has perfect skin, but do find a foundation that is right for your skin type and gives you the coverage you want."
Kline explained that understanding coverage is key. "If you want a super natural look with sheer to medium coverage I suggest opting for a BB cream or a tinted moisturizer. If you want something that will cover imperfections, reach for a medium to fuller coverage foundation."
If hiding your age is one of the main reasons why you are wearing foundation in the first place, Kline says it is best to nix powder or mineral based formulas, "As we get older, skin becomes more dry, so adding powder just absorbs all of the oil and moisture."
Over contouring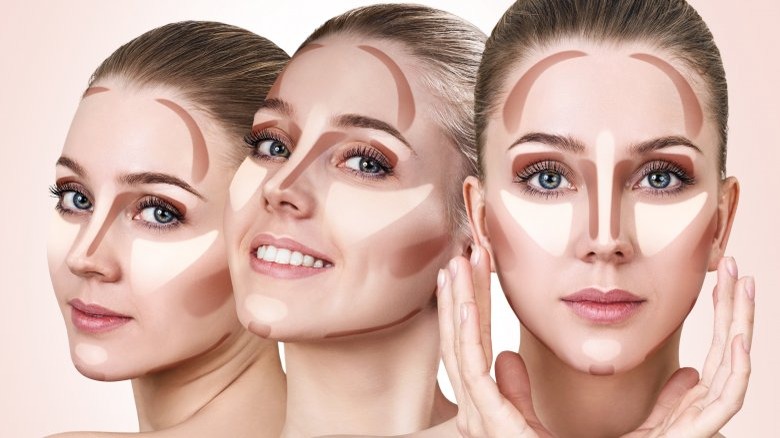 Shutterstock
In recent years, contouring has become one of the top makeup trends. From the runway to the red carpet and even the grocery store, contouring is everywhere. It doesn't matter what the demographic is, every brand from Urban Decay to Laura Geller and L'Oreal, makes a contouring kit and they are selling out by the truckload.
It's easy to understand why contouring is popular. Done right, it is a great way to achieve a youthful appearance, but too much contouring can go wrong, says Murat Evin, creative director of The London School of Makeup. "Contouring can certainly make your face appear younger, but going overboard can actually do quite the opposite, too."
He broke down how contouring works and explained how it can easily go south. "The art of contouring is that it enhances the structure of your face, so that it appears more defined. However, too much definition can actually highlight aging lines that are better left concealed."
Another tip to keep it youthful looking — Evin says always blend those contour lines.
Highlighting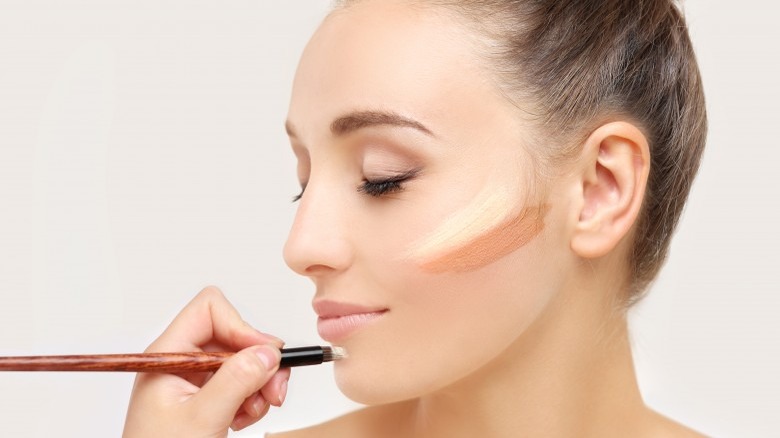 Shutterstock
Bright, glowing skin equals youthful-looking skin. But it takes the proper placement of such a glow to make it work in your benefit. There are certain areas of the face where mature women shouldn't wear highlighter. "You don't want to apply a shimmery highlighter on your brow bone — that can look dated and tends to pull down the eye," explains celebrity makeup artist Suzy Gerstein.
Another area you don't want to apply it? "In your smile lines or in the crease of the eye," she tells us. "Both tend to emphasize crepey texture." So you want to highlight more taut areas, such as the center of the eye or the cheekbones. And if you are going to highlight, she recommends sticking to a liquid highlighter.
Setting makeup with powder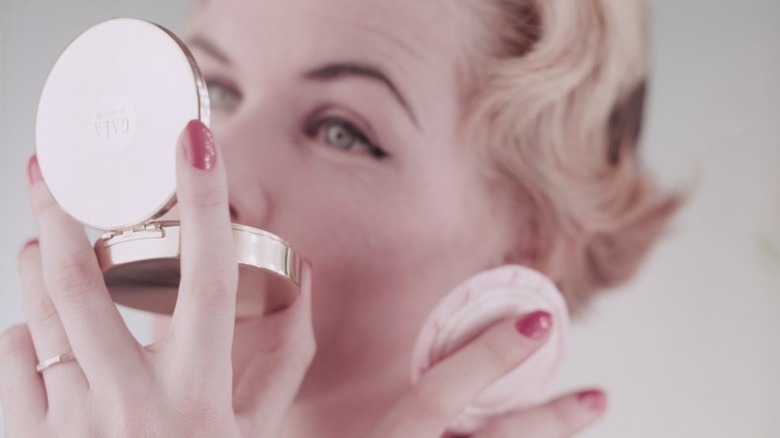 Getty Images
It's been recommended time and time again to use powder on top of any cream formulas to make them longer lasting. But as you age, your skin produces less oil. "With dryer skin, powder tends to seep into fine lines," explains makeup artist Ariel Lewis. "Try using a setting spray instead!" She recommends trying Urban Decay All Night Long-Lasting Makeup Setting Spray.
Not blending properly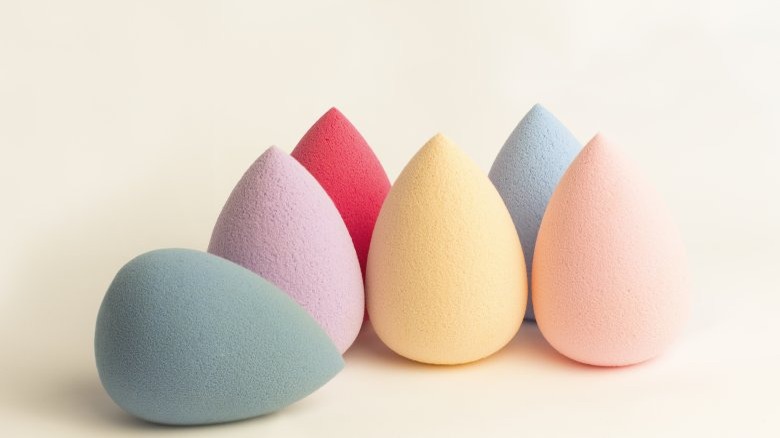 Shutterstock
We all know that forgetting to do things is a general sign of aging, which can be problematic when it comes to makeup. According Evin, as people get older, they tend to skip over the very essential step of blending. He told me, "People apply their makeup and forget to blend, but blending your makeup in properly is so important to get a youthful, even coverage.
Forgetting to blend can reveal the dead giveaways of aging, says Evin. "Not blending your foundation evenly across your face can actually accentuate the fine lines you are trying to disguise. Mature skin needs extra TLC because it gets more and more delicate as you age."
Using the wrong tools and brushes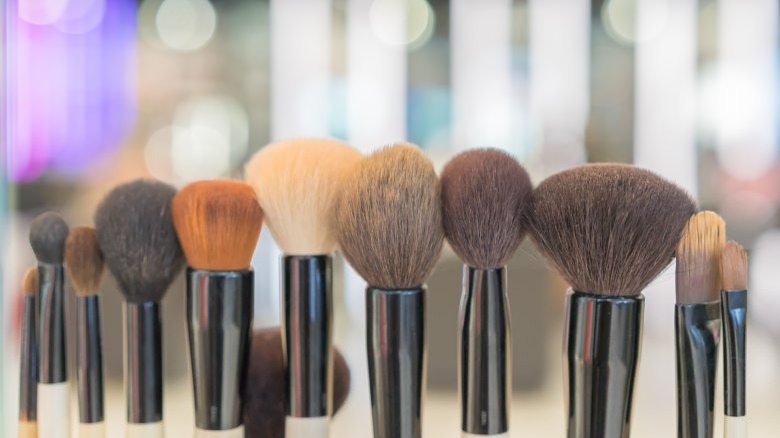 Shutterstock
Looking younger isn't always a matter of what makeup you apply, but how you apply it. We've all used a little extra foundation on those days when our flaws are very noticeable, but Evin shared the best way to look younger is to use a more precise amount of product. He says you can only achieve this with the right brushes and tools. 
"It is important you use the correct tools to ensure you achieve a light coverage. A common mistake people make is using heavy-duty brushes with thick, tight bristles to apply foundation with. Using buffer brushes actually plasters your face with heavy foundation and doesn't blend in your makeup as well as a soft stipple brush can."
His approach is to always choose a softer brush, no matter what kind of makeup you are applying, but especially when it comes to eye makeup. Evin explained that it's all because of skin elasticity. "Eyelids loosen up as you age and the skin around the eyes is the most delicate of all. If you use a tight bristled brush, it will only irritate the loose area of skin and make your eyes look older and heavier. Make sure you invest in a soft eye shadow brush, with fluffy thistles for gentle a gentle application and even coverage."
Forgetting primer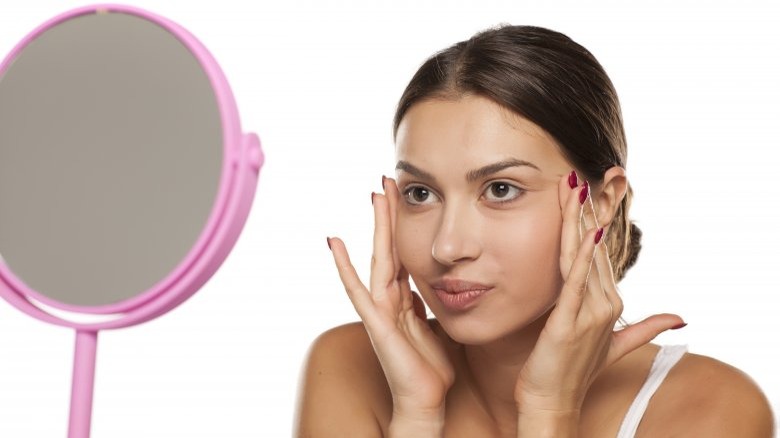 Shutterstock
It's important to start your face off right to look your youngest, which is why everyone needs to use primer. Because if you don't, according to Kline, as the day gets older, so will your look. She explained, "By not applying primer, you run the risk of having your makeup look muddy and melted off by the afternoon. This doesn't equate to a youthful look. By using a primer, you are making sure that your makeup lasts throughout the day."
But don't forget to prime your skin before using primer, Kline reminded. "It's important to have a good skincare routine along with properly moisturizing and priming your skin before a makeup application."
Concealer mishaps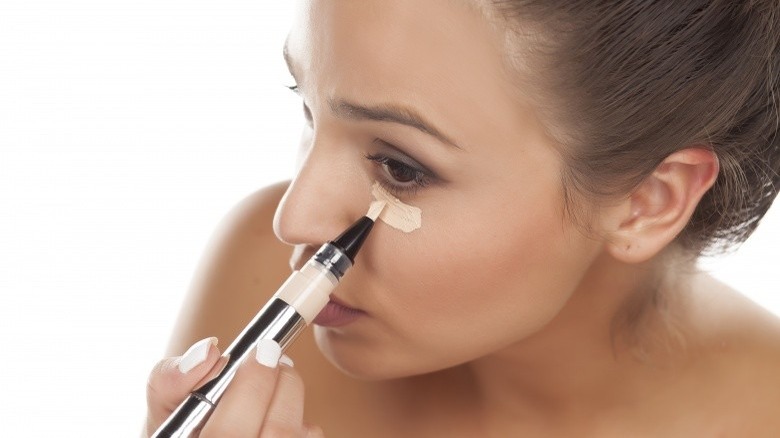 Shutterstock
When it comes to concealer, one size does not fit all. A concealer perfect for covering spots or blemishes will likely be way too thick for under-eye use. Makeup artist Lavonne explains the ways people usually go wrong with concealer: "If the concealer is too thick or not the right color, you're accentuating more than you are concealing. Skin under the eye is seven times thinner than the rest of your face, so a light touch is necessary."
Use a lightweight formulation for under-eye use, and pick a shade that matches your skin tone. If you have purplish circles, you can get a color with a yellow or peach undertone to counteract it. Don't go with super-light shades, which will make you look ashy or give you the "reverse-raccoon" appearance. Apply only to the inner corner of your under-eye area, and gently blend and sweep outwards and downwards.
Blushing beauty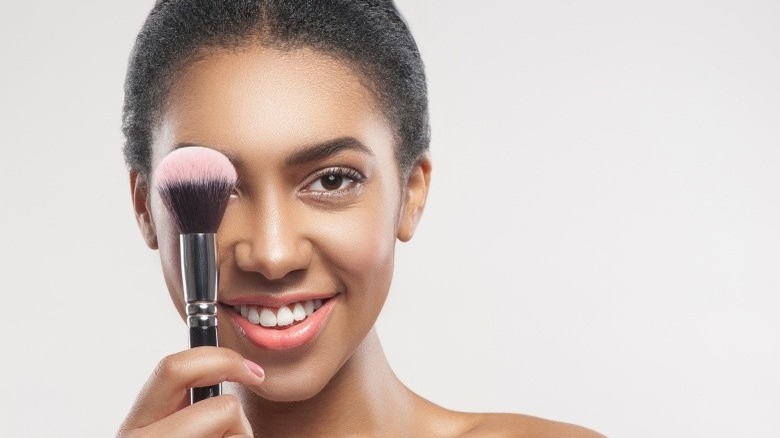 Shutterstock
Unless you're actually in high school, don't apply blush to the apples of your cheeks. You also want to avoid using too much blush, applying it too low, or picking the wrong shade. Los Angeles celebrity makeup artist Jan Ping lays it on the line: "There was a certain era when more was better when it came to blush, and you can still spot those women today because they're still piling it on."
Avoid shades that are too brown or red, because they can look muddy when applied. Instead, pinch your cheeks and try to find a blush that matches the natural shade that results. Opt for a cream formulation instead of powder to avoid a flaky finish. Apply a small amount to the center of your cheekbone and sweep upward and back. Make sure to blend well. This will give an instant lift to your face along with a youthful glow. 
Lining the bottom lash line in black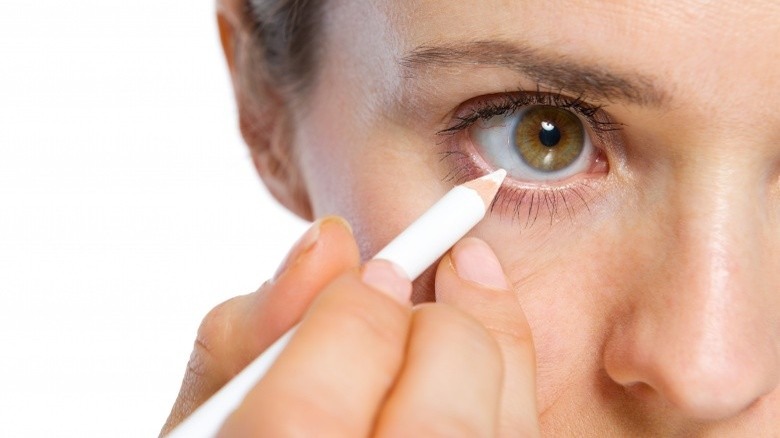 Shutterstock
Heavy liner on the bottom lid is aging for many reasons. It makes your eyes look smaller, it accentuates the fine lines surrounding the eyes, and it drags down your whole face. To keep things looking youthful, you want your eyes to appear brighter and more open. You can do this many different ways. First, would be to keep the bottom lash liner light.
"Use a deep brown eyeshadow and an angled brush instead of a hard black kohl pencil," explains Washington DC-based makeup artist Ariel Lewis. "Keep gel liner away from the bottom. Use it only on the top of your lids." And she reminds us that it's O.K. to have black liner on the top lid and brown liner on the bottom. Simply blend the brown eyeshadow to from the inner to the outter corner of the bottom lid. You can even wet the brush for a little more control.
Another tip is to use white or nude liner on the bottom waterline, Makeup Artist Missy Lowe explains. "It brightens your eyes and creates a youthful glow." This is a perfect option for the no-makeup, makeup look.
Wear too much mascara on the bottom lashes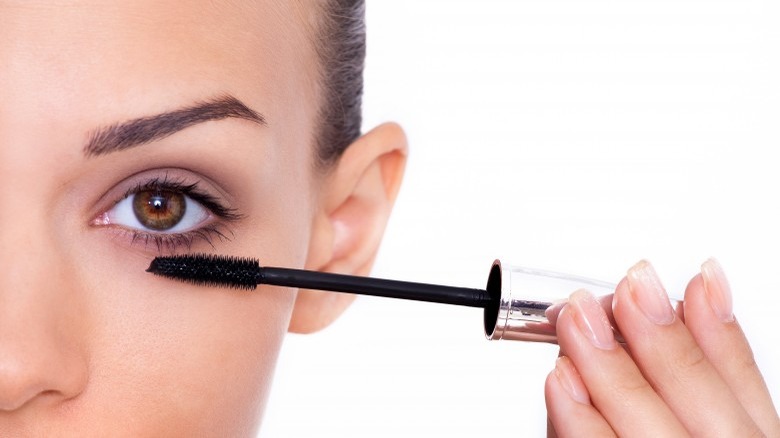 Shutterstock
This is similar to the wearing heavy liner only on the bottom lash line. Celebrity makeup artist Suzy Gerstein explains that heavy mascara on the bottom lashes can cast a shadows and flake, creating the illusion of dark circles — it can even pull the eye down as a whole. "I'm really into the Tightline mascara by It Cosmetics," she explains. "It allows you to get right into the roots without clumping, and functions almost as eyeliner." So if you are going to wear mascara on the bottom, keep it clean and tight.
Metallic eyeshadow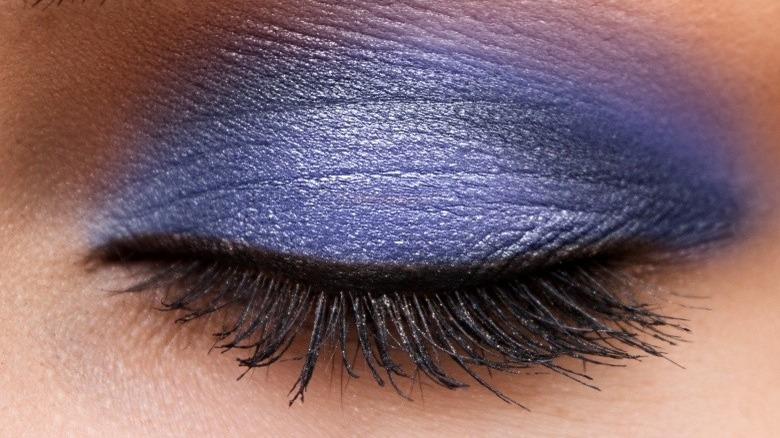 Shutterstock
You may adore it, but metallic eye shadow can really age you if your eyelids aren't as taut as they once were — and, unfortunately, that's just a natural part of aging. These fun shimmer shadows can enhance and draw attention to wrinkles and fine lines in this area. "Metallic, shimmer and glitter shadows can settle into the fine lines and 'crackle' around the eyes," explains Lowe. "The best bet to create a flawless look is to use either matte or satin finish shadows."
However, makeup artist Ariel Lewis explains that if you really do want to wear metallic, especially around the holidays, keep it in the center of your lid. "Putting them on the corners of your eyelids brings more attention to the fine lines that tend to settle in that area."
Another way you can incorporate the shimmer without aging yourself is to use fine pearl shadow. "Choose one that's light and not too-sparkly," explains Ilia Beauty founder Sasha Plavsic. "It's nice to use fine pearl as a base and layer over top with a non-shimmer shadow to 
Eyebrow emergency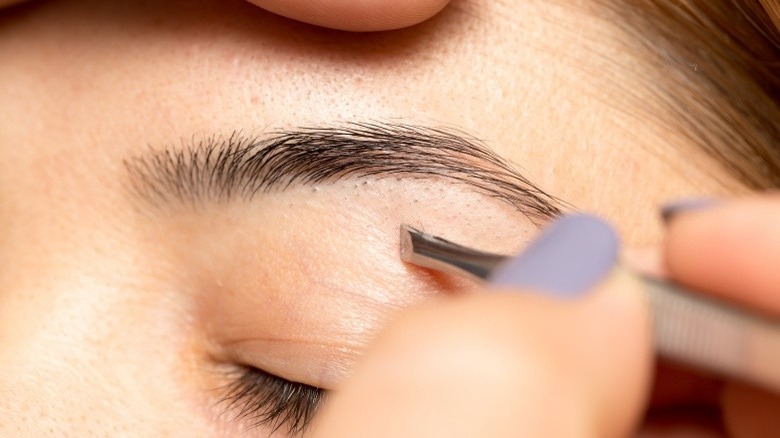 Shutterstock
It's a fact of life: our eyebrows naturally grow thinner as we age, which can be accelerated by years over-plucking through the years. "As we age, our brows naturally thin both in thickness and from the ends," explains licensed makeup and eyebrow artist Pamela Jeschonek of Everyday Esthetics Eyebrow Studio. "Brows also fall as part of the natural aging process, so they do not sit as high on the brow bone as they did when we were younger." So for a more youthful-looking brow, think full and arched. You can start by filling in with a brow powder. "Powder can add lost fullness and is quick and easy to learn," Jeschonek explains.
You also want the brows to keep from looking too sharp and stern, which the powder will help with too. "As you age you should stay away from cream based brow products," explains DC-based makeup artist Ariel Lewis. "They tend to apply too harsh of a line." Lewis recommends using Anastasia Beverly Hills Brow Powder Duo. So with the correct color powder, trace a bit outside the natural brow line to add a bit of width.
And to add a little lift, trace the arch a little bit higher on the top of the brow, not from underneath. "Just as we would outline the brow just outside the root line to give it thickness, you want to gently raise the top of the arch using your powder on top of the brow line," explains Jeschonek. "It takes a little practice, but it's magic." So don't be afraid of going outside the lines of your natural brow, just keep it light and feathery. With the correct technique and shade, you can fake it for younger looking brows in just seconds.
Lipstick that's too dark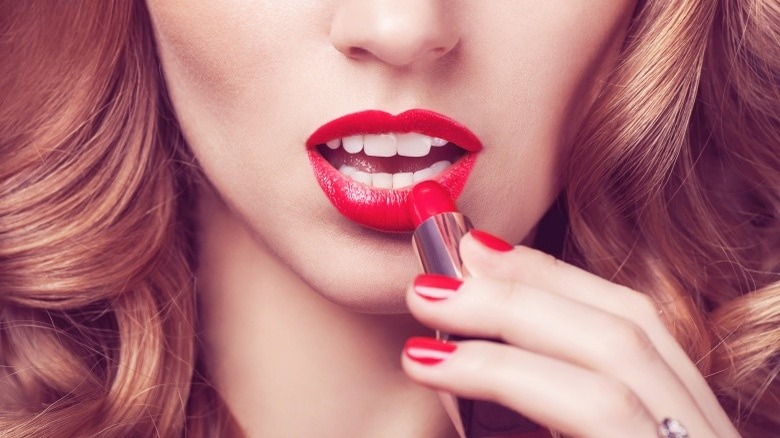 Shutterstock
Our lips become thinner and lose definition as we grow older. Unless you plan on going crazy with the liner to overdraw your lips, you'll want to start easing away from darker shades, which make your lips look thinner. Jan Ping outlines her plan for perfect lips: "I like to start with lip liner, and use a nice neutral shade that's just a bit bolder than the person's natural lip color," she says. "I line the lips and then I fill in the rest with a tinted gloss. A lot of women are really stuck on the idea of always using heavy lipstick, but I think that gloss gives a softer, more youthful appearance." 
Letting your lipstick bleed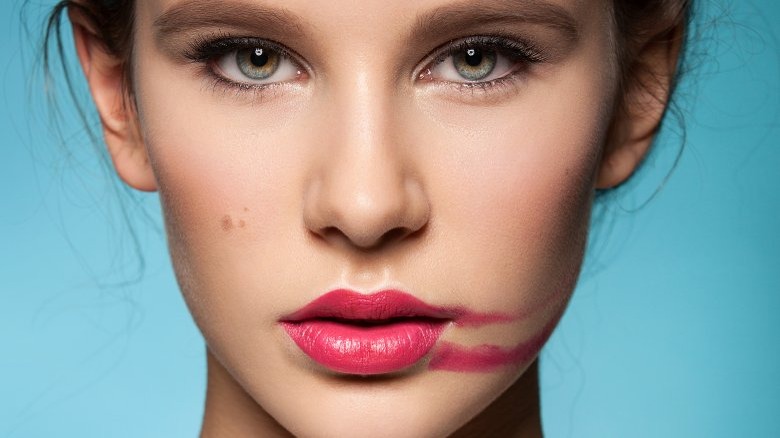 Shutterstock
While most people become better at applying their makeup with time, sadly, not everyone's skills improve as they age. Even just a slight of the hand when putting on your lipstick can really accentuate the signs of aging, according to Evin. He explained why it is essential to put on your lipstick flawlessly, or risk showing your flaws. "As you age, the neater you apply your lipstick, the better. It hides obvious creases that begin to appear around the mouth. However, lipstick can begin to bleed more as you get older, because fine lines around the mouth stop your lipstick from staying in place."
Evin shared that perfect lips are possible with a multi-step process. "Use a primer to start off your latest lip look, and finish it off with lip gloss. The gloss will secure your look and prevent your lipstick from bleeding."
Wearing bright colors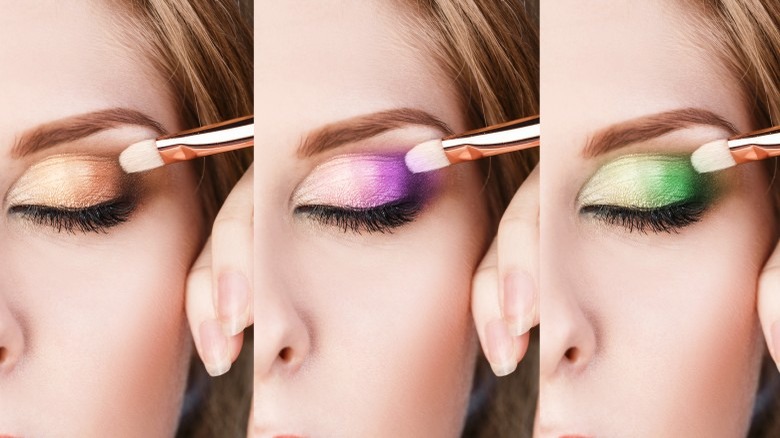 Shutterstock
We know a bright pop of color in your makeup look is fun. But once you reach a certain age, it's more likely to look out of place, and might even make you look older. "It would similar to wearing a mini skirt — some mature women will pull it off better than a teenager," explains Ilia Beauty founder Sasha Plavsic. "But for many others it may not be age appropriate." She says colors like "bright blues, purples [and] greens tend to highlight features that point to a woman's age."
And she's not alone in this opinion. DC-based makeup artist Ariel Lewis also recommends to stay away from bright colors. "The days of wearing blue eyeshadow should be behind you." She recommends that you try darker more muted colors — such as navy instead of bright blue, or deep jade instead of green.
Trying to be too trendy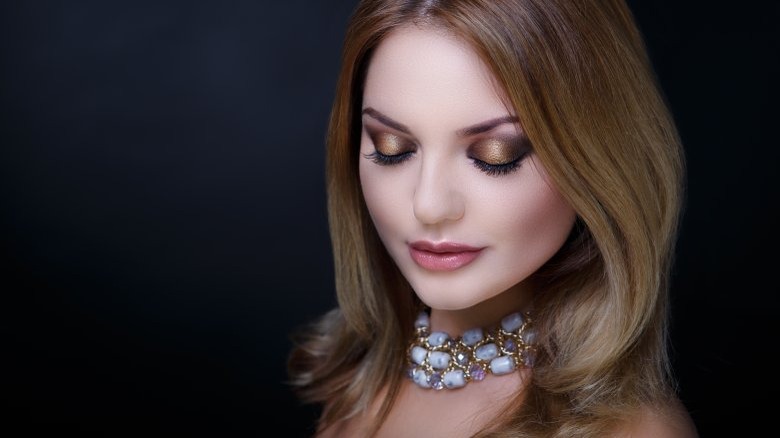 Shutterstock
There is no better way to look older than trying to look too young. Furthermore, there is a fine line between attempting a more youthful look and just looking bad. Makeup artist, hair stylist and television personality, Anthony Pazos, who has worked on many celebrities, from the Kardashians to Beyoncé, believes it's important to aim for a generally age appropriate look. "When we try too hard to look cool and it seems unnatural, it's a clear indicator to others that you are just not that secure. It's best to be the best you without going overboard."
But Pazos doesn't think you should forgo all makeup trends. You just need to incorporate them into your standard look in a subtle way. "This doesn't mean you can't take calculated risks. Baby steps are always the best bet when trying something new or trendy."
He believes the most foolproof approach is to keep it classic for the most part. "Remember being classic is timeless because trends come and go."
Never updating your look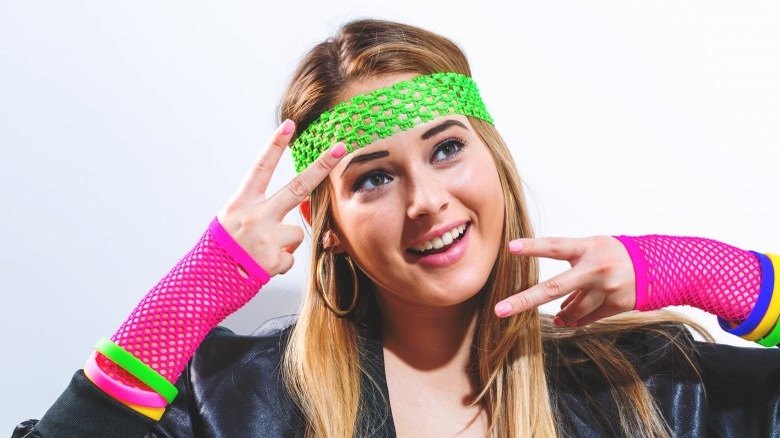 Shutterstock
While a classic look is always a good choice, it's important to recognize that what was a classic style twenty years ago isn't the same today. After all, over the years styles change and according to Pazos, you need to as well. "If you are stuck in an era not in the 21st century, you're aging yourself. Sometimes our own comfort levels can make us appear stuck in an era long gone. If you want to look younger, you need to challenge yourself and try styles that you may not be comfortable with."
His final tip was that when it comes to beauty, small adjustments can go a long way.
Not taking care of your skin properly in the first place​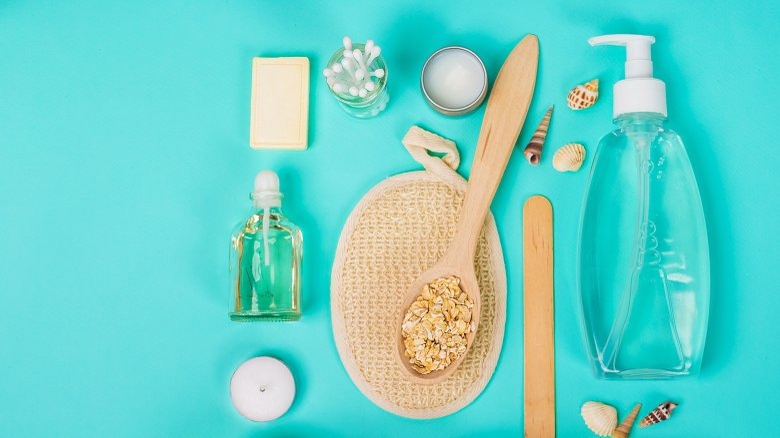 Shutterstock
Even the best makeup can't hide your age if you aren't taking good care of your skin in the first place. Kline says the number one thing you need to do is use sunscreen. "Are you not using sunscreen daily? It's one of the top reasons why you're aging your skin. The sun is the top cause of skin aging. So, make sure that you're wearing a daily sunscreen with SPF of at least 30 or higher."
A major mistake Kline says that many women make is not taking their makeup off at the end of the day, "Another thing that's aging your skin is not removing your makeup before you go to sleep. Throughout the day, you're dealing with environmental factors like dirt and pollution that can clog the pores, which can lead to breakouts. Find a good cleanser and, if you are feeling lazy, get cleansing towelettes to remove all of your makeup."
Less is more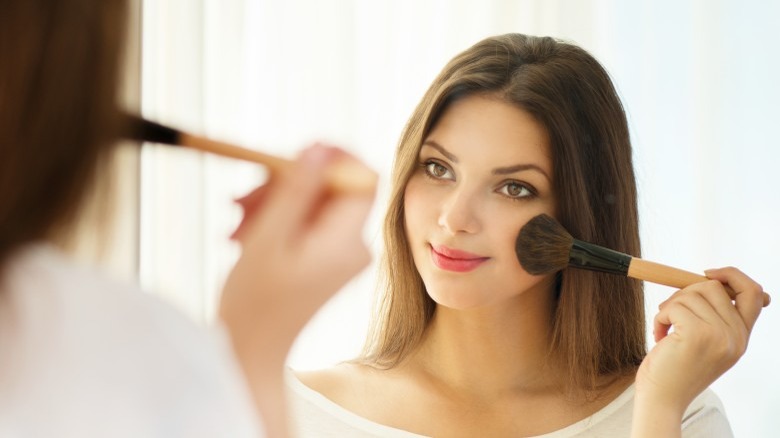 Shutterstock
So the general tip to keep makeup from aging you? Less is more. Keep things light and natural. And even when you want a splash of a little something extra, keep it at a minimum. But as Lowe tells us, "Most makeup rules are meant to be broken, so don't be afraid to try new things and find what works best for you!"