June Aldi Finds That Will Keep The Kids Busy All Summer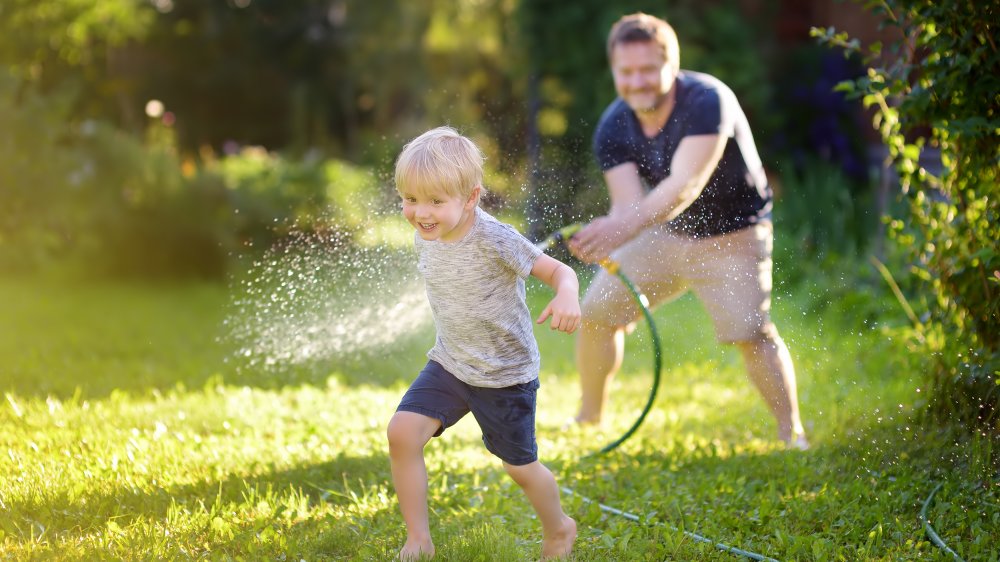 Shutterstock
School's out for summer vacation for many kids right now, and although more time with the family is great, boredom is beginning to brew. Our backyards become the playground and recess is 24/7 for the next few months, so it's time to get creative when it comes to entertaining the kids. It can be tricky to find ways to entertain outdoors without breaking the bank. It's Aldi to the rescue, though, with all sorts of new backyard activities coming to stores' Aldi Finds section this June (and for crazy cheap prices). Whether it's a game of catch, some fun in the water, or a strategic game of frisbee golf, the chain is serving up summer fun in June. 
Aldi's Crane Triple Water Slide With Speed Ramp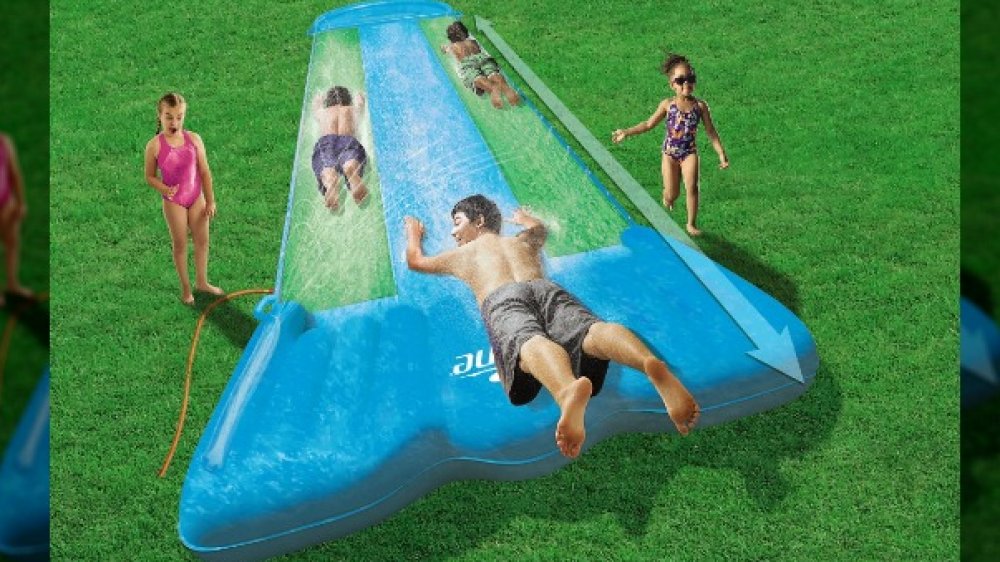 Aldi
'90s kids will remember the Slip 'n Slide being the second best thing to their friends' swimming pools. Bruises and blood came with the territory, though. Luckily, it's 2020 and kids can get their hands on something even better than a Slip 'n Slide. The Crane Triple Water Slide with Speed Ramp is like the old-fashioned slippery mats we all remember, but it's blown up and way more fun. It's also definitely a lot safer because you won't be smacking your body on the hard ground to play on it. Aldi is offering the ultra cool slide for just $17.99 starting June 10. Hurry in and get your hands on one before they sell out, because with a price like that, it's hard to imagine they'll be on shelves for long.
June Aldi Finds: Crane 4 Player Disc Golf from Aldi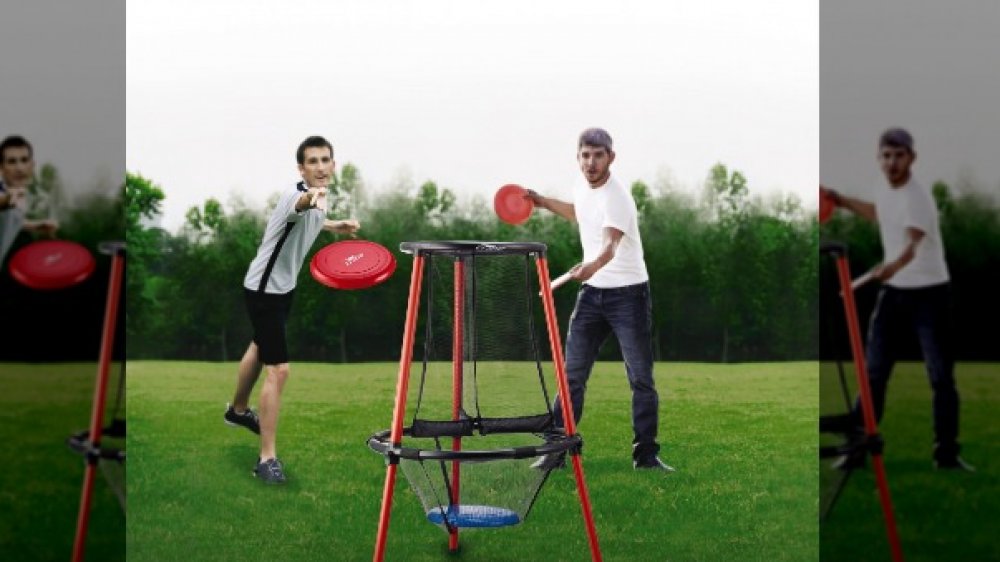 Aldi
Frisbee is fun at first, but the game can lose its luster pretty fast. Frisbee golf courses spice things up and add some strategy, but it can be a hassle loading the whole family into the car, and then there's food and drinks to think about, and bathrooms, and... well, you get the picture. Aldi has a solution coming to stores June 10, though. Go in with $20 and leave with a four person backyard disc golf game for your very own backyard. The summer fun never has to end.
Aldi's Summer Waves Dino Giant Sprinkler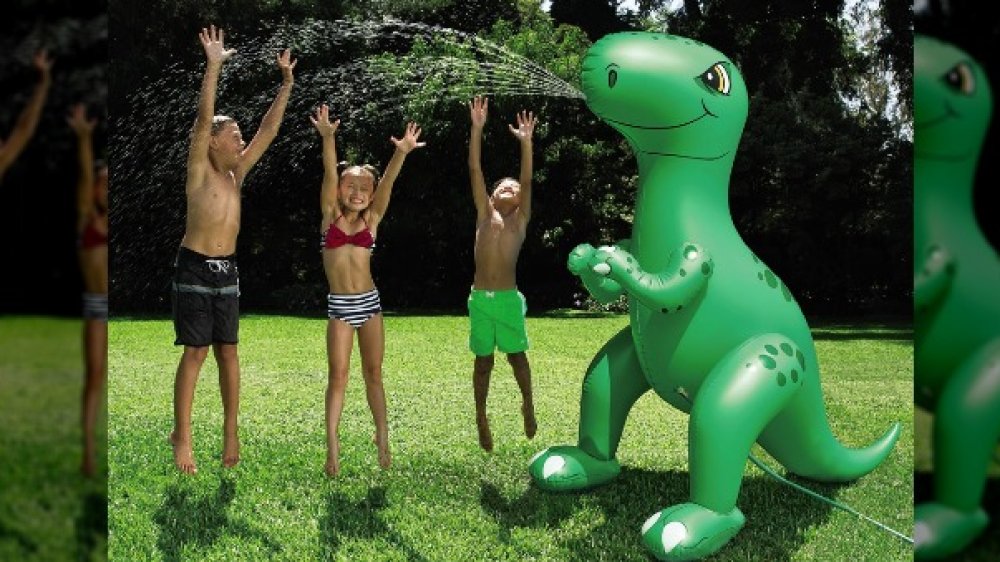 Aldi
Beating the heat in the summer is essential, and luckily kids love playing in the sprinklers. But after a little while on the lawn, their arsenal of sprinkler games gets low. Aldi has a solution, though. Go into one of their locations starting June 3 with $39.99 and come home with a giant inflatable dinosaur sprinkler. Put the words giant and dinosaur together and you've already got the kids interested.
Aldi Finds' Bee Happy Swing Seat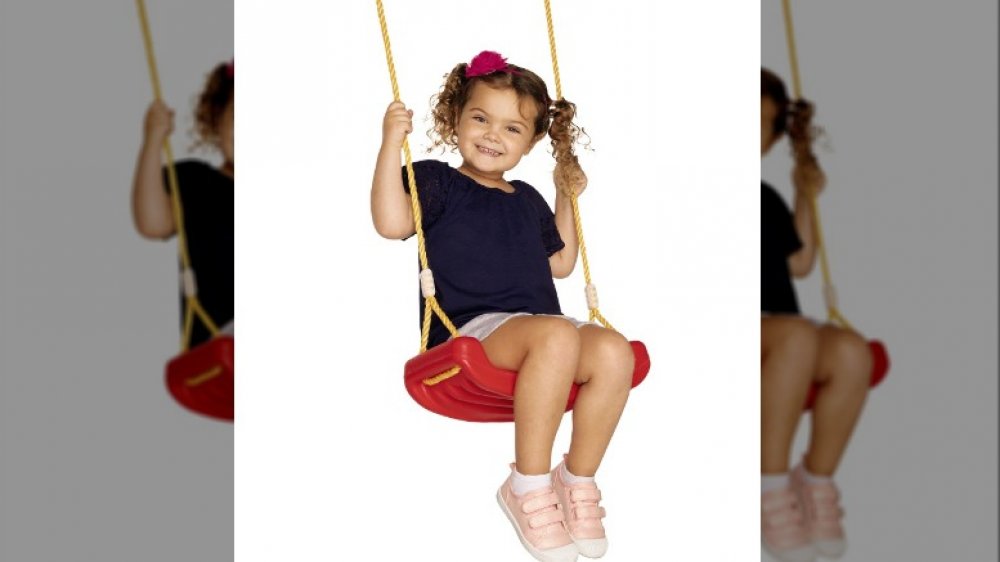 aldi
For whatever reason, the littlest members of our families love being pushed around on swings. During the summer, every day might be met with, "Can we go to the playground?" But unfortunately, there isn't always enough time in the day to make the trip. Luckily Aldi has a super affordable way to bring the playground to your backyard with their new Bee Happy Swing Seat. Bop into one of their stores after June 17 and you can have your very own for just $10.
Crane Giant Inflatable Sports Balls from Aldi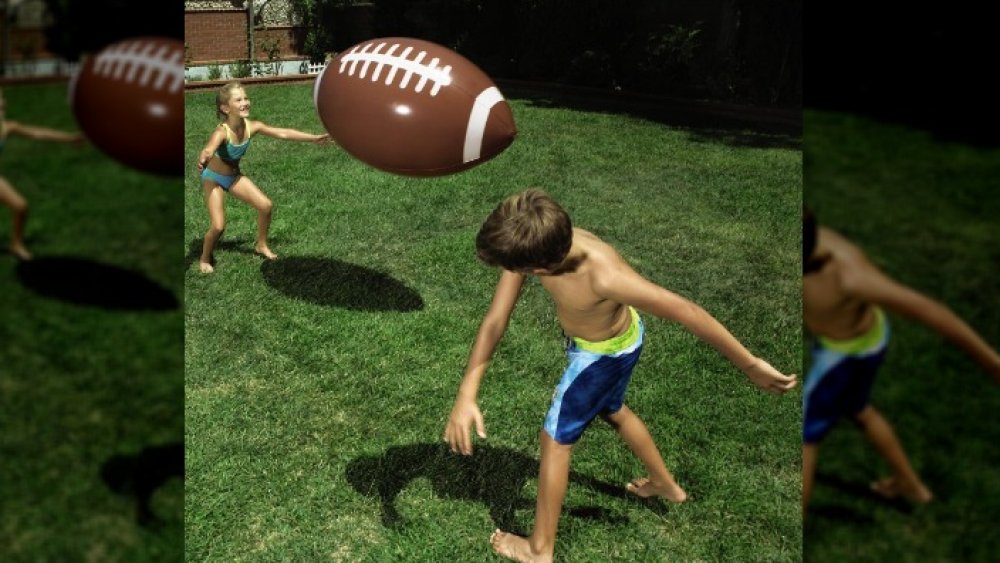 Aldi
Ah yes, a game of catch. The perfect summertime backyard bash activity. Chatting with the neighbor about work while the burgers are grilling? Why not play a game of catch while you're at it? Kids are bored as heck again? Suggest a game of catch. Aldi's in the know when it comes to backyard entertainment and starting June 17 they're really elevating your game of catch with their new giant inflatable sports balls for just $4.99.
Aldi's Banzai Water Slide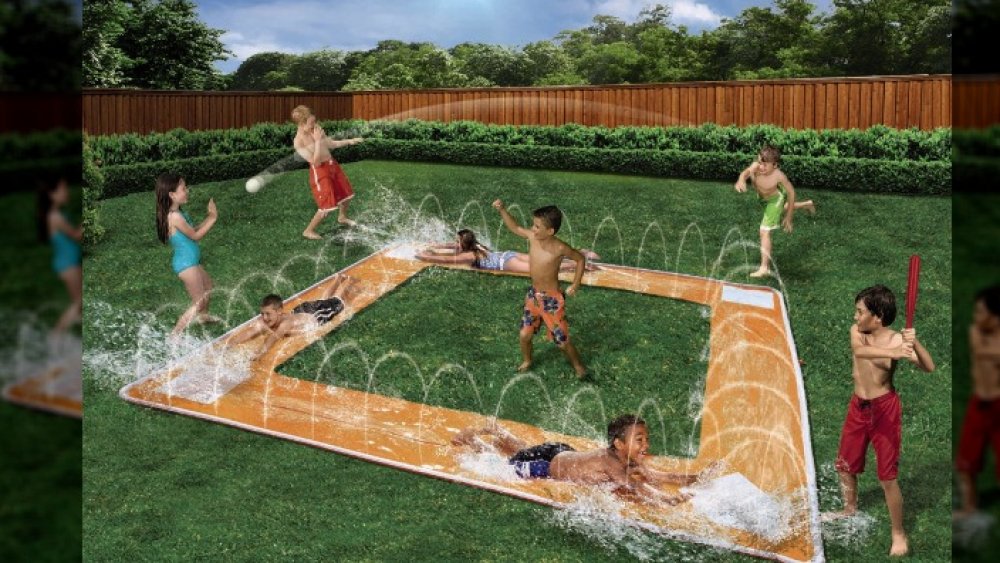 Aldi
Is the forecast for the weekend showing extra hot weather? Staying cool while being outdoors can be super tricky to navigate, and too often you and your family opt for an expensive trip to an air-conditioned movie theater instead of soaking up some vitamin D. Aldi's new backyard Banzai water slide is the perfect way to stay cool, save money, and have fun with the whole family. The slide features water arcs all around what is basically a four-sided Slip 'n Slide. Head into Aldi June 24 with $17 and leave with hours of entertainment for everyone. 
At this point, it's clear that the Aldi Finds section is the place to go for affordable summertime fun. Thanks for making all our backyards extra exciting this June, Aldi.