Why Sweet Baby Ray's New BBQ Sauce Has The Internet Buzzing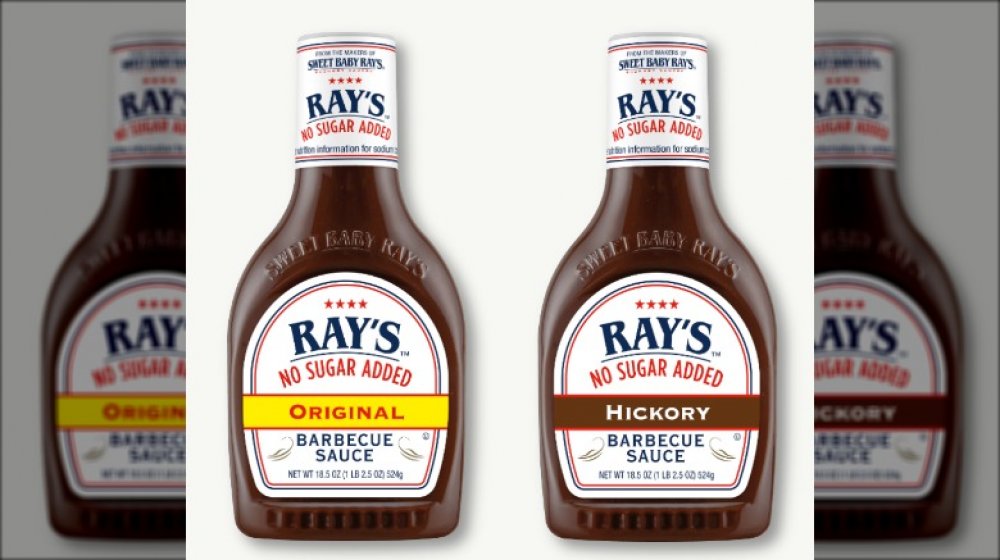 Sweet Baby Ray's
The average barbecue sauce contains 4 to 6 grams of sugar, and often high fructose corn syrup, too (via Insider). So although you can't do summer without your favorite barbecue sauce, sugar, high fructose corn syrup, and, well, anything aren't an ideal mix. That is why people are so pumped about Sweet Baby Ray's No Sugar Added Barbecue Sauce. This new offering, on store shelves just in time for grilling season, contains just 1 gram of sugar per serving. What's better is the sauce, available in original and hickory flavors, doesn't sacrifice on flavor to deliver a no sugar added, low-calorie topping for steaks, burgers, chicken, and more. 
"This sauce is truly the boss," one commenter said on Instagram. "Tried this today and it was AMAZING!" complimented another impressed user. "This sauce is the best keto friendly BBQ sauce I have ever had!!!!" exclaimed a happy taste tester. Indeed, Sweet Baby Ray's No Sugar Added sauce is not only keto-friendly, it's gluten-free, and vegetarian and vegan approved! But, um, how does Ray's pull off their no sugar added, yet still tangy, sweet, and delicious formula?
Sweet Baby Ray's No Sugar Added BBQ sauce is all about the allulose
According to Ray's, their new, no sugar added barbecue sauce contains just 1 gram of net carbs, which come from tomatoes, apple cider vinegar, and allulose. This natural sweetener is found in jackfruit, figs, and raisins (via Allulose). Allulose bakes like sugar, and tastes like sugar, but has 1/10th of the calories, and is even diabetes friendly.
To be fair, Ray's No Sugar Added also contains a small amount of sucralose, which is an artificial sweetener (via Ray's). Some studies link sucralose consumption with an increased risk of developing cancer, and blood sugar changes (via Healthline).
Still, grillers are excited to try out the many outside-the-steak recipes inspired by the sauce on Ray's site, including Barbecue Chopped Salad, Hawaiian Barbecue Shrimp, and Game Day Chili. But don't worry; you can still check out recipes for wings, ribs, beef, and chicken if that's what you're craving. No matter what's on the menu at your house, Sweet Baby Ray's No Sugar Added BBQ Sauce is available now for just $3.29 at a grocery store near you, or online (via Delish). Happy grilling!