Inside Patsy Cline's Tragic Life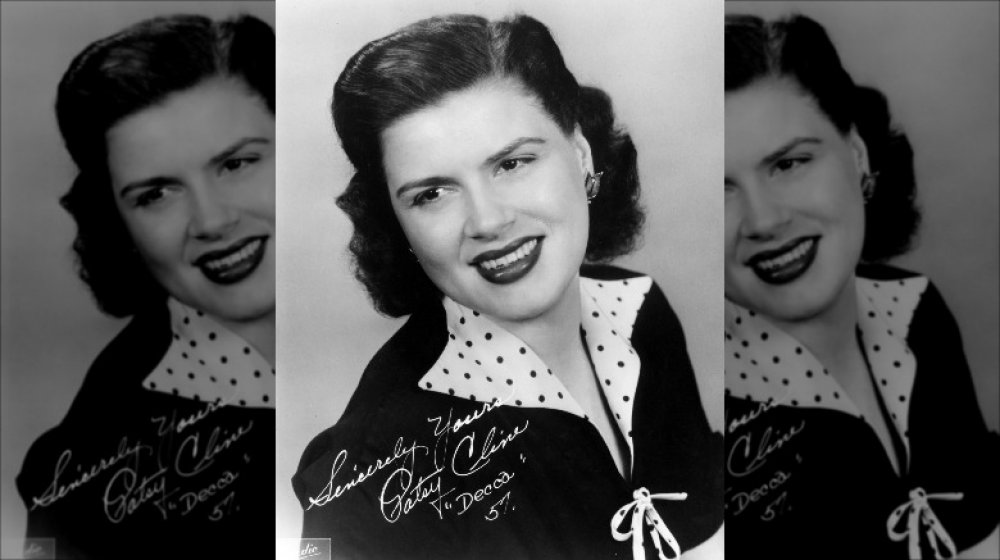 Michael Ochs Archives/Getty Images
Patsy Cline is one of country music's true legends, but her career was all too short. According to Biography, she sang for perhaps 10 years in all, but really only started to achieve well-deserved fame just a few years before losing her life in a 1963 plane crash. While she only recorded music over an eight-year span, she achieved a dozen songs that cracked the Billboard top 100. Of these hits, though, four — "Walking After Midnight," "I Fall to Pieces," "She's Got You," and "Crazy" (the latter was her only top 10 pop hit) have become standards. 
As Tammy Wynette, herself a country star (and another one who died far too soon) said in the liner notes to The Patsy Cline Collection (via Taste of Country): "In the cotton fields of Mississippi, I would daydream about being Patsy Cline. Patsy is and perhaps will always be the standard-bearer for all female country singers."
Patsy before the fame
Patsy was born in Winchester, Virginia in 1932, during the height of the Great Depression. Her birth name was Virginia Patterson Hensley, and Encyclopedia Virginia reveals that her mom, Hilda, was only 16 years old at the time. Her father, Samuel, was a blacksmith some 27 years Hilda's senior, and they'd married just 6 days before their daughter was born. Needless to say, that marriage didn't work out too well, but by the time Patsy's parents split up she had two siblings and the family had also moved 19 times in 16 years.
Patsy taught herself to play the piano when she was only 8 years old, and she loved to sing as well, but at age 16 she left school to go work in a variety of jobs to help support her family after her dad left them. While Patsy was busy working at just about any place she could find a job, including a poultry plant, a bus depot, and a soda shop, she did manage to find the time to perform on local radio stations and to enter a number of singing competitions (which she won, of course).
Patsy Cline's rise to stardom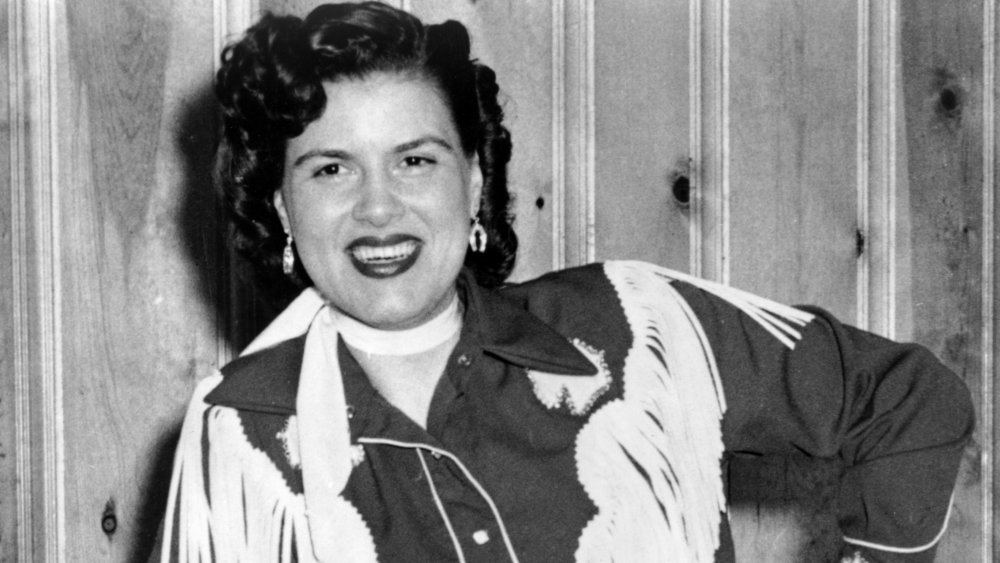 Michael Ochs Archives/Getty Images
Patsy started singing with the Melody Boys and Girls, a musical group led by bandleader Clarence William "Bill" Peer. They performed on a radio show for a Martinsburg, West Virginia station, and did shows throughout the West Virginia/Virginia/Maryland/DC region. Encyclopedia Virginia says that Peer was the one who gave Virginia the stage name of Patsy, and his band provided her with the exposure that would launch her career. By 1954 she'd landed her first recording contract, and she soon found herself singing with other, bigger bands before finally launching herself as a solo act.
In 1957 Patsy appeared on the televised variety show Arthur Godfrey's Talent Scouts singing a song she'd recorded the previous year called "Walking After Midnight," and that appearance led to the song's becoming her first big hit — number two on the country charts, and reaching as high as 12 on the pop charts. In 1960 Patsy would join the cast of the Grand Ole Opry in Nashville, and by 1961 she'd have her second monster hit, "I Fall to Pieces." By 1962 she was touring with such top country stars such as June Carter and George Jones, appearing at venues like Carnegie Hall and the Hollywood Bowl and appearing on American Bandstand and The Tennessee Ernie Ford Show.
Patsy Cline's personal life
In 1953, Patsy married Gerald E. Cline, thus picking up the last name she would keep for the rest of her life. Gerald, however, she chose not to keep. Encyclopedia Virginia reveals that she had an affair with Bill Peer, but she broke things off with him and separated from her husband in 1955. By 1957 she'd divorced the latter in time to marry her new beau, a linotype operator named Charles Allen Dick. (Needless to say, she passed on adopting that last name for professional reasons.)
After Patsy and Charles wed, she found herself back to scraping by, performing small local gigs as her new husband served a stint in the army, stationed at Ft. Bragg in North Carolina. As Patsy had a baby to care for (the first of two kids she and Charles would have), she was unable to go on tour. Once Charles' enlistment was up, though, the couple relocated to Nashville where her star once again began to shine
Patsy Cline's tragic death
Early in the morning on March 5, 1963, Patsy and two fellow Opry stars, Cowboy Copas and Hawkshaw Hawkins, were flying back to Nashville from a Kansas City benefit concert. The small plane they flew in was piloted by Randy Hughes, who was himself an Opry session guitarist and the son-in-law of Copas as well as being Patsy's manager. Shortly after taking off from a refueling stop, Hughes lost control of his Piper PA-24 Comanche due to poor visibility and the plane crashed outside of Camden, Tennessee. There were no survivors.
There was a memorial service in Nashville for all four performers lost in the crash, where the Wilmington Star News relates that June Carter was in tears and fans paid tribute with floral arrangements shaped like musical instruments, cowboy hats, and boots. After this service, Patsy's remains were returned to her hometown of Winchester for burial.
Patsy Cline's posthumous legend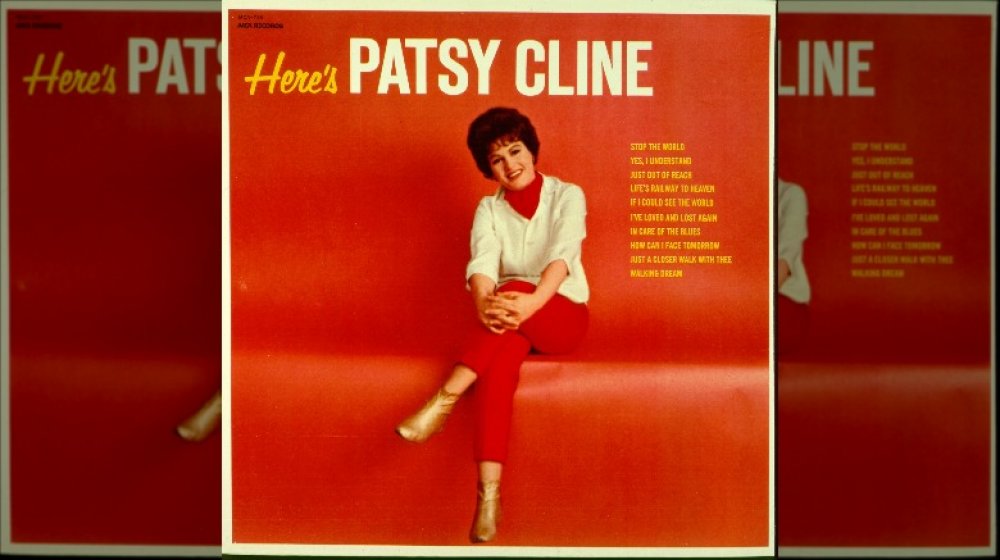 Michael Ochs Archives/Getty Images
Patsy Cline's fame continued to grow even after her career was cut short. In 1973 she was the first solo female performer elected to Nashville's Country Music Hall of Fame. She was recognized with a Lifetime Achievement Award by the National Academy of Recording Arts and Sciences in 1995, and received Grammy Hall of Fame Awards in 1992 for "Crazy," and in 2001 for "I Fall to Pieces." The USPS issued a 1993 Patsy Cline commemorative stamp, and Cline has a star on the Hollywood Walk of Fame despite never having made a movie. She has, however, been the subject of movies, documentaries, TV specials, and even musicals.
In Nashville, she's remembered with the Patsy Cline Museum, but in Winchester, Patsy is definitely the town's favorite daughter. There's a Patsy Cline memorial bell tower at Shenandoah Memorial Park, a Patsy Cline Memorial Highway (Route 522), and a Patsy Cline Boulevard (via Encyclopedia Virginia), and her childhood home is now The Patsy Cline Historic House (via Celebrating Patsy Cline) and is listed on the National Register of Historic Places as well as being open to visitors as a museum. Every Labor Day the town also commemorates Patsy with a Patsy Cline Music Festival. It's not like anyone would be likely to forget Patsy Cline even without the festivals, signs, awards, and movies, though, since the 100+ recordings she made over her lifetime continue to speak — or sing — for her decades after her death.