Why Rachel Lindsay Is 'Embarrassed' To Be Part Of The Bachelor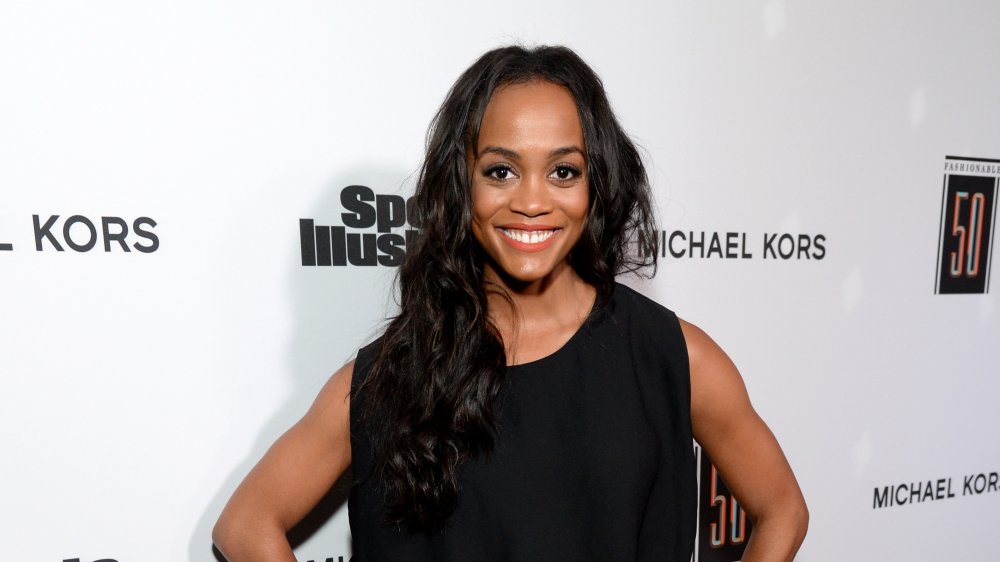 Michael Kovac/Getty Images
Former Bachelorette Rachel Lindsay has some rather harsh words for ABC. The reality star and lawyer, who met her husband, Brian Abasolo on her season — she is the only black lead in the show's history — is disappointed in the direction of The Bachelor franchise, and is speaking out about it in the wake of George Floyd's death and the resulting protests over systemic racism in this country (via People).
In a recent interview with After the Buzz, Lindsay said, "When you're putting out something that is very white washed and doesn't have any type of color in it and you're not trying to be effective and change that... I think that they have to at this point, give us a black Bachelor for season 25. I don't know how you don't." Her pick for the role? Mike Johnson from Hannah Brown's season (via Chicago Tribune).
Lindsay also said, "It's been asked of me will I continue in this franchise if it continues this way, I can't." She emphasized she truly needs to see some kind of change to feel comfortable being associated withThe Bachelor moving forward. She added, "It's ridiculous. It's embarrassing. At this point it's embarrassing to be affiliated with it."
Rachel Lindsay has been critical of The Bachelor's diversity in the past
This isn't the first occasion that Lindsay has been outspoken about the show needing to more accurately reflect the real world. In an interview with AP Entertainment in March, she noted of the cast, "The girls all look the same way." She also gave voice to what many people think while tuning in to Monday night TV on ABC: "Black people don't go far on that show." Lindsay further called for inclusivity on all fronts, saying The Bachelor should feature people of all shapes, sizes, sexual orientation, and ethnicities. "I feel like it's my responsibility," Lindsay explained about why she won't "be quiet" about her beliefs.
As of time of writing, ABC had not responded to Lindsay's comments with a statement or any promises to make The Bachelor and its spinoffs any more diverse (via Variety). Here's hoping the show hears what Lindsay (and the country) is saying, and creates a more inclusive series when they can resume filming, hopefully this summer.