Why People Are Calling Salma Hayek The Most Beautiful Woman On The Planet
At 53, Salma Hayek is more stunning than ever. The gorgeous celeb recently posted a makeup-free selfie on Instagram that left fans all over the world in awe of her natural beauty. Hayek took the photo posed outdoors, and the compliments came rolling in. "You really, truly are the most beautiful woman on the planet ever," said one fan in the comments (via Yahoo).
Another fan wrote, "You don't need filters because you are a natural beauty inside and out," while another said, "You have that natural goddess-type beauty."
Hayek has been proving that age is nothing to fear and that women are truly beautiful at any age. As she has gotten older, Hayek has learned to love herself and her natural beauty more. In an interview with People as part of their 2020 Beautiful Issue, Hayek posed without makeup and said that learning to love herself has been a journey. "When I look at pictures of me in my 30s or in my 40s, I see myself more beautiful than I saw myself at the time," she said. "I used to criticize myself so much. Now when I look in the mirror and there are things that I don't see, I think about how much I'm going to like me in 10 years."
Salma Hayek is all about aging gracefully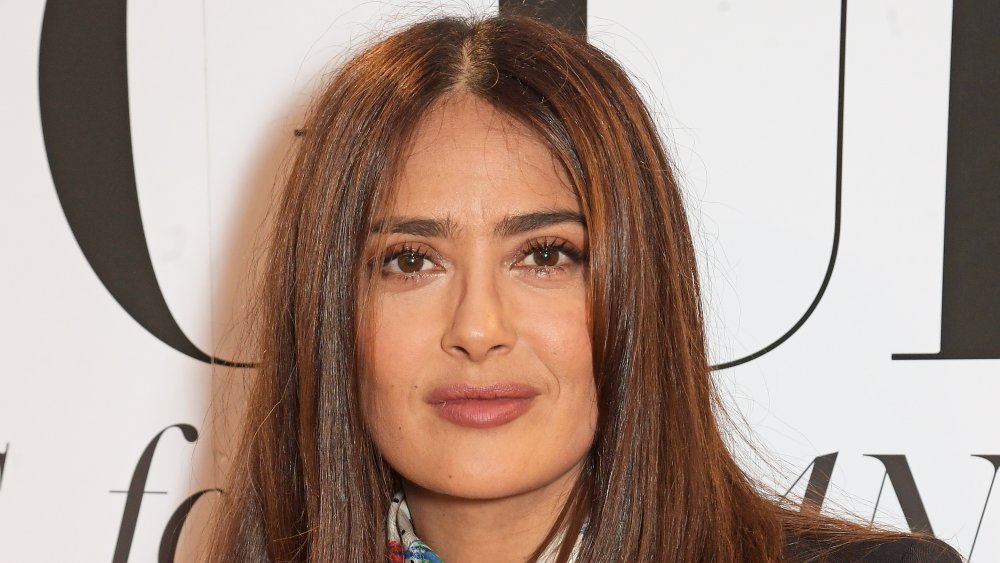 David M. Benett/Getty Images
The actress told Allure that she keeps everything minimal, from her skincare routine, to her day-to-day makeup look, to her hair. Hayek isn't worried about caking on makeup or covering up her white hairs. "I don't want to spend what's left of my youth pretending I'm younger and then not enjoying life."
Even though she's hailed as one of the most beautiful women in the world, though, Hayek still struggles with confidence sometimes. She told InStyle U.K. (via Today) that her body confidence isn't always 100 percent. "I think it depends on the day," she said. "For everybody, I think there are some days you say, 'This is it!' And you love it. Then there are days when you go, 'This cannot be it!' You know? Or 'Is this really it?'"
If Hayek ever has a down day, though, she can always turn to Instagram and read all the comments fans leave for her for a pick-me-up.