Why Everyone Is Talking About Iggy Azalea's Latest Instagram Post
Iggy Azalea stunned fans recently when she confirmed that she is a mom. Now, she's giving them even more to talk about with a couple of stunning photos that show off her sleek physique. The rapper flaunted her toned body on Instagram in skin-tight black jeans and a matching one-shoulder top.
Fans immediately lost it in the comments of the post (via Hollywood Life), laying compliment after compliment on the new mom. One adoring fan wrote, "Hair. Body. Everything goals. Omg." Another fan added,"Baddest mommyyyyyy."
"Keeping things simple," Azalea wrote in the caption of the post, tagging fashion brand Fashion Nova, which was behind the stylish ensemble. Fashion Nova was also wowed by the gorgeous photos of the celebrity. The brand shared Azalea's snaps on their own Instagram account, writing "Introducing The Newest MILF On The Block," in the caption.
Iggy Azalea kept her baby a secret for some time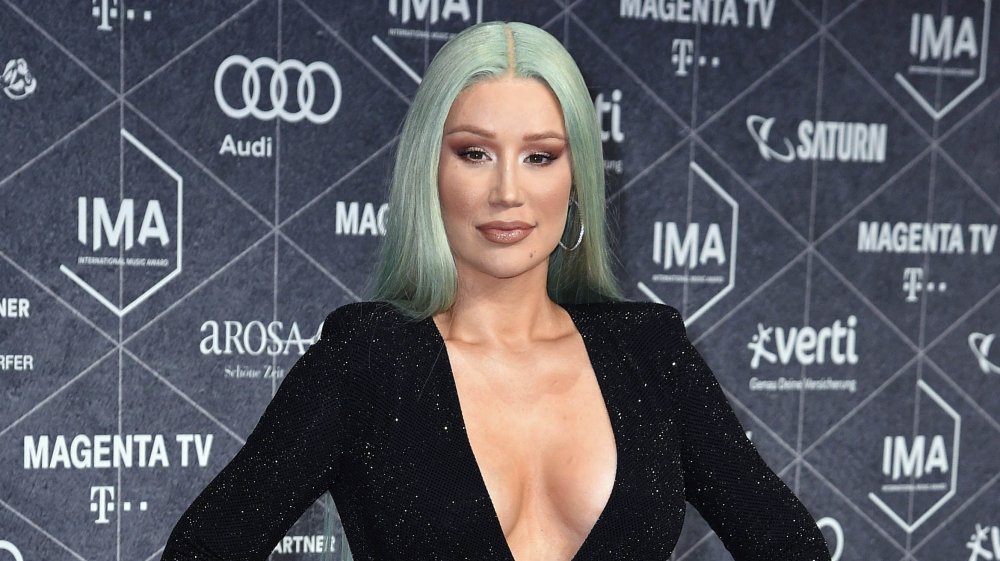 Tristar Media/Getty Images
Azalea announced her mommy status on her Instagram Story last week. The news came after fans had speculated she was having a baby with her boyfriend, fellow rapper Playboi Carti, but it was nevertheless a shock to the world. 
"I have a son," confirmed Azalea on the social media site. "I kept waiting for the right time to say something, but it feels like the more time passes, the more I realize I'm always going to feel anxious to share news that giant with the world. I want to keep his life private but wanted to make it clear he is not a secret and I love him beyond words."
Azalea is notoriously secretive about her private life, so it's not too surprising that she would want to keep the news of her baby a secret at first. She still has not shared the name of her bundle of joy or revealed his date of birth. Congratulations, Iggy Azalea!
Is Iggy Azalea engaged?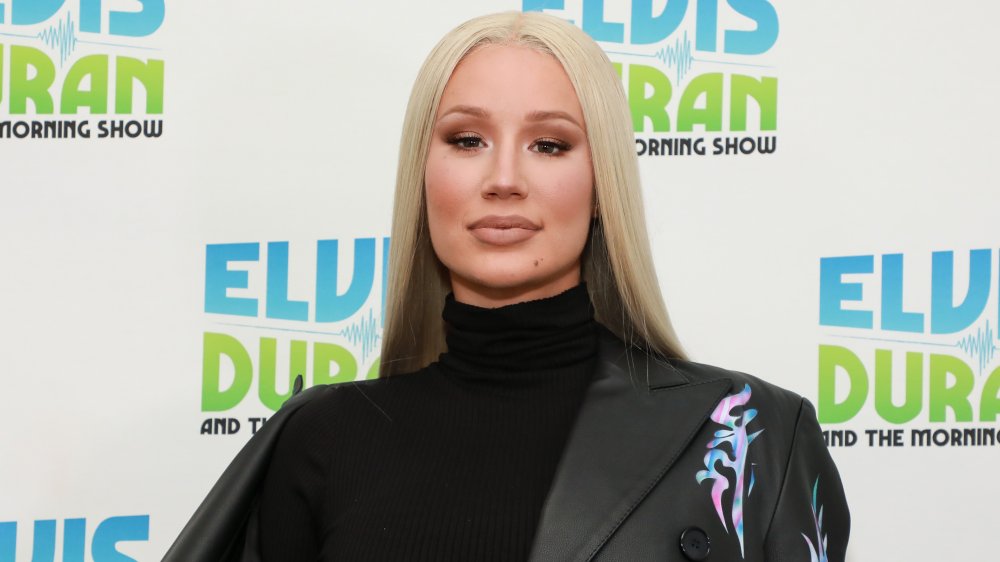 Jason Mendez/Getty Images
Azalea is also secretive about her relationship with the father of her son, but that commitment to privacy might be what helps their relationship thrive. The pair met in 2018, when Carti was on tour. For Carti, at least, it was practically love at first sight. "Once I started talking to her, I just cut off everybody," he told Fader. "It was over with."
They moved in together later that year. While the rappers have presented themselves as just dating to the public, fans have wondered if the relationship has progressed. In July 2019, Azalea posted a now-deleted photo on Instagram of her left hand sporting a massive diamond ring on her left finger. Fans immediately began trying to figure out what the ring meant. "Playboi put a ring on it? Or are you spoiling yourself?" asked one fan in the comments (via E! News). 
This is how Iggy Azalea stays in shape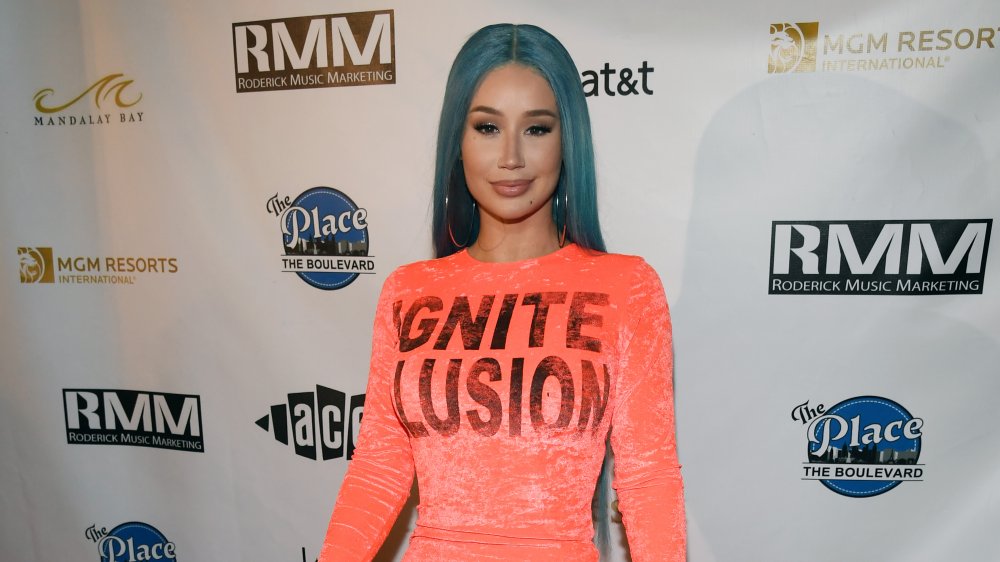 Ethan Miller/Getty Images
One thing Azalea has been less secretive about is her exercise routine. The celeb works hard to stay in shape and fans have long been impressed by her physique. In 2018, a source close to the rapper revealed that Azalea had changed her diet and workout regimen, because she wanted a healthier lifestyle. "She removed processed foods from her diet and almost completely gave up carbs and sweets," the source told Hollywood Life. The person added that Azalea's "strict workout regimen" consists of gym workouts, plenty of cardio "to keep her waist slim," as well as "lunges and squats to keep a bangin' booty."
The source continued, "Iggy has been very committed to fitness and healthy eating, but she still has cheat days and allows herself to indulge once in a while. She isn't too hard on herself and knows that splurging once in a while keeps her motivated in the long run."
Iggy Azalea has no patience for body shamers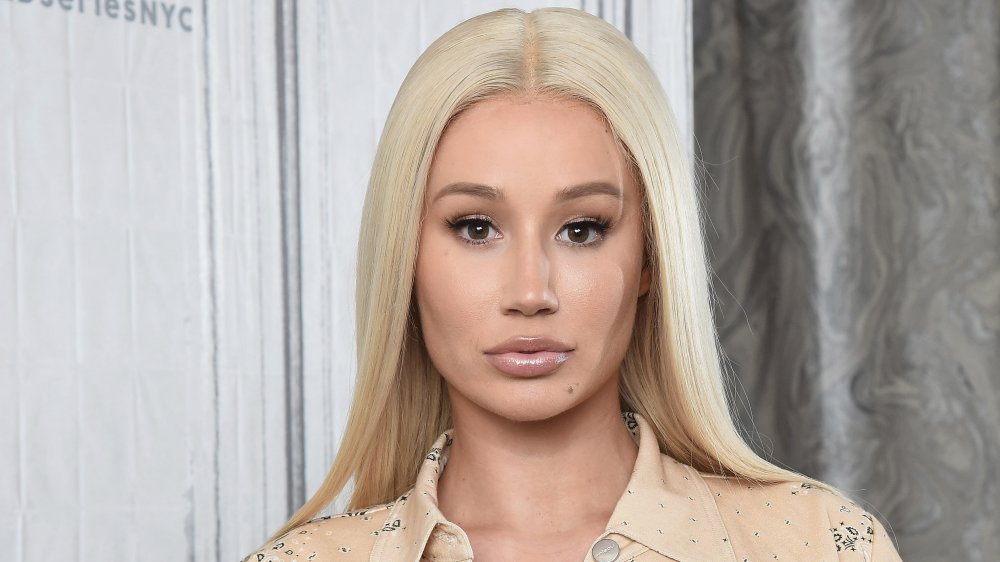 Gary Gershoff/Getty Images
While people can't stop talking about Azalea's latest series of snaps, not everyone has always been so supportive of the rapper. Azalea has had to deal with a lot of body shamers in the past. "Just got back from a great vacation, came online and saw apparently it's shocking and unheard of to be a woman and have cellulite," she wrote in a now-deleted tweet in 2015 (via TakePart). She spoke up after paparazzi photos of her in a bikini were circulated, along with headlines commenting on her cellulite. 
Azalea also has pushed back at outlets for criticizing her appearance. After she made headlines for arriving at an airport sans makeup in 2014, Azalea clapped back in another tweet that has since been removed: "I just want to take the time to say if you're a woman or even a blog trying to make me feel bad for pictures of myself with no makeup F you!" she wrote.
Azalea has worked hard to build up her body confidence, telling Australia's Today Show (via Refinery 29) in 2015 that self-love hasn't always been easy. "Some days I just think I want to crawl in my cave and I don't feel confident at all, and other days I feel great," she said. "I think it's like that for all human beings, not just young women ... I think maybe feeling confident or 100% every day is something to aspire to, but I don't know if it's humanly possible for anybody."