The Truth About Queen Elizabeth's Stunning Coronation Shoes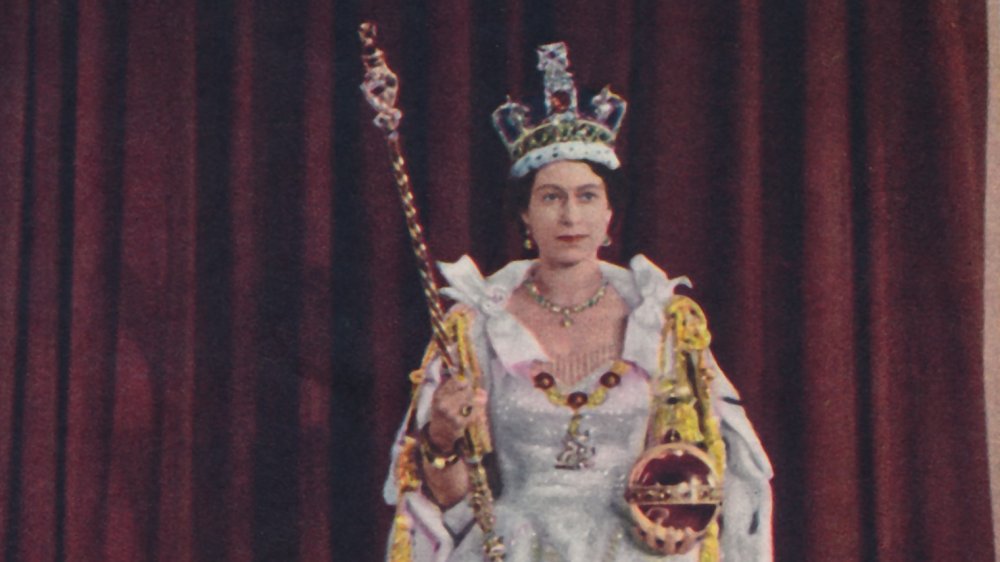 Print Collector/Getty Images
Queen Elizabeth's style has always been classic, even in her younger years. Don't believe us? Just take a look at her coronation garb, which included an incredibly lavish pair of shoes.
As noted by People, Queen Elizabeth was crowned Queen Elizabeth II on June 2, 1953 at Westminster Abbey. Just 27 years old at the time, the young royal dressed to impress in a white satin gown embroidered in gold and silver. The dress was designed by Norman Hartnell, and was offset by a purple silk velvet robed trimmed with ermine.
As elegant as the outfit was, it was the shoes Queen Elizabeth wore that truly set the outfit over the top. The custom-made shoes were designed by a French shoemaker named Roger Vivier and made in collaboration with British shoemakers Delman Ltd. It seems that coronation shoes are a really big deal as the design was kept a secret until the royal's big day.
Queen Elizabeth's coronation shoes were covered in rubies
The stunning shoes were made out of gold leather with ruby-encrusted heels. Vivier was inspired by France's Chartres Cathedral, which features gorgeous rose windows. He also included a fleur-de-lys motif in the shoes, in order to match the Imperial State Crown that Queen Elizabeth wore when returning to Buckingham Palace on her coronation day.
While choosing a French designer to create Queen Elizabeth's coronation shoes might have seemed like an odd choice, the royal was actually following a family tradition. Her mother also wore shoes designed by Roger Vivier at King George's coronation in 1937. Both Queen Elizabeth and her mother had an invisible extra platform inserted into the shoes to keep their feet comfortable during the hours-long ceremony.
If you want to get your own version of Queen Elizabeth's coronation shoes they'll cost you a pretty penny. Thanks to the work of the brand's creative director Gherardo Felloni, an updated version of the sandal is for sale from Roger Vivier for $1,995. Hello! noted that the new design of the shoe comes in black, pink, and gold. "The look is timeless," Felloni told British Vogue. "Everything and nothing about the modern version is the same. Each detail has been redesigned for a contemporary woman, but the symbolism, including the fleur de lis motif and the crystals, remains."