Why Walmart's Mississippi Flag Decision So Important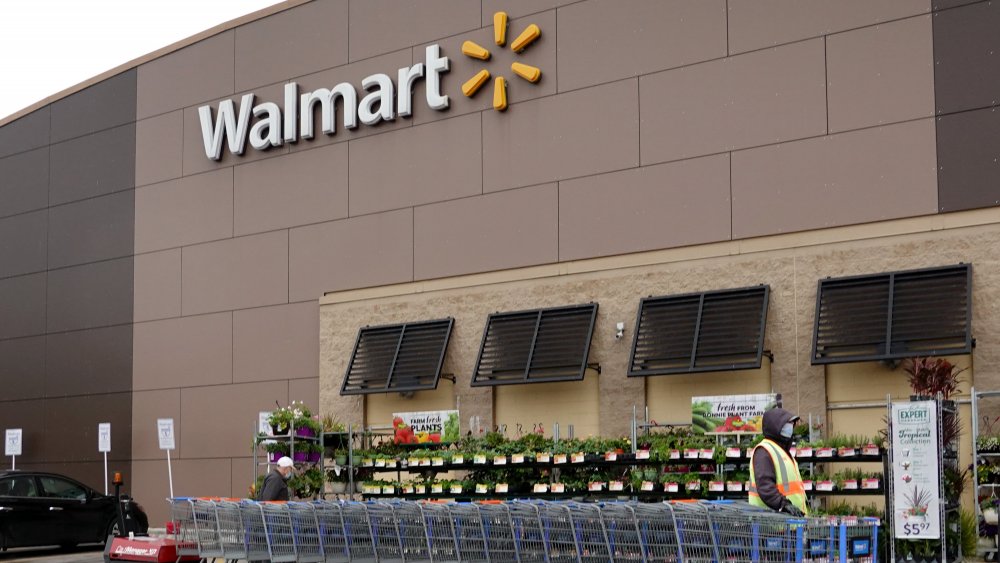 Scott Olson/Getty Images
At a time when voices across the nation are being raised in protest against 400 years of institutionalized racism, we've seen businesses large and small realizing that it's past time to show their own support for doing away with racial prejudice. Such iconic brands as Aunt Jemima and Uncle Ben's have finally chosen to re-brand, Ben and Jerry's stated their intent to drop all Facebook advertising until the social media platform takes its own strong stance against hate speech, and now retail giant Walmart has quietly made a move of its own that denounces what has become one of the country's most enduring symbols of racial disharmony — the Confederate flag.
Specifically, Walmart is rejecting this image as it is incorporated into the present-day flag of the state of Mississippi, as the retailer banned the sale of Confederate flag merchandise back in 2015. While Walmart made no big announcement regarding its recent decision, company spokesperson Anne Hatfield revealed (via AdWeek) that the company several weeks ago "made the decision to remove the Mississippi state flag from display in its current form from our stores."
Walmart is one of many organizations objecting to Mississippi's flag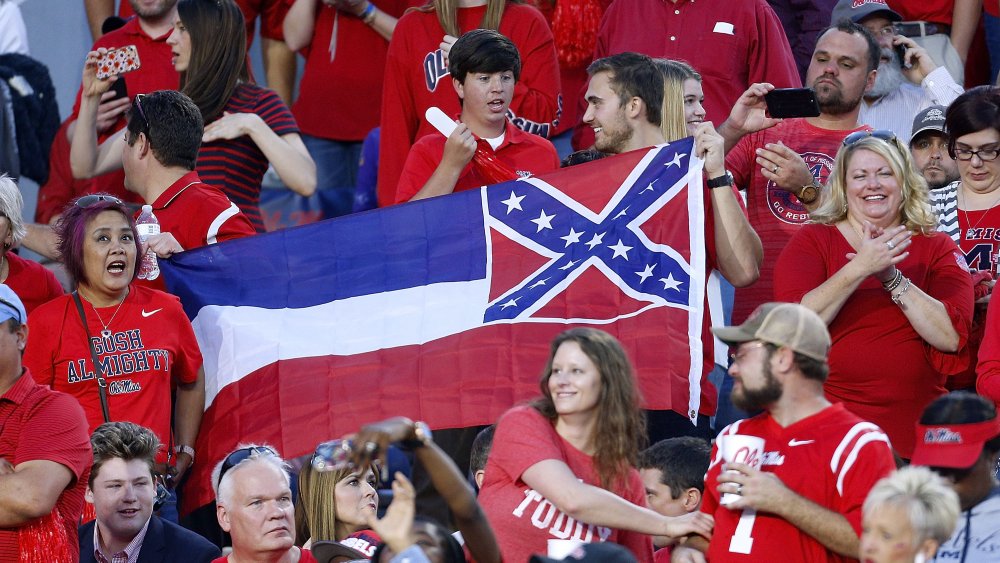 Jonathan Bachman/Getty Images
The Mississippi flag has been a source of controversy for a number of years. As Mississippi Baptist Convention executive director and treasurer Sean Parker explains, "Currently, 38 percent of Mississippi is black. And many of those Mississippians are hurt and chained by the historical symbolism of the current flag." While legislative efforts to change the flag failed in the 1980s and '90s, in recent years momentum has been building to get rid of this last state-mandated hate symbol. The Mississippi Clarion-Ledger reported that SEC commissioner Greg Sankey said his organization was considering prohibiting the state of Mississippi from hosting any championship events until the flag was changed, and according to Newsweek, Mississippi State running back Kylin Hill is refusing to play again under that offensive flag.
With Walmart joining in the protest, it seems the state legislators can't help but take notice, since nobody wants to lose the goodwill of the state's largest employer (via the Hattiesburg American). And it looks like Walmart isn't going to back down when it comes to refusing to display Mississippi's current flag in any of the 78 stores it operates in the state. According to Hatfield (via AdWeek), "We believe it's the right thing to do... as part of our commitment to provide a welcoming and inclusive experience for all of our customers in the communities we serve."