The Laundry Detergent Mistake You've Been Making Your Whole Life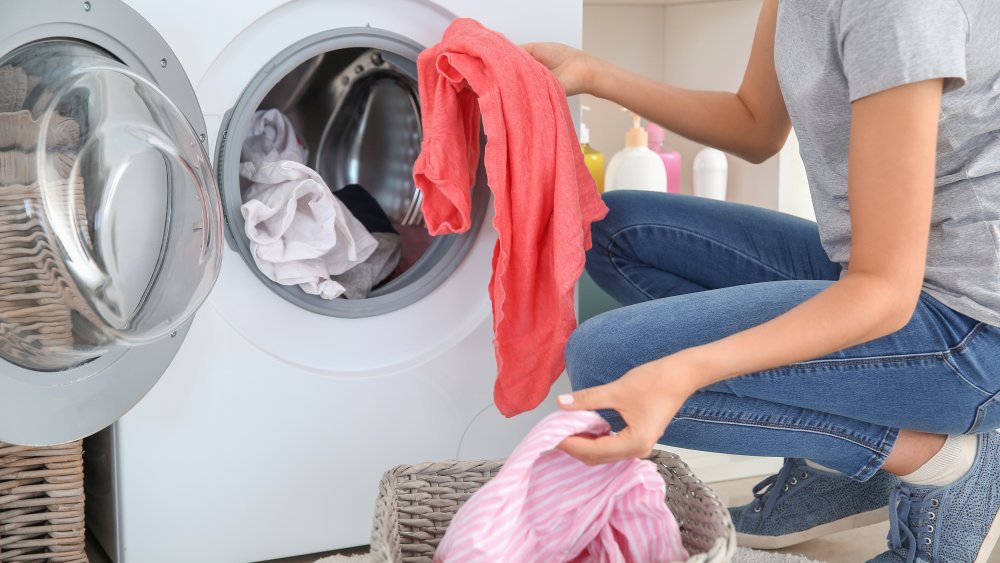 Shutterstock
Most of us dread doing laundry. There's the multiple trips back and forth grabbing your clothes, separating loads based on dark and light attire, and let's be honest, it sometimes can take the whole day. In the U.S. alone, families wash about 300 loads of laundry a year, as reported by the National Park Service. But recently a woman found a washing hack that could make that process just a little bit easier, according to News.Com.Au. She discovered that the plastic cup that comes with detergent isn't just used for measuring liquid — it can also be thrown into your washing machine, along with your clothes. This method means that none of the detergent goes to waste and you won't have to do any rinsing of the cup yourself. 
She posted her discovery in a popular Aussie Facebook group, Mums Who Clean, and members were shocked. One member commented, "Wow I never knew — I'm gonna do this from now on." Another was equally surprised and said, "Wow, I am learning this for the first time today!" The post quickly went viral with more than 13,000 shares in just a few days and hundreds of Facebook members weighed in on the comments. 
However, not everyone was surprised by the laundry hack. One woman commented, "I thought everyone knew this." Another member agreed, adding, "I'm surprised there are people out there that didn't know this." 
Check the instructions on your laundry detergent before trying this trick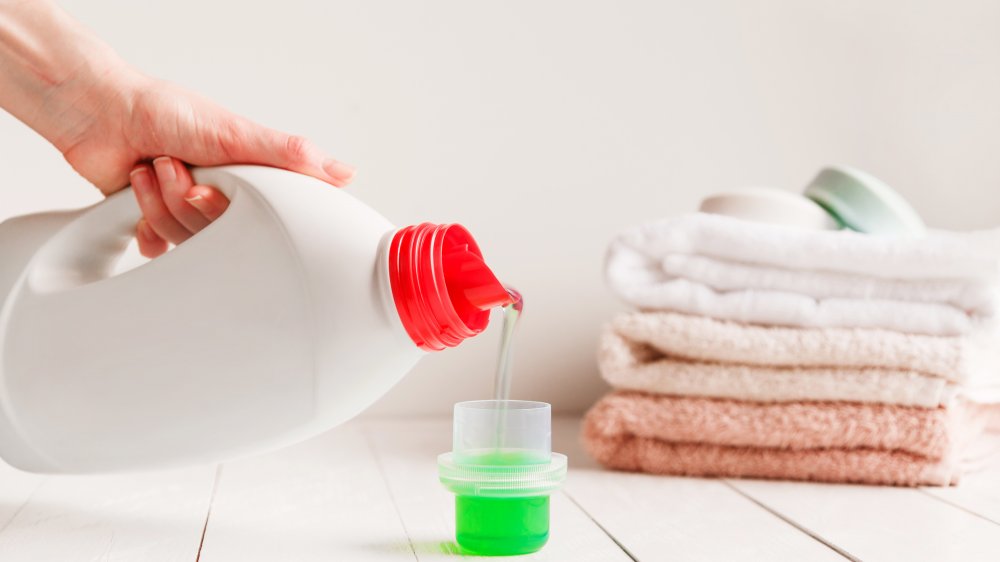 Shutterstock
Some washers worried if this technique was safe for their washing machines. According to Colin Jones, category expert at Appliances Online, it's not. "There could be a risk of damaging parts and components, within the bowl itself, in relation to the agitator," Jones said to New.Com.AU. "It could get caught or trapped under the agitator or damage the fins of the agitator. Also, it could damage the plastic cup you put in, resulting in bits of plastic going through your clothes." Luckily, per SimpleMost, most detergent brands will let you know on the bottom of the cup if it is safe to include with your load of laundry. Just look for the words, "Toss in wash or rinse and let dry."
One more caveat: Jones also explained that if you put the plastic cup in front-load washing machine and do a cycle with a pre-wash, it only will wash with the detergent for the first few minutes, and not the entirety of the main cycle. "It will then pump it out, which means you will have no detergent for the main wash program and your clothes might not receive the benefits of a full wash," he said. 
Even so, some commenters noted they've used this technique for years and had no issues — so attempting this washing wizardry is up to you!