Why The King From Hamilton Looks So Familiar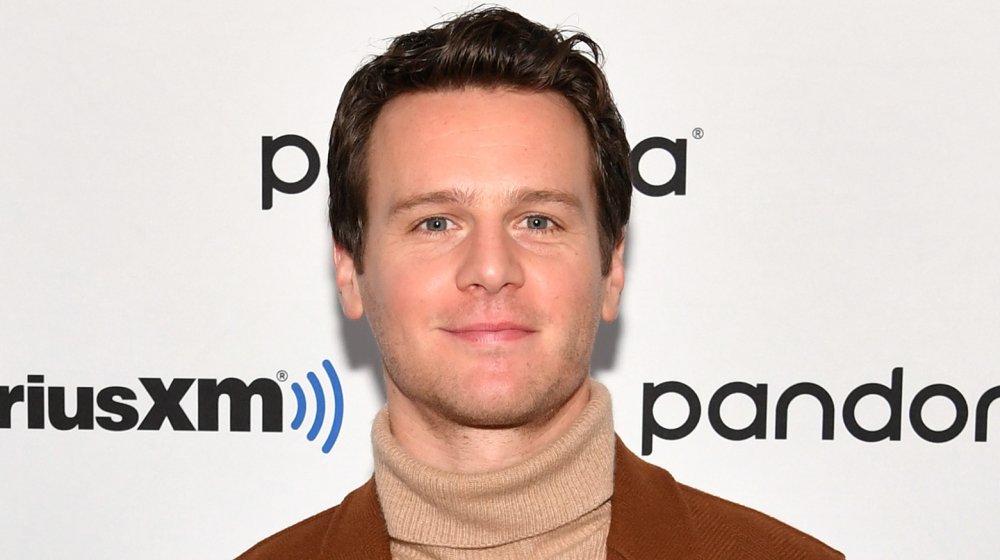 Slaven Vlasic/Getty Images
If King George from the Broadway hit Hamilton looks familiar, it's because the actor who plays him, Jonathan Groff, has also starred in popular television shows and movies since 2007, when he landed his first role as Henry Mackler on One Life to Live, followed by The Good Wife in 2012. He's held major roles on hits like Glee and Netflix's Mindhunter, and has also lent his voice to characters in Frozen and The Simpsons, per IMDb. Aside from his small-screen soap breakout role, Groff's other big break came in 2007 with his performance in the rock musical Spring Awakening. 
The two-time Tony Award-nominee played Melchior, a teen in 1890s Germany who is coming to terms with his sexuality — which mirrored Groff's own life at the time (via Playbill). "I got cast for Spring Awakening when I was 20," he told GQ. "Every dream I had came true in that moment. But I was closeted — I'd kept a journal every day for years, but I never journaled about the real stuff, because I was always afraid someone would read it."
Jonathan Groff has been entertaining us for more than a decade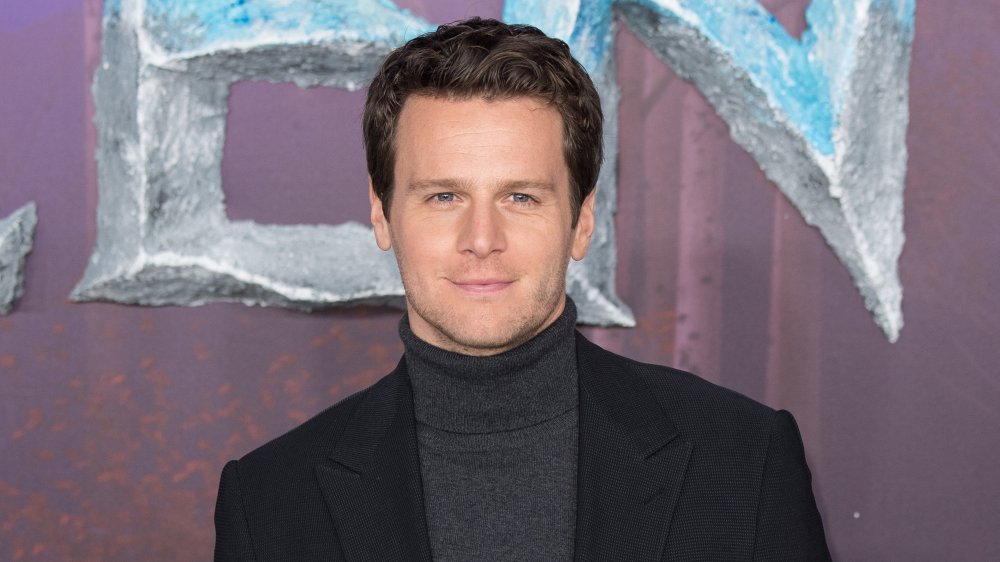 Jeff Spicer/Getty Images
Groff said after the show ended, he went to Italy by himself for two weeks and decided to come out, which he said was a truly awakening moment for him. "There's kind of a gift in being gay, because if you come out, you're forced to express yourself," he told GQ. "All the projects that I've done since that moment have so much more meaning. And I realized whether you're playing a gay or straight person, it's all the same. We all have heartbreak and love."
In 2010, Groff went on to star opposite Lea Michele in Glee, portraying Jesse St. James, a rival glee club member, and later, a love interest of Michele's character, Rachel (via Entertainment Weekly). Showing his incredible acting range, he's also voiced Kristoff in Disney's mega-hit Frozen films. Groff told NPR the experience was interesting for him, because he had never done voiceover work before. He said he explored many different voices before landing on the perfect one for his character. We're sure kids around the world would agree.
Jonathan Groff shows his acting range in thrillers like Mindhunter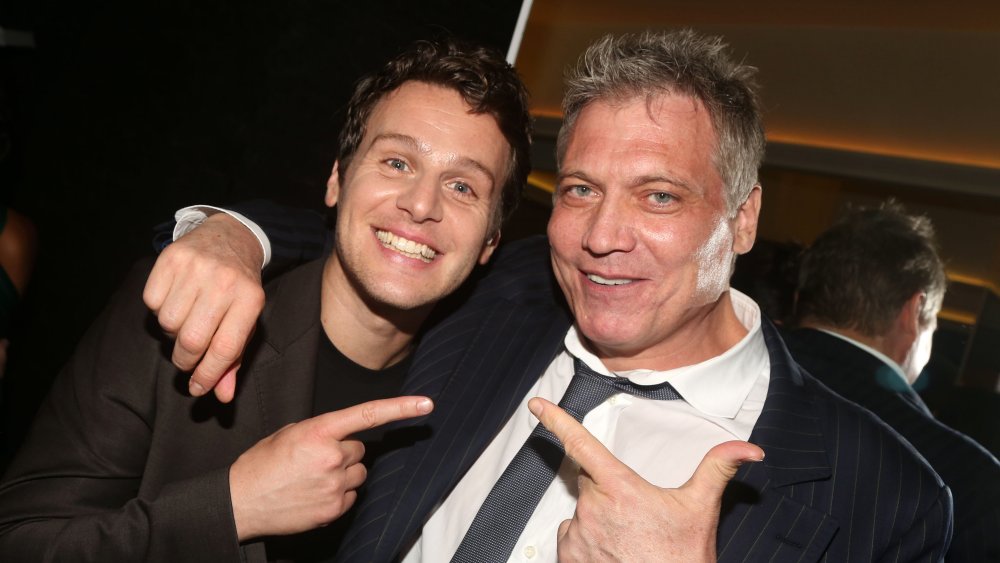 Bruce Glikas/Getty Images
More recently in 2017, Groff took on the role of Holden Ford in Mindhunter. According to IMDb, the show is set in the 1970s and features two FBI agents who are assigned to interview serial killers in order to solve open cases. To understand the character in a deeper way Groff told NPR he read the book Mindhunter, which was written by John Douglas, who the character is modeled after. "And he really lays it all out in that book, just specifically his journey, but also emotionally the kind of toll that talking to the serial killers — and more so, talking to the victims — had on him and his life," he said. "And he did have a total mental and physical breakdown."
However, it was Groff's role in Broadway smash-hit Hamilton that really allowed him to learn how to connect to a live audience in a more intimate way. "Playing the king, you get to speak directly to the audience, and you can do anything you want. I didn't get to have a lot of stage time with my fellow castmates, but I got to build a relationship with the audience every night," Groff explained to The Hollywood Reporter.
Hamilton made Jonathan Groff a household name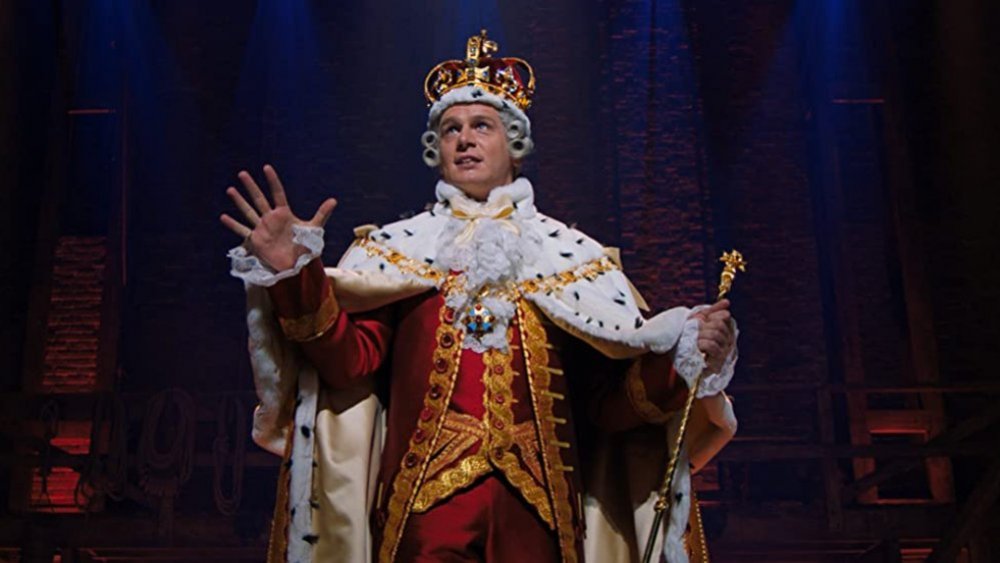 Disney+
"I also learned about how you can do a lot with very little — as in, it's nine minutes of stage time, but also, it's the little eye movements, eyebrow movements, hand movements," he said. "You could do one small thing and have a huge impact in a 1,300-seat Broadway theater, which is such a surprise." Anyone who was lucky even to see Groff live, or more recently on the Disney+ presentation of Hamilton will know truer words have never been spoken. Though he doesn't have tons of screen time, Groff definitely leaves a mark as King George.
He explained that his now iconic songs "You'll Be Back" and "What Comes Next" were not only vocally difficult for him to sing, but hard for him to be on the stage alone. He also admitted halfway through the show's original off-Broadway stint that he decided to change his character's accent. "I started slowly filtering it in, and it became my alter ego backstage," Groff told The Hollywood Reporter. "So right before I went onstage, I'd read a page from a book out loud in the accent to get into the mindset."
Next up for King George, er... Groff? He'll star opposite Keanu Reeves in Matrix 4, currently set for release in 2022.