Inside Kaley Cuoco And Johnny Galecki's Relationship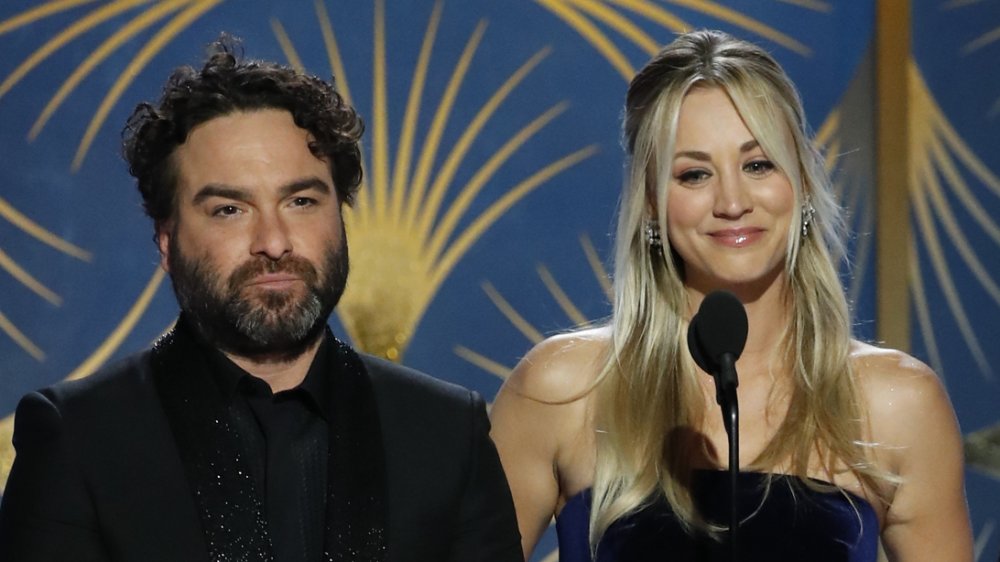 Handout/Getty Images
Johnny Galecki and Kaley Cuoco played on-again-off-again TV couple Leonard and Penny on the Big Bang Theory from its pilot in 2006 to the series finale in 2019 (via IMDb). Their onscreen chemistry is undeniable, but just like their onscreen personalities, their personal lives have had a few bumps in the road — but the two clearly share a tight bond. 
Sharing their story with us via social media, we can see many moments filled with lighthearted teasing and laughter. In 2019, for the series finale, Galecki shared an adorable before and after photo captioned on Instagram, "What a difference 12 years of fake marriage makes. [heart] you, Mooks." And just a few months earlier, Cuoco sent sweet, emoji-filled wishes to Galecki and costar Kunal Nayyar, saying, "HAPPY HAPPY BIRTHDAY to two people I've shared the last 12 birthdays with! How incredible to spend it together shooting our final episode tonight! Just wow ... cheers to you both!! This one will for sure be unforgettable." (via Instagram)
A secret offscreen romance thrilled fans
Galecki and Cuoco had a secret relationship for two years ending in December 2009, running a bit ahead of the curve of their characters Leonard and Penny (via AOL). The secretive nature of their romance was based on a protectiveness of the show and its characters, not out of any shame — but it may have contributed to their breakup. "It was such a huge part of my life, and no one knew about it," Cuoco said in a now-deleted CBS Watch interview. "It was a wonderful relationship, but we never spoke a word about it and never went anywhere together." (via Today)
Added Galecki, "I just don't like to speak about it. And not because I'm trying to be enigmatic; I just worry that it will conflict with people's acceptance of Leonard and Penny ... I get the curiosity, but I don't want to distract from the story." He made it incredibly clear, however, that Cuoco is, and always will be important to him. "We're dear friends, still. She's not an ex, she's a part of my life." 
Cuoco clearly agreed, telling Haute Living, ""We weren't weird, which is what was weird; it was a mutual breakup, and you can rarely say that." She added, "We got over it really fast, and we're closer than ever now. It could have gone either way, and I was really proud of us."
Cuoco and Galecki are great friends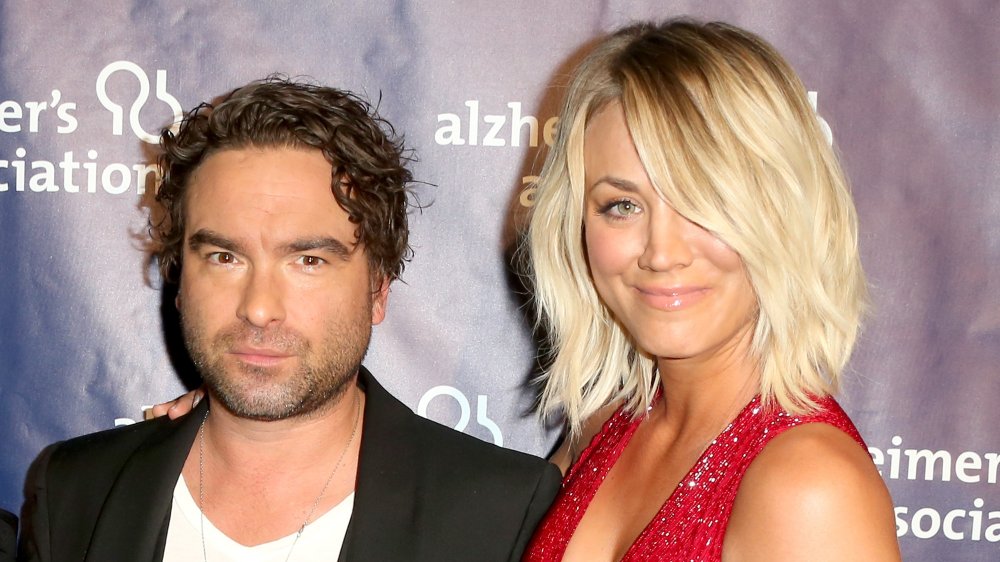 Frederick M. Brown/Getty Images
Per Metro, the two still tease and throw shade back and forth, as Cuoco recently replied to an Instagram jab from Galecki with one of her own. "Looks like everyone loved my [Big Bang Theory] posts, including lots of pics with @sanctionedjohnnygalecki [eyeroll emoji] ugh don't tell him." (via Instagram) And as you can tell by the recent public interaction, they stay in touch with each other. 
While both are still big names in Hollywood, they lead very different lives than their characters now that their show has ended. Kaley Cuoco married Karl Cook in July 2018, and Galecki was there to cheer her on. "Couldn't be happier for my fake wife @normancook and @mrtankcook whose words brought us all to tears last night. So much love for you both." (via Instagram) As Galecki's own family has evolved with partner Alaina Meyer and a young son, Cuoco gushed about the new dad to Us, "[Johnny] sends me pictures constantly. He's very proud. It's really, really sweet."
While we might still all mourn what could have been with two of our favorite TV leads, their relationship today is goals for both friends and exes alike — and we'll be staying tuned on Instagram in hopes they share more.