Here's What Dr. Fauci Says About Wearing Goggles In Public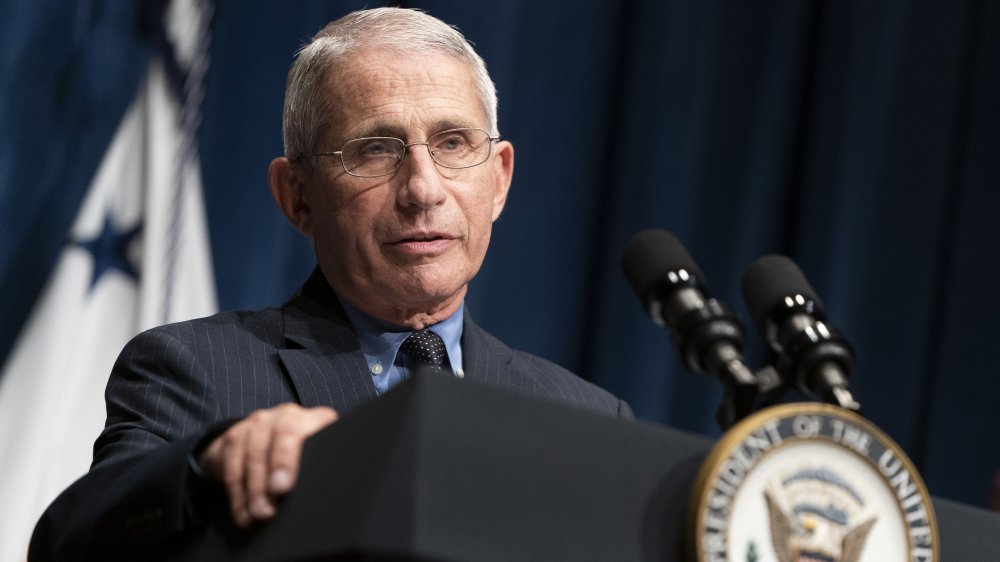 Joshua Roberts/Getty Images
As Americans learn more about the spread of COVID-19, Dr. Anthony Fauci has come out to dispel misinformation and clarify how we can keep ourselves safe. While mask-wearing has become a habit for many, there's been some confusion about whether to add goggles or face shields. In an Instagram Live with ABC News, Fauci made his answer absolutely clear. "If you have goggles or an eye shield, you should use it," he said. While Fauci stopped short of saying eye coverage was universally recommended, he did say, "if you really want to be complete, you should probably use it if you can."
It may be a while before there's an official recommendation for face shields. The CDC didn't officially recommend cloth face coverings until April 3 (via NPR.) For worried essential workers whose work brings them in frequent contact with the public, a face shield might at least provide some peace of mind. Some teachers have already tweeted about their intention to wear face shields when they go back to the classroom.
How goggles and face shields protect you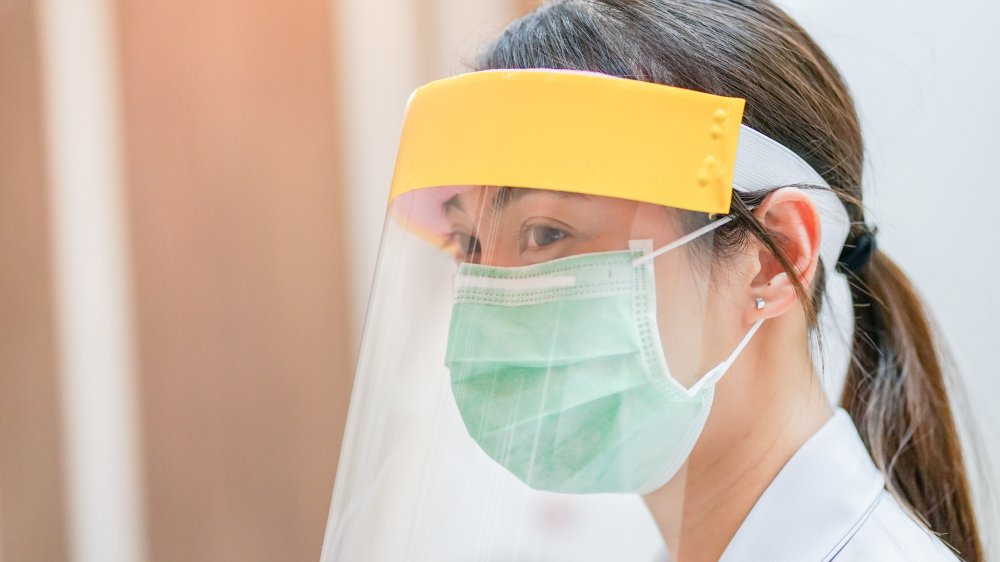 Shutterstock
How exactly COVID-19 spreads from person to person is still being investigated. The FDA reports that most virus transmissions are thought to be from person-to-person contact, including between asymptomatic people. The WHO acknowledges that many studies link respiratory droplets to COVID-19 transmission and recommends anyone caring for a patient to take precautions around airborne transmission.
So how does protecting your eyes protect you from airborne viruses? It's all about the mucosal surfaces. "You have mucosa in the nose, mucosa in the mouth, but you also have mucosa in the eye," Fauci told ABC News. "Theoretically, you should protect all the mucosal surfaces."
Apart from protecting from airborne particles, goggles and face shields can prevent users from touching their eyes and introducing the virus to the mucosa there. On Fox & Friends this morning, Dr. Deborah Birx explained, "The thing about the face shields — we think that could protect the individuals and that it would decrease the ability for them to touch their eyes and spread the virus as well as those droplets coming towards them" (via The Hill.)
More safety recommendations from Dr. Fauci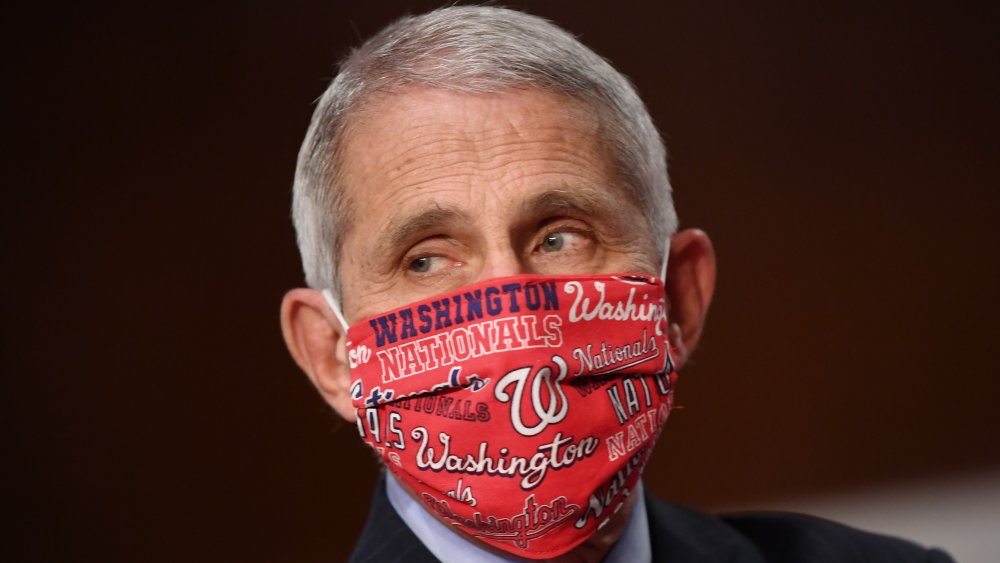 Pool/Getty Images
Want to do more to protect yourself? Dr. Fauci recommends getting a flu shot (via Newsweek.) When flu season begins in the fall, two major respiratory diseases will be circulating. That means more patients in hospitals, with potentially limited resources to treat them. Moreover, researchers have started to wonder whether flu shots might have other benefits. Shortly after Fauci's comments, a study revealed a potential link between getting a flu shot and a decreased risk of Alzheimer's. Fauci recommends getting a flu shot as soon as the fall shots are available.
The most important proven prevention method remains wearing a mask. Wearing a cloth mask is still an effective way to keep yourself and others safe. If your current mask leaves you hot or uncomfortable, the Mayo Clinic suggests trying a few different kinds. Different styles of mask can fit your face better. And, of course, keep washing your hands, especially after changing out your mask.