The Untold Truth Of Karen Bass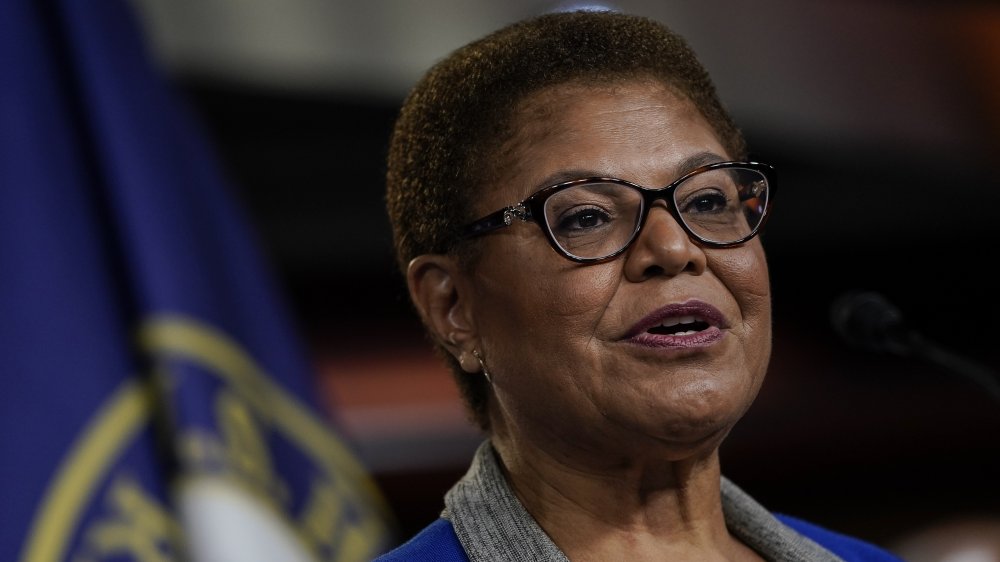 Drew Angerer/Getty Images
If you haven't heard of Karen Bass, you will soon. The politician gained an international audience when she emerged as one of the top contenders in Joe Biden's list of potential running mates in the 2020 presidential election.
As noted by the National Foster Youth Institute, Bass was elected to the California State Assembly in 2004. She went on to become the first African American woman as well as the first Democratic woman to serve as Speaker of the California Assembly, in addition to becoming the first African American woman to become the speaker of any state assembly in the country. Today, the California congresswoman serves as the chair of the Congressional Black Caucus.
"Everybody likes Karen Bass," former California state controller Steve Westly told CNN. "People are scratching their heads saying, who is this woman? When you've been speaker of the legislature for a state that's twice the population of New York and the world's fifth biggest economy, you know how to manage media, you understand the economy. I think she is stronger than people think."
Karen Bass used to be a physician assistant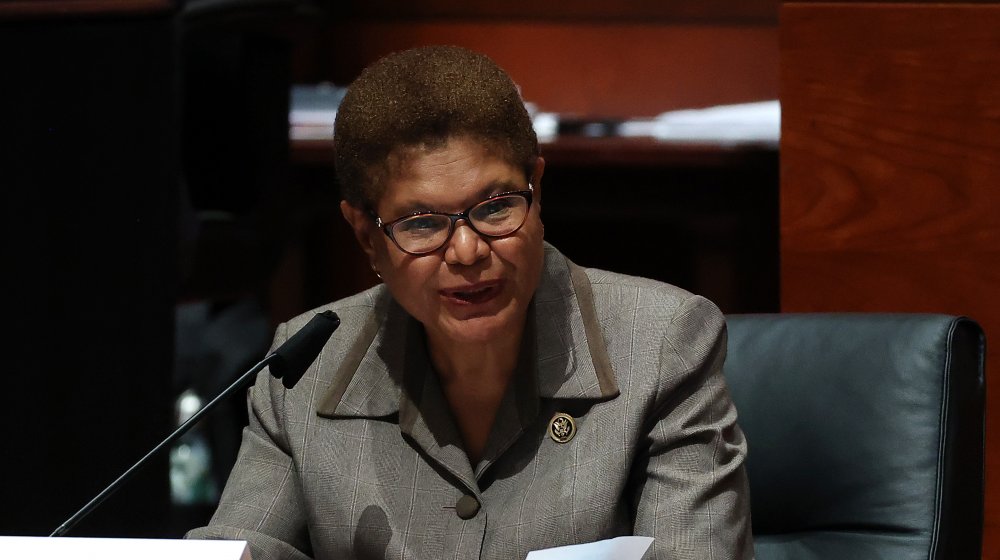 Chip Somodevilla/Getty Images
Bass has a lifelong interest in science. The Los Angeles native attended Hamilton High School, Cal State Dominguez Hills, and the University of Southern California's School of Medicine Physician Assistant Program, per her biography at the United States House of Representatives. Before she was a politician, Bass worked in the medical field as a physician assistant as well as an instructor at the University of Southern California's Keck School of Medicine Physician Assistant Program.
In 2010, Bass made history again as the first physician assistant ever elected to serve in the U.S. House of Representatives (per the Physician Assistant History Society).
Karen Bass worked as a community activist for years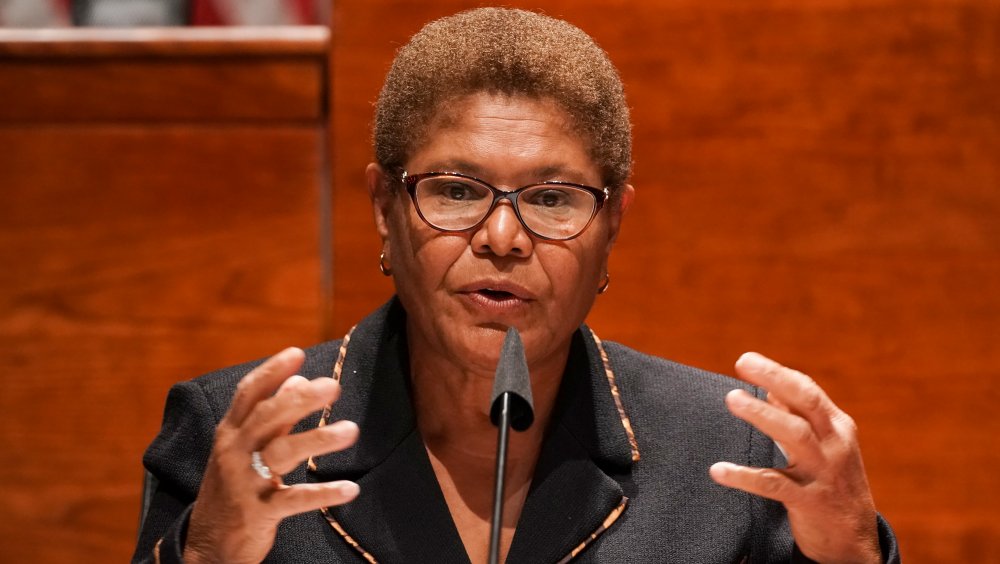 Pool/Getty Images
Long before she pursued a political career, Bass was committed to social change. At the age of 14, she went door to door to encourage her neighbors to vote for Robert F. Kennedy — whom Bass admired as both an activist and a politician — in the Democratic presidential primary (per Politico). As an adult, she became a community activist. In 1990, she founded the nonprofit Community Coalition which was founded upon "no celebrity-style leadership."
Bass was inspired by the civil rights movement, as she told the Los Angeles Times. "My father was from the South and turned me into a news junkie at a very early age," she said. "I would sit and watch TV with him. It seemed like the whole world was changing. I couldn't wait to grow up."
Karen Bass is a fighter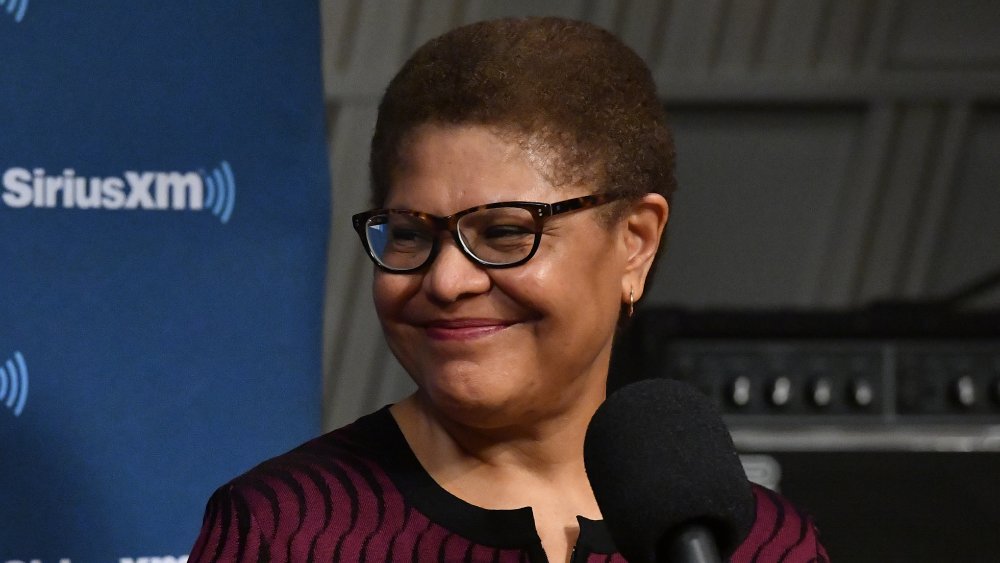 Larry French/Getty Images
Not only does Bass fight for causes she believes in, but she also knows how to fight physical battles. Bass told the Los Angeles Times that she earned brown belts in both tae kwon do and hapkido when she was in her 20s. "What it taught me was how to fight in a manner that is respectful; don't personalize, and get to the point," she said. "The goal of a martial artist is actually to not fight, [it's] to prevent the fight. If somebody attacks you, you're taught how to take their energy and use it against them. Remember those old Bruce Lee movies? When somebody who had watched a Bruce Lee movie would think they knew how to fight — with no discipline, no control — they would come in just flailing, swinging. You should have goals; it should be clear where the beginning, middle and end game is, and that's what I felt I was taught."
Training in martial arts helped prepare Bass for her political career. "The discipline, the control of emotions and picking your fights — not just fighting because it makes you feel good, but fighting with a purpose," she said.
Karen Bass has worked to stay out of the spotlight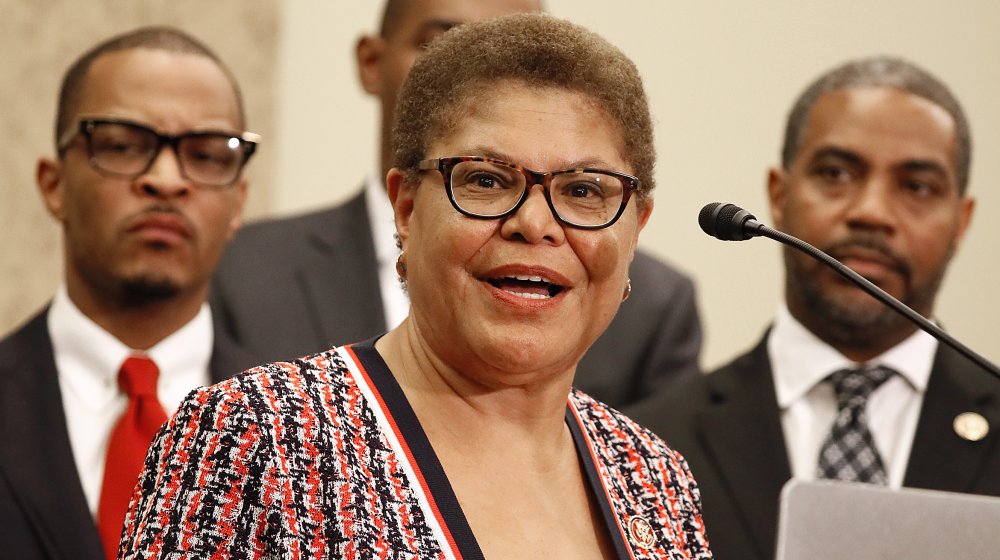 Paul Morigi/Getty Images
While Bass has been involved in politics for years, and in community organizing for even longer, she has kept a low profile for most of her career. This was very much design, which is why many people were surprised to hear that she was being considered as Biden's running mate. Bass is reluctant to even be photographed. "She is all about the work, and not about getting the credit," Marqueece Harris-Dawson, Los Angeles city councilman told Politico.
Bass has learned to engage with the public more over the years, but it hasn't been easy. "I learned after I took office that if I didn't talk about what I was doing, people would think I wasn't doing anything," she said. "They needed to see and hear me."
For Bass, everything has always been about work she is doing. "I've had a hard time adjusting my language to talk about me," she said. "We live in a celebrity culture, so I had to unwind some of that reluctance."