The Surprising Way Rebel Wilson Is Reaching Her Fitness Goals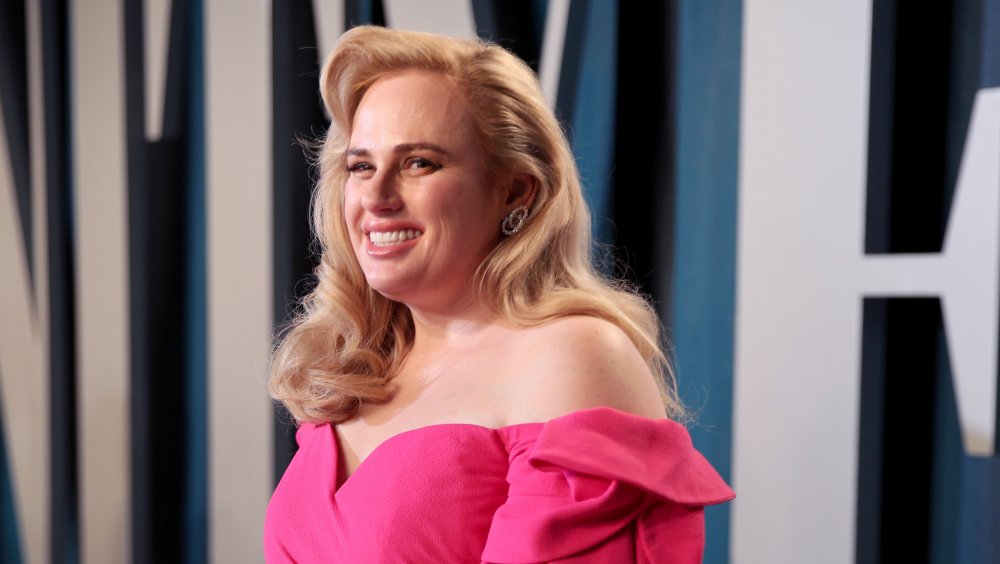 Rich Fury/vf20/Getty Images
On January 2, Pitch Perfect actress Rebel Wilson made an Instagram announcement about her serious resolution. "Okay so for me 2020 is going to be called 'The Year of Health'," Wilson captioned photos of her cavorting in the Australian surf in her best athleisure. Unlike most people with their New Year's Resolutions, Wilson has stayed committed to improving her health through most of the year. Turns out, she loves to set goals for herself. 
Apparently, for Wilson, 2018 was the Year of Fun, full of adventures and travel, while 2019 was the Year of Love, and full of amazing dates (via People). Wilson's health goals were reportedly inspired by a 2019 retreat to the luxurious Australian medical detox and wellness center VivaMayr with her friend, TV host Carly Steel. After having success with VivaMayr's nutrition plan, the Mayr Method, Wilson continued following the gut health-focused diet and has seen serious results.
The Mayr Method gives Rebel Wilson a lot to chew on
What you eat on the Mayr Method isn't too surprising. According to Today, the diet starts with a short fast over a few days to detoxify your system. Then, you start eating high alkaline foods, like fish and vegetables, while cutting out most dairy and gluten. Rather than counting calories, dieters focus on eating the right kinds of foods, cutting down on processed foods, and eliminating sugar and caffeine (via Good Housekeeping).
What's more surprising are the eating habits the Mayr Method encourages. The Mayr Method encourages dieters to chew each mouthful of food at least 40 times. VivaMayr resorts reportedly has staff members trained to train people how to chew, using foods like stale bread for practice. According to Healthline, spending a longer time chewing helps people consume less food, and some experts believe it gives eaters more nutrients. The Mayr Method also encourages mindfulness by eating without watching television so you can focus on your food.
Rebel Wilson's workouts are not for the weak of heart
Looking for some motivation to work out? Check out Wilson's Instagram, where she regularly posts pics and videos of her workouts. She recently showed herself flipping tires while challenging action hero brothers Chris and Liam Hemsworth to keep up with her. She and her trainer, Jono Castano, also ran steps at the Sydney Opera House. Wilson regularly works out seven days a week, making sure to include heavy lifting (via Daily Mail). She also mixes up her routine, trying out boxing, hiking, and battle ropes at the gym.
All of Wilson's hard work has been paying off. Her recent photos show her looking happy and full of energy, even after being woken up by an earthquake at 4 a.m. — as we can see from her hilariously unamused expression on Instagram. When Wilson announced her Year of Health, she mentioned that she hoped to get down to 75kg, or about 165 pounds. It's hard to imagine she won't smash that goal.