Amazon's A League Of Their Own TV Series Will Be Very Different From The Movie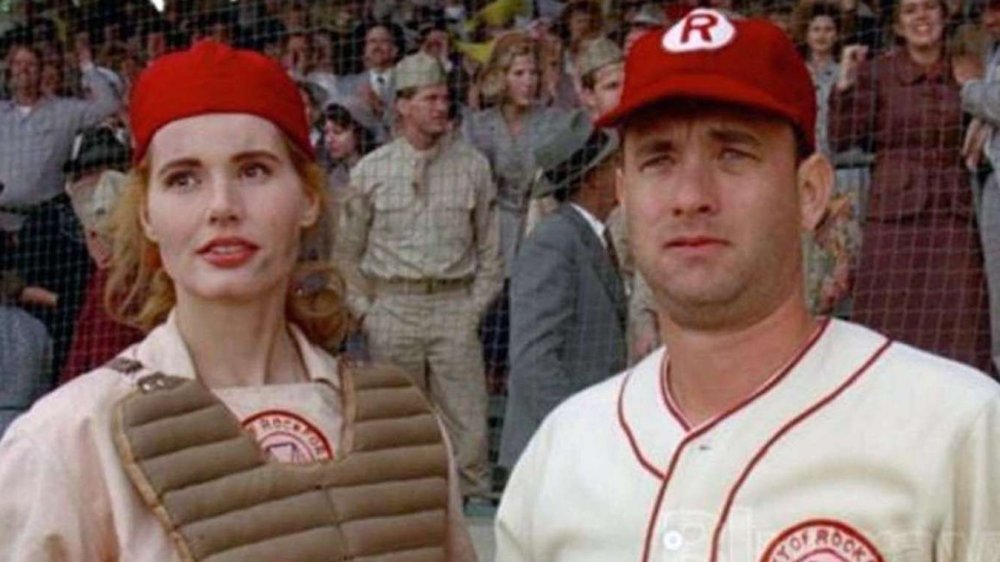 Columbia Pictures
The 1992 comedy A League of Their Own, which centered on an eclectic group of women playing professional baseball during World War II, is being rebooted by Amazon Studios as a TV series (via Entertainment Weekly). Abby Jacobson, whom you may know from Broad City, is co-creating the series with Will Graham, known for his executive producing role on Mozart in the Jungle. The show is meant to be a reinterpretation of the Penny Marshall film and intends to take a deeper look at important social issues still relevant today.
Fans of the movie might remember the "dirt in the skirt" adventures of Dottie Hinson and her sister, Kit Keller, played by Geena Davis and Lori Petty. It was the perfect movie to watch with girlfriends. However, the TV show will follow an entirely new ensemble of characters. Jacobson and Graham said their idea was to tell "a new, still overlooked set of ... stories" about the women in the All-American Girls Professional Baseball League. The co-creators said, "It took grit, fire, authenticity, wild imagination and a crackling sense of humor for these players to achieve their dreams. We're hoping to bring audiences a story with all of those qualities."
Amazon's A League of Their Own tells all new stories
Jacobson and Graham previously spoke with surviving members of the All-American Girls Professional Baseball League, the original film's late director Penny Marshall, and many of the film's stars to gather information on what the era was truly like (via The Hollywood Reporter). The series will focus on the theme of inclusion and exclusion. It seems their tale of inclusion will reference the acceptance not only of women in the world of baseball, but also that of gay women, despite the cultural climate at the time. Graham notes the league existed from 1943 until the early 1950s — well before 1969's Stonewall Riots and the gay rights movement. Meanwhile, Black women were excluded from the League altogether.
Jacobson and Graham noted that the pilot for the TV series nods to the original film but the rest of the episodes will tell a new story with new characters. Jacobson, who plays the role of Carson in the show, denies any real similarities between her character and Geena Davis' Dottie Hinson. In addition to Jacobson, the series stars Chanté Adams, D'Arcy Carden, Gbemisola Ikumelo, Kelly McCormack, Roberta Colindrez, and Priscilla Delgado. There's no word yet on the show's premiere date.