Inside Kamala Harris' Relationship With Her Mother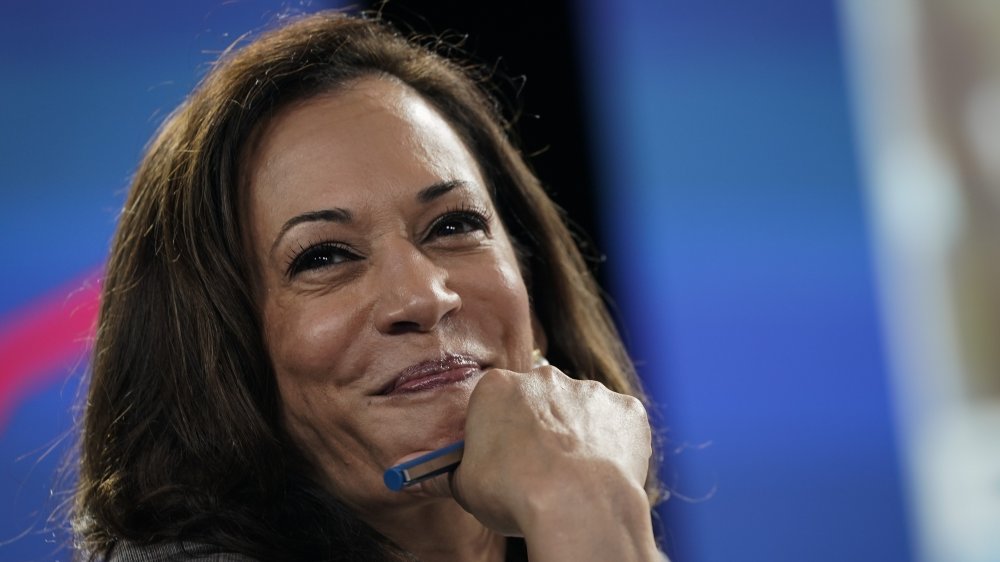 Drew Angerer/Getty Images
When Kamala Harris delivered her maiden speech on the floor of the U.S. Senate in 2017, she gave credit to the person who she believes made her who she was: her mother (via Kamala D. Harris). "I rise today with a sense of gratitude for all those upon whose shoulders we stand," she said. "For me, it starts with my mother Shyamala Harris... I know she's looking down on us today... And knowing my mother, she's probably saying, 'Kamala, what on earth is going on down there? We have got to stand up for our values!'"  
You don't need to go too far (or dig too deep) to get to know about or to understand the bond between the Vice Presidential hopeful and her mother. Friends of Harris, like Mimi Silbert, say they've heard it all before. "She's always told the same story," Silbert tells the Concord Monitor. "Kamala had one important role model, and it was her mother."
It's not difficult to see why. Shyamala Gopalan arrived at the University of California, Berkeley campus when she was 19. It was her first trip outside of India, and she was alone. She chose to turn her back on the Indian custom of arranged marriages to marry Donald Harris, a Jamaican economic student. And when they divorced when the girls were young, she raised them on their own, and she continued being active in the civil rights movement (via CNN).
Kamala Harris considers her mother as an important influence
Kamala Harris credits her mother as an important influence in her life, and she's not shy about sharing the life's lessons her mother taught her before the notable breast cancer researcher passed away in 2009 of colon cancer. During Women's History Month, the Vice Presidential hopeful uploaded a photo of herself and her mother on Instagram with the caption: "My mother, Shyamala Gopalan Harris, was a force of nature and the greatest source of inspiration in my life. She taught my sister Maya and me the importance of hard work and to believe in our power to right what is wrong. There's no one I'd rather honor this first day of #WomensHistoryMonth." 
Her mother was also present in spirit when Harris delivered her first speech after she accepted Joe Biden's invitation to be his running mate. "My mother, Shyamala, raised my sister Maya and me to believe that it was up to us and every generation of Americans to keep on marching," Harris said (via Harper's Bazaar). "She'd tell us, 'Don't sit around and complain about things. Do something.' So I did something."
Harris' younger sister Maya put it best. On Twitter, and on the day her sister accepted Joe Biden's invitation to be part of the historic ticket, Maya Harris said: "You can't know who @KamalaHarris is without knowing who our mother was. Missing her terribly, but know she and the ancestors are smiling today."