Ann Marie Pallan: Who Is Robert Trump's Wife?
Chip Somodevilla/Getty Images
We're only just getting to know Robert Trump, Donald Trump's younger brother who passed away late Saturday night. In a statement from the White House, President Trump said: "It is with heavy heart I share that my wonderful brother, Robert, peacefully passed away tonight. He was not just my brother, he was my best friend. He will be greatly missed, but we will meet again. His memory will live on in my heart forever. Robert, I love you. Rest in peace" (via Fox News).
Robert Trump may have come from a well-known family, but numerous reports say he wasn't a fan of the spotlight. Before he retired, he was an executive vice president of the Trump Organization, who looked after the brand's casinos in Atlantic City, New Jersey, and where employees reportedly knew him as the "nice Trump" (via The New York Times). And while he managed to stay out of the press, Trump became tabloid fodder when he divorced his wife Blaine in 2008 for Ann Marie Pallan, who he married in March of this year.
Anne Marie Pallan has been with Robert Trump for more than a decade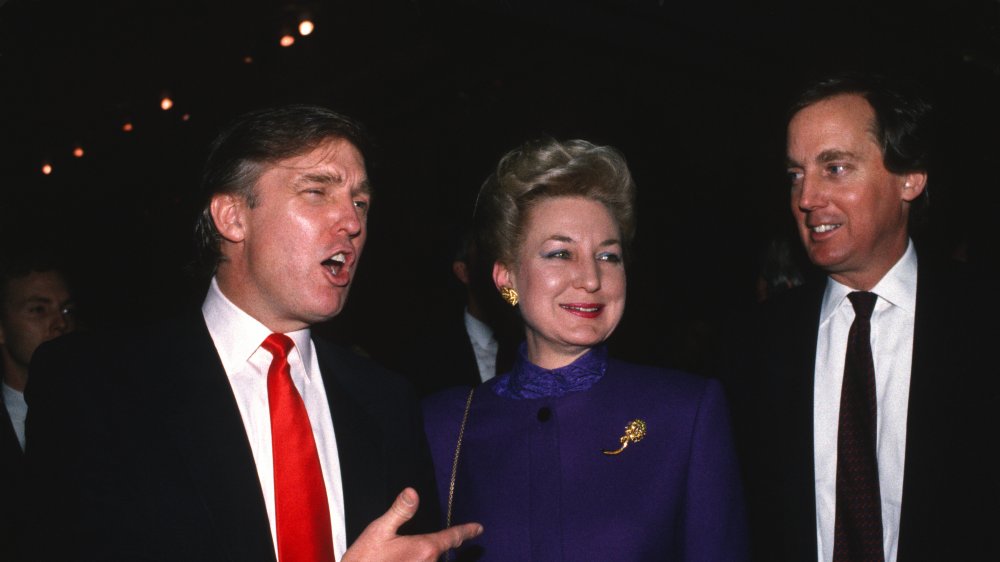 Sonia Moskowitz/Getty Images
Ann Marie Pallan was born Anne Marie Monte, and her family owned what was once Brooklyn's oldest Italian restaurant, which was once a Prohibition speakeasy, and was an establishment of choice for Frank Sinatra and Sammy Davis Jr. Like Robert Trump, she was previously married. Her first husband Thomas Pallan, is a doctor, but it is not known when they divorced. She has two children, a son, and a daughter. She is also a grandmother as her daughter has two children (via Heavy). 
It is not known when Pallan met Trump, although numerous newspaper reports say she was his executive assistant while he was a senior executive in the Trump organization (via New York Post). Page Six also says Pallan was a fixture in Trump's life as far back as October 2004 (four years before Robert and Blaine filed for divorce). Page Six reported on Blaine Trump's "accidental overdose," for which she was hospitalized for several days, after she learned that Robert had bought a house for Pallan worth $3.7 million in Long Island. After the divorce, Trump and Pallan stayed out of the spotlight but continued to be involved in charity work.
Pallan and her siblings opened a refreshed version of the old family restaurant in 2015, where Robert Trump used to be a regular on Friday nights. Pallan told Rural Intelligence that no Trump money was used to open the family diner, Monte's. Earlier this year, the restaurant used Facebook to announce that it would close on June 22 to reevaluate its future.