The Truth About U.S. Rep. Katie Porter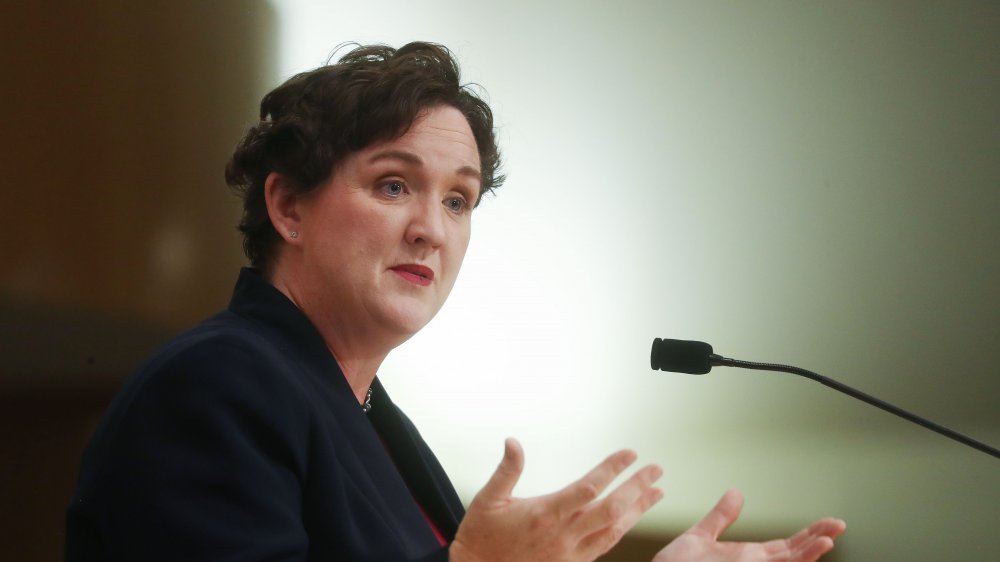 Mario Tama/Getty Images
If you don't know freshman Congressperson Katie Porter by name, you'd probably remember her for the way she has gone about making her mark as the representative for California's 45th congressional district of Irvine. Her questioning of Secretary of Housing and Urban Development Ben Carson resulted in a viral video showing Carson confusing Oreo — the cookie — with the financial term REO or real-estate owned (via Business Insider). She quizzed Facebook CEO Mark Zuckerberg about privacy issues (via Fast Company). She got CDC chief Robert Redfield to commit to free mass coronavirus testing (via CNN).  Now she's setting social media on fire as she tweeted: "I hope the Postmaster General comes prepared. I know I will" in response to the news that the Postmaster General Louis DeJoy would testify before the House Oversight Committee on Monday, August 24.
She's caused a considerable stir in a short time, but there's plenty more to know about U.S. Representative Katie Porter.
Elizabeth Warren is Katie Porter's former law school mentor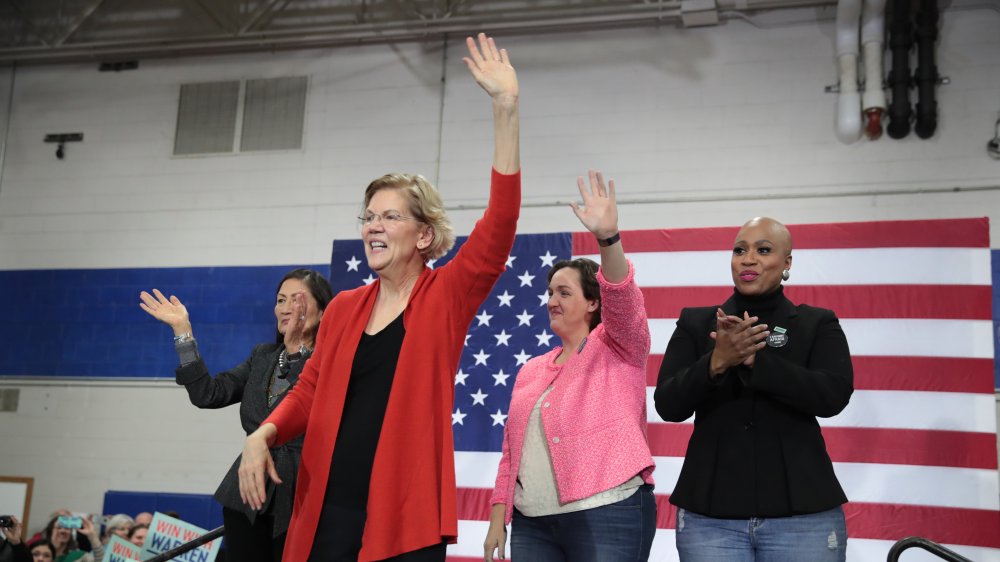 Scott Olson/Getty Images
Katie Porter isn't originally from California — she's an Iowa native who graduated from Harvard Law School who counts Senator Elizabeth Warren as a former law school mentor (via The Nation), and who spent her years after that as a consumer advocate (via HuffPost). In her bio, Porter positions herself a national leader in consumer protection, and in 2012 she caught the eye of then-California Attorney General Kamala Harris, who appointed her to be the state's watchdog against financial institutions. Porter says her team was able to secure $18 billion in reparations as a result. Before she ran for Congress, she taught consumer bankruptcy and mortgage foreclosure law at UC Irvine's School of Law, where she is now a tenured professor.
Katie Porter doesn't consider herself to be the norm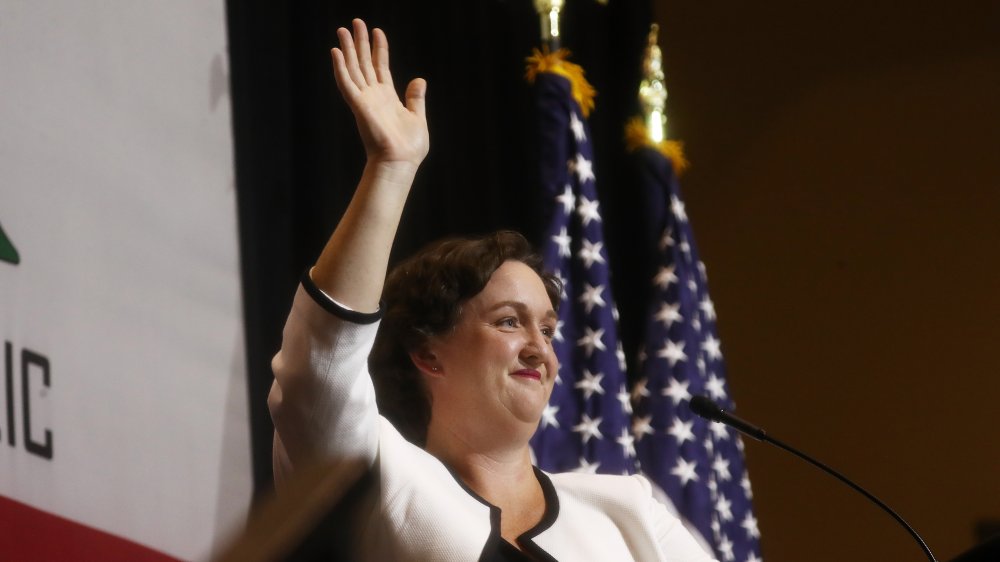 Mario Tama/Getty Images
Katie Porter is the only single mother in Congress (via Spectrum News). She told Elle: "I'm acutely aware I'm nowhere near the bottom, but there's a little bit of difference between my situation and the typical Congress member's, or, let's face it, a lot of difference. I didn't get elected because I'm rich and able to self-fund. I haven't been in office for 20 years. And I'm about 15 years younger than the average member. All those things make me more attuned to the inequality of the universe. I'm at least aware, as I put on my shoes every day, that they are not like everyone else's."
"I just want to scream at people like, 'My life does not look like yours!'" she said. But Porter also has a past which makes her look like, and resonate with, millions of women — not just in America, but around the world.
Katie Porter is a survivor of domestic abuse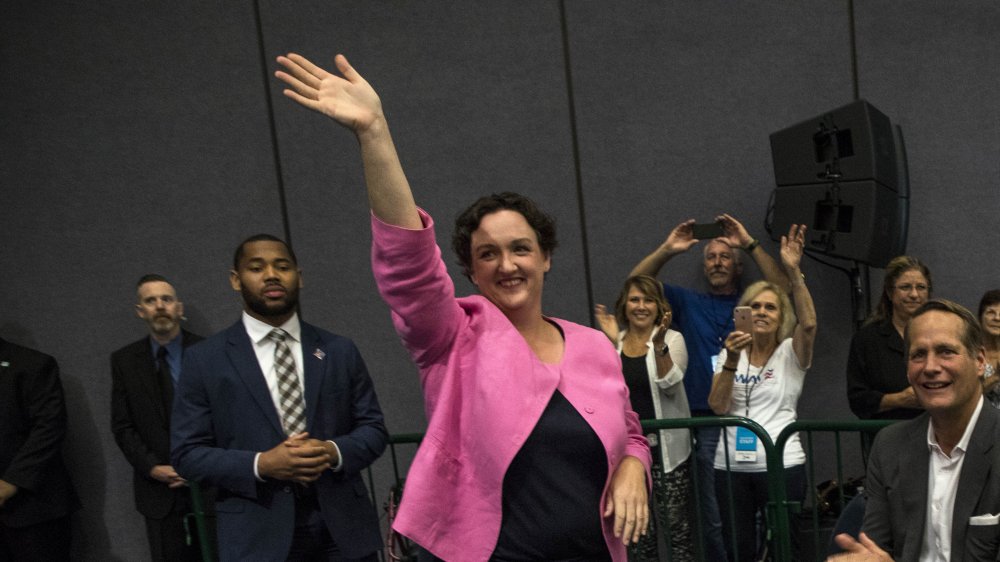 Barbara Davidson/Getty Images
Katie Porter isn't just a freshman Representative and former pack leader for 70 Cub Scouts — she's also a survivor of domestic abuse. She had been living with her husband after they decided to divorce in 2013, and shortly after that decision was made, her soon-to-be former husband Matthew Hoffman broke into the bathroom as she was flossing, snatched the floss out of her hands, and then punched the wall so hard he broke the light switch. HuffPost reports he would later tell a judge he had reacted that way because Porter had been "brushing her teeth too slowly." That was just one of several incidents that led Porter to describe her ex-husband as someone who became "abusive and unhinged" to stop the divorce from happening, and she ended up needing to get a protective order, which political opponents tried to use against her during her campaign. 
"I think it's important that people understand that when real people run, they run with their real lives, and those lives might often include painful times," she told HuffPost in 2018.