What Kamala Harris' Husband Has In Common With Jill Biden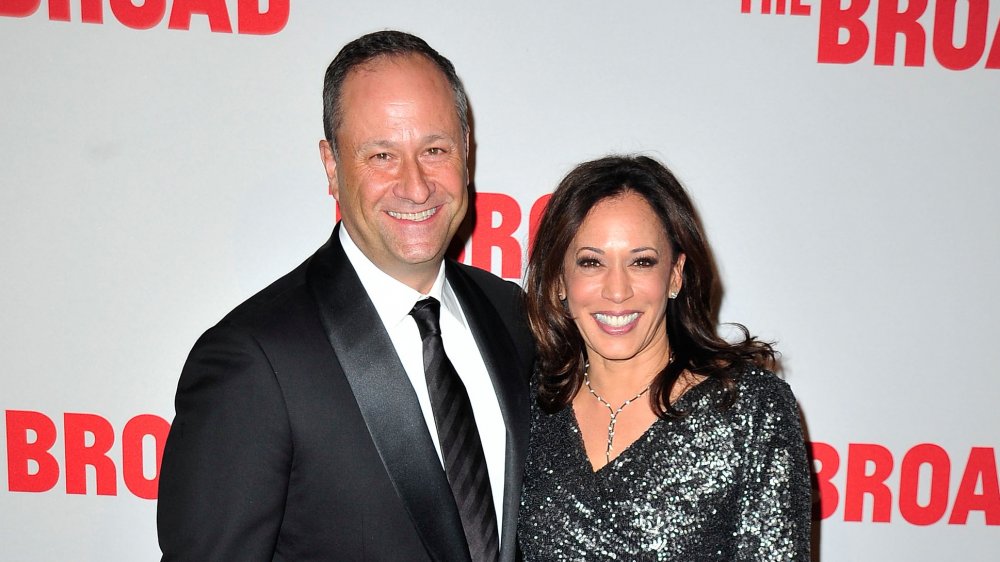 Jerod Harris/Getty Images
One thing presumptive Democratic nominees Joe Biden and Kamala Harris share? They know someone's got their back.
Both Biden's wife, former Second Lady Jill Biden, and Harris's husband, entertainment lawyer Douglas Emhoff, have demonstrated their fierce loyalty on the campaign trail this past year. Last June, when a man-bunned animal rights protester snatched Harris' microphone on stage at a MoveOn forum in San Francisco, it was Emhoff who rose up front and center in an attempt to wrestle back said mic (via Politico). Emhoff, who has been married to Harris since 2014, later tweeted, "We are good. I love @KamalaHarris and would do anything for her." Definitely a keeper in our book!
With Harris breaking barriers as the first Black and first Asian American woman to join a major party ticket, Emhoff was reminded by Joe Biden that he has a trail to blaze as well as second gentleman. "Doug, you're going to have to learn what it means to be a barrier-breaker yourself in this job you're about to take on," he said, according to NBC News.
Jill Biden: 'A good Philly girl'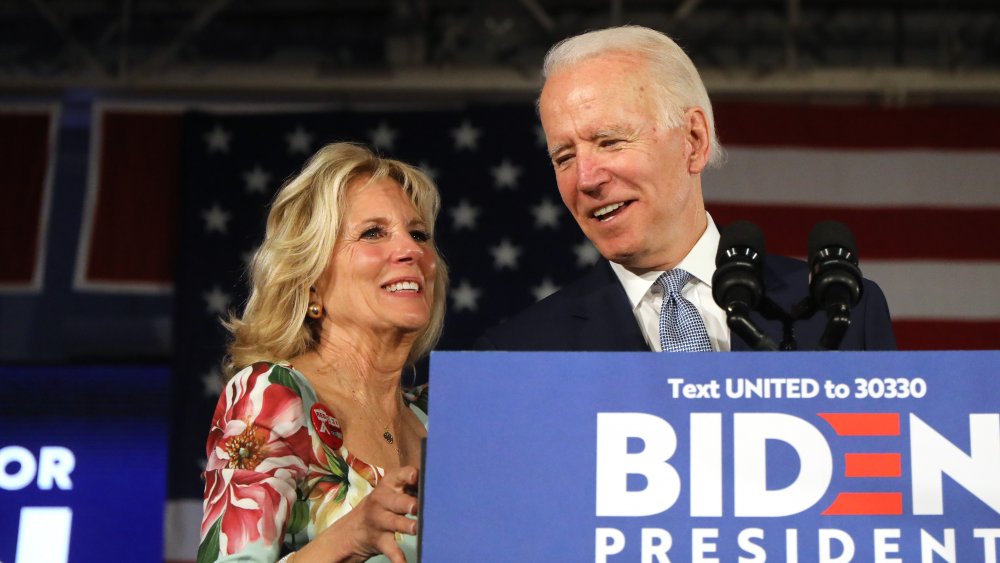 Spencer Platt/Getty Images
As for Jill Biden? Don't cross her either: Joe's wife of 43 years showed her quick reflexes during a Super Tuesday rally in which her husband's speech was interrupted by anti-dairy protestors rushing the stage (via The Washington Post). An educator who plans to continue teaching if she becomes First Lady, Jill's fierce blocking moves schooled protesters, sending a clear message to stay away from Joe. "Jill Biden for Secretary of Defense," tweeted a fan.
And that wasn't her first time defending her husband. On the night of the New Hampshire primary, according to CNN, Jill helped shut down another protestor who got too close, slyly adding to reporters, "I'm a good Philly girl." 
Clearly these two spouses know what they're in for. When Jill tweeted, "Hey@DouglasEmhoff. Are you ready?" Emhoff promptly replied: "Ready to work! Let's go @DrBiden!"