The Real Reason Brad Pitt And Jennifer Aniston Are Reuniting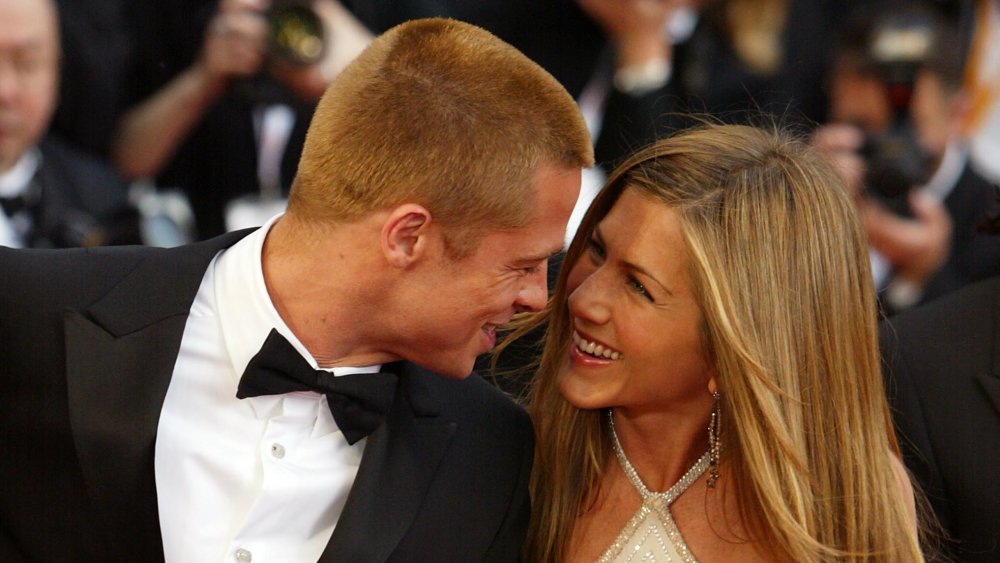 Dave Hogan/Getty Images
Brad Pitt and Jennifer Aniston's post-divorce friendship has been a huge topic of speculation for fans. Pitt and Aniston split in 2005 after five years of marriage (via Vanity Fair). As time has passed, it's become clear that there are no hard feelings between Pitt and Aniston. First, Pitt helped Aniston ring in her 50th birthday party, though with a gigantic guest list including stars like Gwyneth Paltrow, Reese Witherspoon, Courtney Cox, and George and Amal Clooney, it's unlikely they spent much time together (via People). Then, the exes broke the internet when they shared a friendly reunion backstage at the SAG Awards (via EW).
Aniston brushed off all the attention on her and Pitt in an interview with ET (via YouTube). "It's hysterical," she quipped. "But what else are they going to talk about?" But now, the exes are officially reuniting, and it's not just to socialize.
Brad Pitt and Jennifer Aniston are reuniting for a movie reading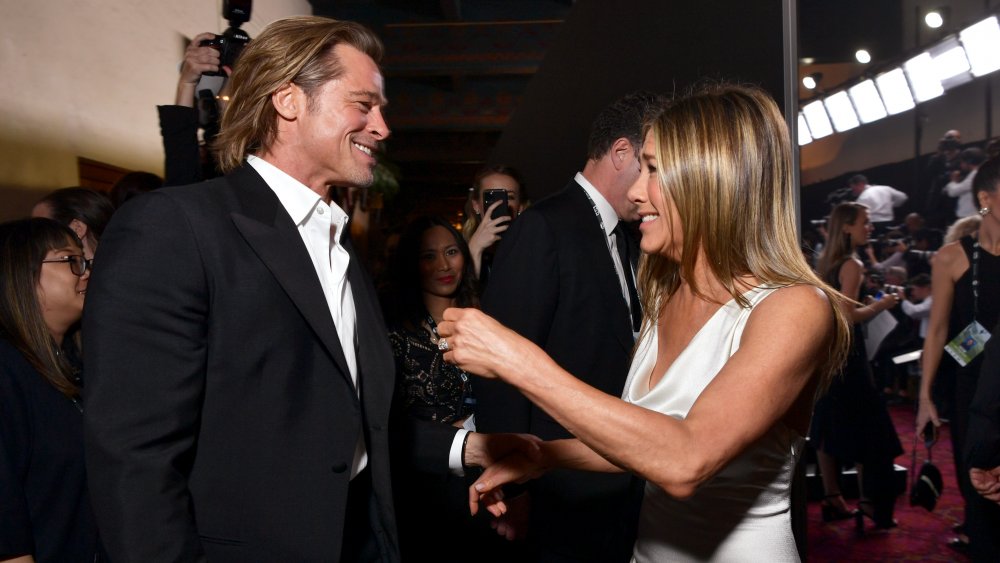 Emma Mcintyre/Getty Images
Pitt and Aniston's reunion will be overseen by comedian Dane Cook, in the special Dane Cook Presents Feelin' A-Live (via The Hollywood Reporter). The star-studded event will mainly consist of a digital reading of the classic high school film, Fast Times at Ridgemont High. Other stars include Morgan Freeman, Henry Golding, Jimmy Kimmel, Shia LaBeouf, Matthew McConaughey, Sean Penn, and Julia Roberts.
The roles those stars will play have yet to be announced, though apparently Penn won't be reprising his role as Jeff Spicoli (via New York Post). That means fans don't know whether Pitt and Aniston will share any scenes together. The pair previously appeared on screen together in an episode of Friends.
The event will benefit Penn's emergency response charity, CORE, which is currently focusing its efforts on COVID-19 testing, and the REFORM Alliance, a criminal justice reform program working on protecting incarcerated people from COVID-19. There are plenty of platforms to watch the reading, which was moved to Friday, August 21 at 8 p.m. EST, to avoid conflicting with the DNC.