The Heartbreaking Story Of Joe Biden's First Wife
While Joe Biden seems like such an affable, good-tempered guy, the fact is, he's had a surprisingly tragic life. Just a few years ago, he lost his oldest son, Beau, to cancer, while his younger son, Hunter, has spent years struggling to free himself from dependence on drugs and alcohol. (Joe himself is famously sober, due to an admitted family propensity for addiction.)
Perhaps his life's greatest sorrow, however, occurred early on in his senatorial career when he received the kind of phone call every spouse, and parent, dreads. As Biden told Marie Claire, that grim December day in 1972 he learned, "My wife and three children were Christmas shopping. A tractor-trailer broadsided them and killed my wife and killed my daughter." 
Joe Biden was suddenly a single dad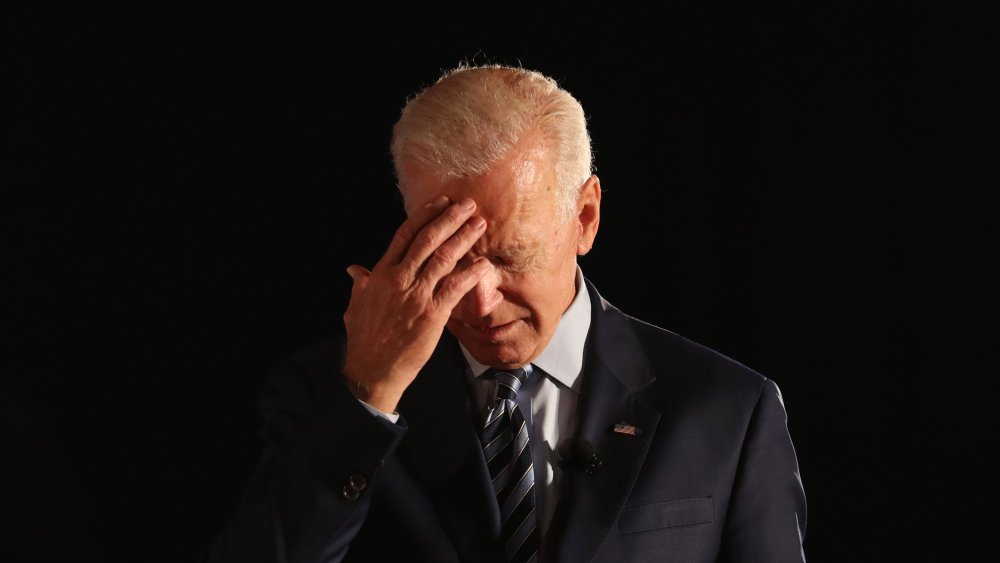 Justin Sullivan/Getty Images
Suddenly the young senator elect from Delaware found himself a single dad with his two surviving kids in the hospital with serious injuries, and he was actually sworn into office at their bedsides. Hunter, in presenting Beau's eulogy in 2015, noted that being in the hospital was his very first memory. "I was almost three years old," he said. "I remember my brother who was one year and one day older than me, holding my hand, staring into my eyes, saying, 'I love you, I love you, I love you' over and over and over again."
Once the kids were out of the hospital, Biden resumed his political career but rode the train back to their home in Wilmington every night from his D.C. office, thus earning the nickname Amtrak Joe (via Marie Claire).
Joe Biden met his first wife on spring break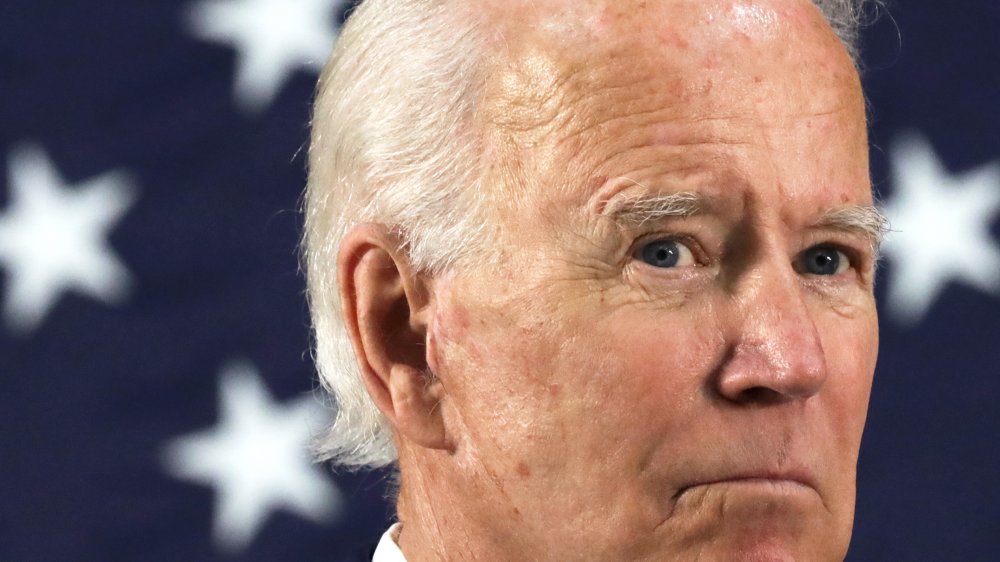 Alex Wong/Getty Images
The first Mrs. Biden was born in 1942 in Skaneateles, N.Y. Neilia Hunter was the daughter of diner owners, according to The Independent, and probably pretty prosperous ones, too, as she was able to attend boarding school at Penn Hall. She later studied at Syracuse University, and during her junior year, took a spring break trip to Nassau where she met a University of Delaware junior named Joe. 
Evidently they hit it off, since a few years later, Joe decided to attend law school at Syracuse (where Neilia, now in possession of a master's degree in English, was teaching in the public school system), and the two married in August of 1966.
Neilia Biden was the brains behind Joe's campaign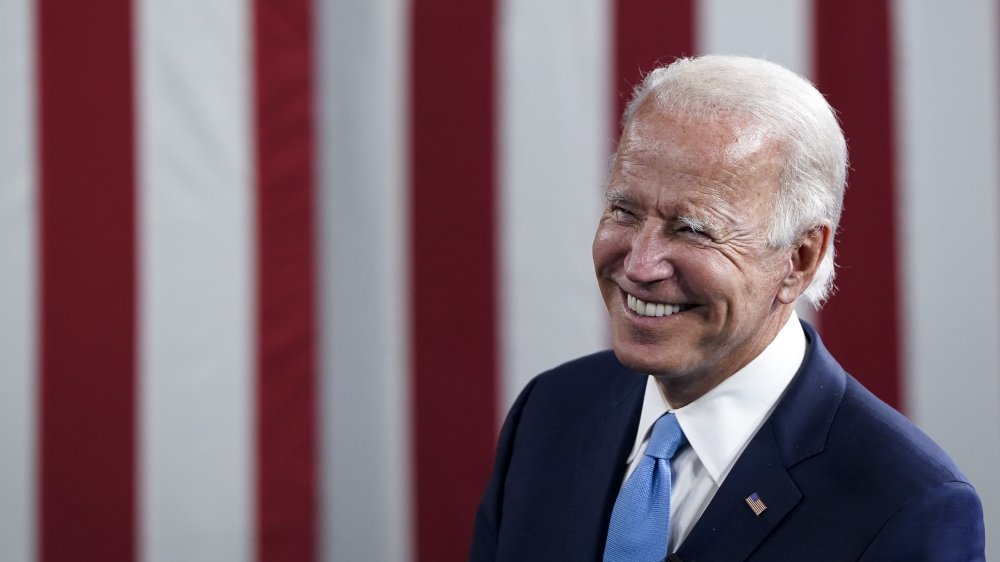 Drew Angerer/Getty Images
After the couple wed (and Joe graduated), they moved to Wilmington, Delaware where new-fledged lawyer Joe also got his first start in politics by serving on the New Castle County Council. Soon Joe would take things a step further, challenging Delaware's Republican incumbent senator J. Caleb Boggs for his seat. Neilia was said to be the "brains" behind the campaign, somehow managing to engineer his come-from-behind win while simultaneously mothering three small children.
In her autobiography Where The Light Enters, Joe's current wife Jill Biden describes how she had the pleasure of meeting Neilia just a month before her untimely demise. She wrote about her "easy, natural beauty" and her warm smile. She also wrote about how unfair the situation was. "To take a mother from her children; to take a daughter from her father," she wrote. "Joe Biden had had everything, and in a horrible second, it was gone."
The tragic accident that took Neilia Biden's life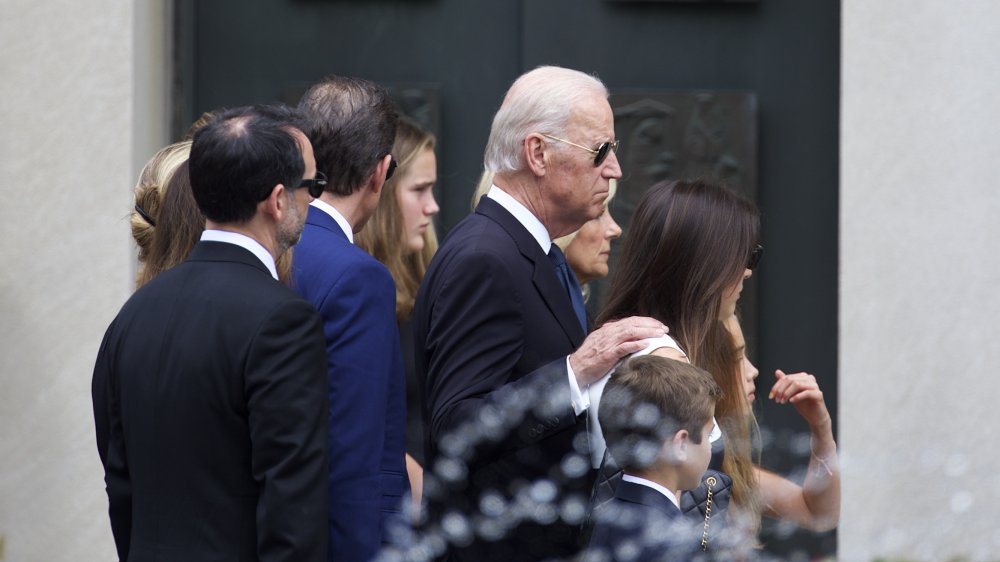 Mark Makela/Getty Images
Shortly after Biden's victory in the November 1972 election, Neilia asked her husband, "What's going to happen, Joey? Things are too good," according to The Independent. Sadly, she was right. Just one week before Christmas came the car crash, as a tractor-trailer carrying corn slammed into the side of the Biden family's Chevy station wagon. As Neilia and her 13-month-old daughter lay dying, fliers from her husband's recent campaign littered the streets.
In that terrible moment, as Biden later described it, "My whole world was altered forever." He soldiered through, however, not only holding up bravely through a memorial service that drew a crowd of 1,200 but staying strong to help his injured sons. As Biden wrote in 2017's Promise Me, Dad, "the pain ... seemed unbearable in the beginning, and it took me a long time to heal, but I did survive the punishing ordeal. I made it through, with a lot of support, and reconstructed my life and my family."
Biden has mentioned this profoundly sad event in many speeches he's given over the years, including a 2012 address to U.S. military service members and how hard it can be to move on after such an unspeakable tragedy. "Keep thinking what your husband or wife would want you to do," he said. "Keep thinking what it is, and keep remembering those kids of yours, or him or her the rest of their life, blood of my blood, bone of my bone, because, folks, it can and will get better."