This Is What Bethenny Frankel Eats To Stay So Fit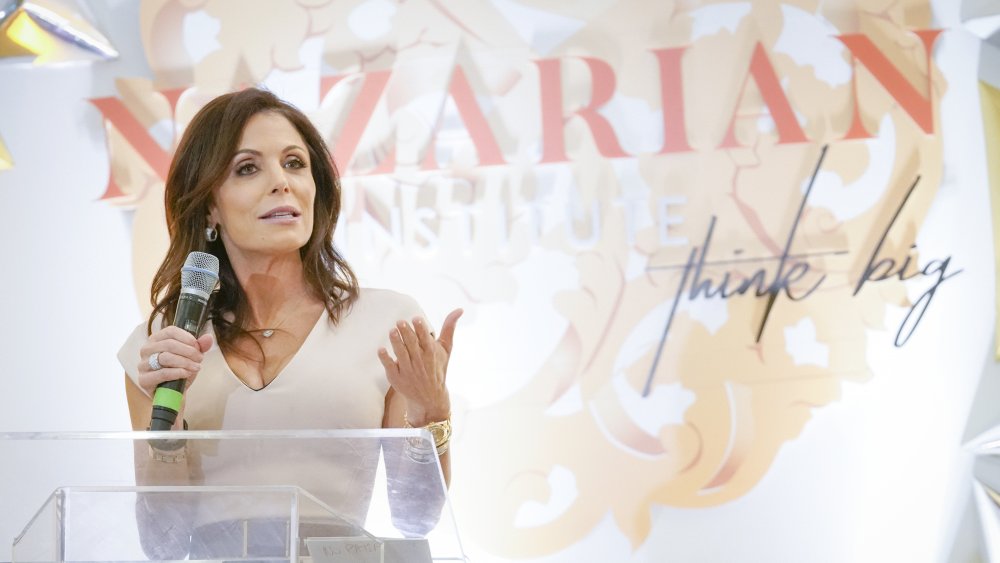 Erik Voake/Getty Images
A reality TV icon, TV producer, New York Times bestselling author, philanthropist, and founder of the lifestyle brand, Skinnygirl, Bethenny Frankel has inspired millions since her first season of The Real Housewives of New York (via BravoTV). Among her enviable accomplishments, the 49-year-old's fit physique proves her commitment to staying healthy no matter what.
Frankel shared her fitness and nutrition tips with Good Housekeeping after penning multiple books about her signature Skinnygirl habits. But, after all of these years, she knows better than to jump on the fad-diet bandwagon. "I'm old enough to know that fat-free was a craze, low-carb, eat your weight in meat and cheese was a phase, keto is a fad, the Zone was a moment, and so on," she says. "So yes, I eat carbs. I eat everything, but I don't binge."
For breakfast, she eats "a toasted wheat bagel, lightly scooped with butter, or some version of avocado toast with a poached egg" and tops it off with a matcha almond milk latte. Frankel also tells the mag that she loves to snack — Skinnygirl popcorn is, unsurprisingly, a favorite of hers. The mother of one reveals that she has very little consistency in her diet saying, "Today, it was an egg white vegetable omelet with a baked potato and a few french fries for lunch. Sometimes, it's arugula with tomato, avocado, and Parmesan."
As for a mealtime favorite, the mogul says, "Pureed soups are a mainstay for me."
Do what you can, when you can is Bethenny Frankel's philosophy
According to Shape, Frankel never eats the same thing twice in a row, and this keeps her motivated to eat healthy and find new meals that she loves. She shared that her diet isn't regimented, saying that "it's different every single day." In addition to switching things up, the star also keeps her cocktail habit as healthy as possible with vodka sodas as her go-to drink of choice. If she isn't sipping on a vodka soda, you may find her drinking kombucha, green juice, spicy margaritas, white wine, charcoal or spicy lemonade, or vodka with olives on the rocks, according to Good Housekeeping. 
As far as her lifestyle goes, Frankel shared in a 2019 Instagram post, "I choose time with my daughter and sleep first. If I'm near a beach, I take an hour walk. If I have the time, I'll do a yoga DVD. I don't believe in fear based, torturous, aggressive exercise."
In the post, she recounts her advice from her book, Naturally Thin, in which she explains her relationship with food as neither her "best friend" or her "enemy." Her approach revolves around what's most natural and easiest for her schedule. She even told Good Housekeeping that she indulges her sweet tooth at least once or twice a day in moderation.
So, if you're looking to emulate the original Skinnygirl herself, do what's natural!