The Real Reason AOC Didn't Mention Joe Biden In Her DNC Speech
Representative Alexandria Ocasio-Cortez was only given 60 seconds to speak at the virtual Democratic National Convention Tuesday night, but that was enough for her to make waves. That is because her role was symbolic, according to NBC News, as she chose to nominate Bernie Sanders for president, and declined to mention the democrat party's official nominee, Joe Biden. AOC began her brief speech by extending her gratitude to the "mass people's movement working to establish 21st century social, economic, and human rights, including guaranteed health care, higher education, living wages, and labor rights for all people in the United States."
She then went on to say, "In a time when millions of people in the United States are looking for deep systemic solutions to our crises of mass evictions, unemployment, and lack of health care, and espíritu del pueblo and out of a love for all people, I hereby second the nomination of Senator Bernard Sanders of Vermont for president of the United States of America."
According to NBC News, Biden became the nominee of the party following AOC's speech.
AOC mentioned Joe Biden on Twitter instead and then demanded clarification on her stance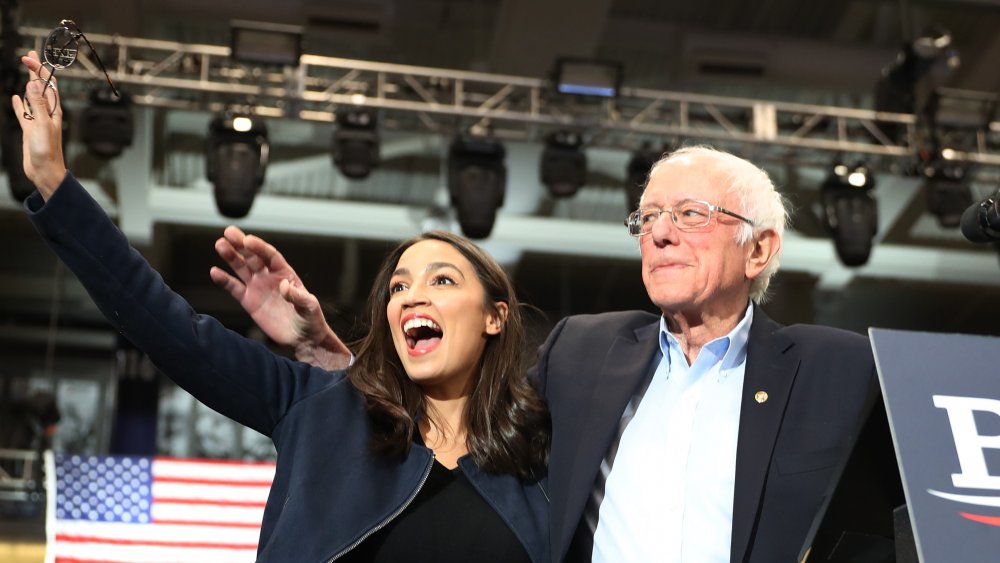 Joe Raedle/Getty Images
After her speech, AOC took to social media, sharing this message (via New York Post): "Congratulations, @JoeBiden — I deeply look forward to fighting for our future together and reclaiming our democracy in November. Thank you @DemConvention for having me deliver Sen. Sanders' roll call nomination speech. It's been an absolute honor."
She then railed against NBC News for misleading people about her DNC speech, which as she clarified, was purely procedural. The outlet's original tweet following her speech claimed she did not endorse Joe Biden and that her speech was one of the shortest at the DNC. In a tweet that included an editor's note and clarification, NBC News said, "This tweet should have included more detail on the nominating process. We have deleted the tweet to prevent its further spread, but it can be seen here for the record." The tweet went on to clarify, "Ocasio-Cortez was asked by the DNC to second Sanders' nomination. The nomination is a procedural requirement of the convention. Ocasio-Cortez has previously endorsed Biden, & her speech was similar in length to other nominating speeches."
There was more controversy surrounding AOC's speech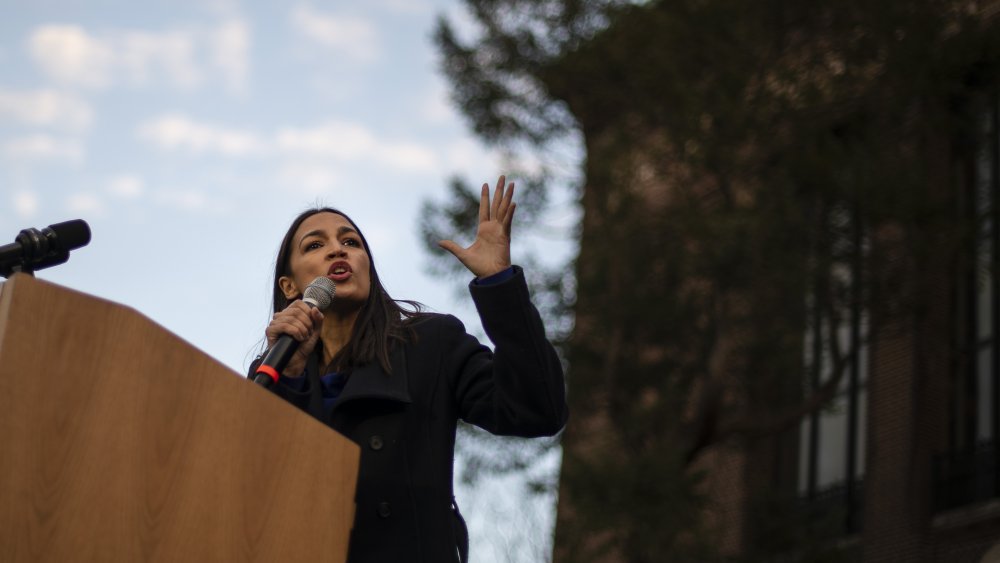 Brittany Greeson/Getty Images
Despite NBC's clarification, AOC demanded via Twitter, "This is completely unacceptable, disappointing, and appalling. The DNC shared the procedural purpose of my remarks to media WELL in advance. @NBC knew what was going to happen & that it was routine. How does a headline that malicious & misleading happen w/ that prior knowledge?"
Meanwhile, other outlets widely reported that AOC snubbed Joe Biden, including the New York Post. But unbelievably, this wasn't the only controversy surrounding her speech. Many felt the fact that she was only given a minute to talk on the national stage was unacceptable, especially in light of Republican former Ohio governor John Kasich getting considerably more time the night before (via Boston Herald). Still, there's no doubt AOC's 60 seconds created far more media buzz and controversy than Kasich's presence did. Because as the outlet notes, having a member of the opposite party speak at a convention isn't something new. AOC's powerful movement on the other hand, just may be, and only time will tell.