What Kamala Harris Really Thinks Of Maya Rudolph's Impression Of Her
From the moment she was announced as Joe Biden's VP pick, Senator Kamala Harris instantly began paying it forward by creating jobs for other women — particularly comedian Maya Rudolph. Rudolph, known for her glam impressions of the California politician on SNL during the Democratic presidential primaries, earned glowing reviews from critics and even snagged an Emmy nomination for her role, according to The New York Times.
"Congrats Maya Rudolph on getting the SNL gig back," tweeted Times TV critic James Poniewozik. "The real winner today is Maya Rudolph," added Bad Feminist and Difficult Women author Roxane Gay.
Harris herself has tweeted encouraging feedback on her SNL portrayal, from echoing her now-famous "that girl was me" line in a shout-out to Rudolph to telling MSNBC, "I plan on keeping Maya Rudolph in work for the next eight years."
"I grew up watching Saturday Night Live," the senator gushed in an interview with Seth Meyers (via YouTube). "The thought that anyone would be in any way depicting me on Saturday Night Live was just ... I was a bit overwhelmed."
Kamala Harris isn't afraid to show her humorous side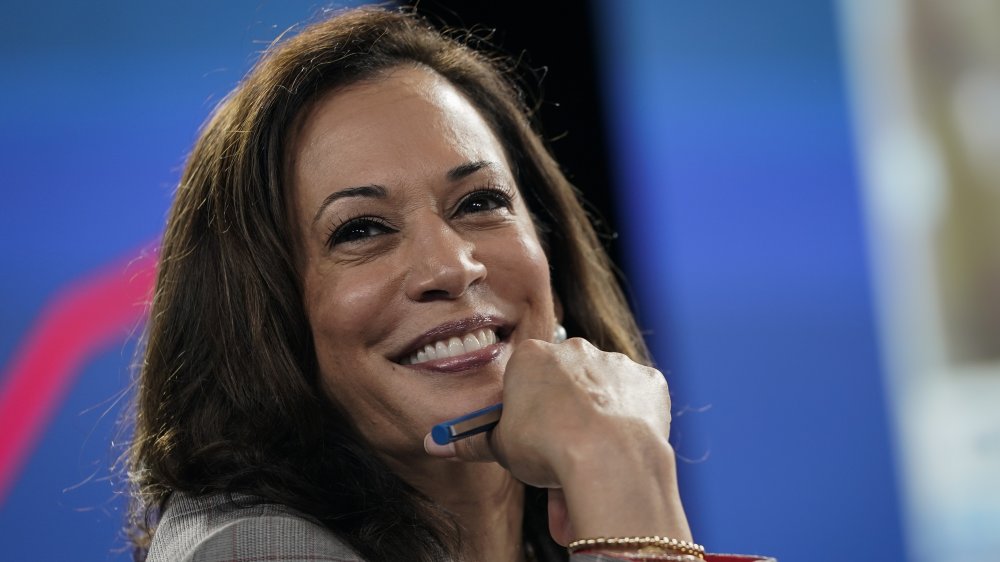 Drew Angerer/Getty Images
In fact, Harris seems very much at home rubbing elbows with comedians. She recently sat down for an almost 40-minute Instagram Live interview with author and Trump impersonator extraordinaire Sarah Cooper (via YouTube), who is currently working on a Netflix special with Rudolph's production company with Orange Is the New Black actor Natasha Lyonne.
A confessed fan of Cooper's impressions, Harris also praised her 10 Tricks to Appear Smart in Meetings and paid homage to another funny woman: "One of my favorite comedians of all time, and I'm going to date myself and go back, but I just thought she was extraordinarily talented and she had many personas, was Carol Burnett," said the VP candidate, adding that it's important to make "room for women in every profession, including comedy, to have the platforms to show the breadth and depth of their skill and their talent." Now that's something everyone can smile about!
As for Harris' promise to keep Rudolph in business? The Good Place actor revealed that her phone has been blowing up since Harris' announcement, including a text from SNL boss Lorne Michaels (via New York Post). "He sent me a GIF of myself, as Kamala, in sunglasses, sipping a cocktail and saying, 'Oh no,'" she says. "That really made me laugh."