The Story Behind Michelle Obama's Viral DNC Necklace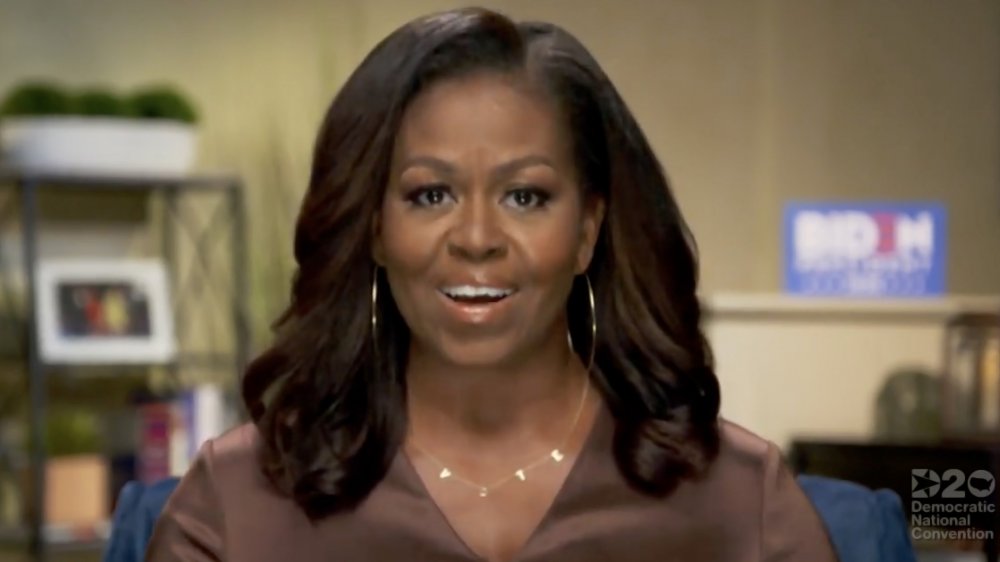 Handout/Getty Images
Michelle Obama gave a powerful speech at the virtual 2020 Democratic National Convention on Monday about the importance of voting and making your voice heard. Her urgent message was driven home with viewers noticing Obama wearing a simple gold necklace that spelled "V-O-T-E." This immediately caused a frenzy of people to search for how they could purchase the statement piece.
The designer of the necklace, Chari Cuthbert, told CNN she started receiving calls instantly with fans wanting to purchase her design. She said she knew at that moment her life was about to change forever. "I was at my office, and I just sat there as my phone was going crazy, and I started to cry," Cuthbert said. "This is it. This is the dream come true."
Her jewelry boutique, BYCHARI, is based in Los Angeles and employs a small staff. Cuthbert, who is in her mid-30s, said she had hoped for a big break and now it had actually happened. According to The Daily Beast, Cuthbert was born in Miami to Jamaican parents and is a self-taught jewelry artist. She said she started her business in 2012, with just $100 after quitting her office job.
The jewelry designer wasn't chosen by accident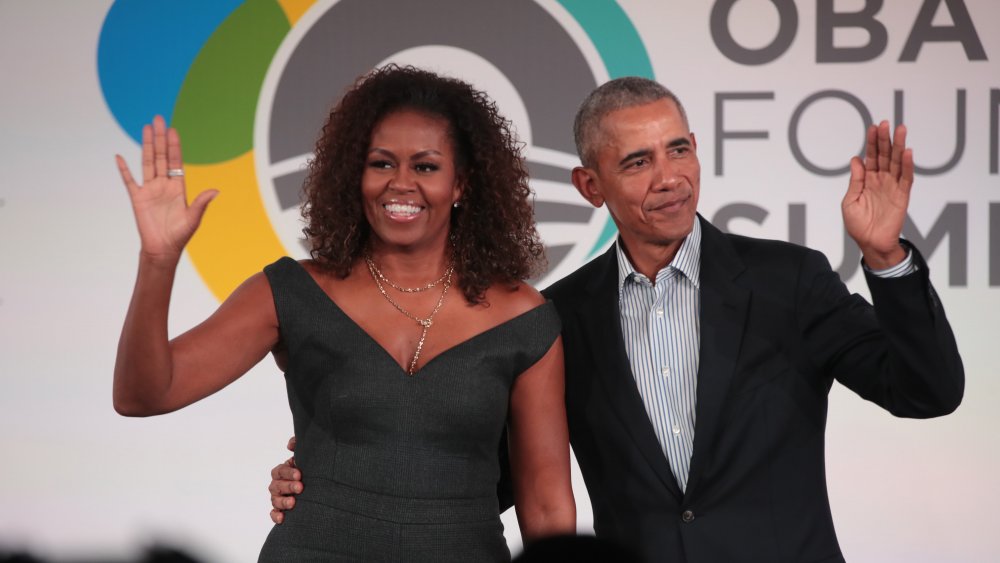 Scott Olson/Getty Images
Obama's stylist, Meredith Koop, told CNN it wasn't an accident that they picked the young entrepreneur. Koop explained that the former first lady has purposely worked with specific brands to help uplift those designers, whose stories are more important than just increasing sales. "I vet all the designers that I work with to the best of my ability," Koop said. "It's important that the pieces on Michelle align with her message or, at the very least, don't distract from it."
Cuthbert said she originally made a limited number of the necklace in 2016 for just family and friends. However, this year she decided to publicly post the design on social media because she felt it was important to use her platform to help raise awareness. The necklace which retails for $300, currently has more than 2,000 orders.
Koop said helping designers like Cuthbert get more exposure for their work is a bonus. "That's the beautiful thing about what I do," Koop said. "It doesn't happen every time, but when it does, I'm thrilled, especially with someone like Chari who has worked so hard and makes beautiful wearable pieces."
And perhaps even more important? The necklace might just inspire its wearers and everyone who sees it to get out and vote.