Inside Pete Buttigieg's Relationship With His Husband, Chasten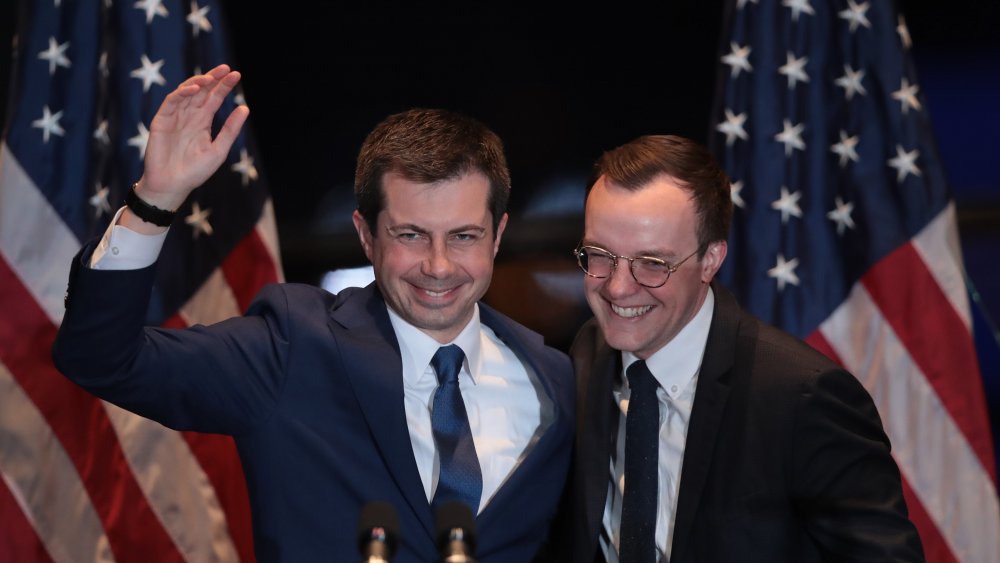 Scott Olson/Getty Images
As his high school's valedictorian, a Harvard graduate, and a Rhodes Scholar at England's Oxford University, Pete Buttigieg is probably used to being the smartest person in the room (via The New York Times). But it took his deployment to Afghanistan for the former mayor of South Bend, Indiana, to accept who he was and figure out the kind of person he wanted to be his partner."I wasn't coming back to a family. More than that, I had no idea what it was like to be in love, and the idea that here I am, I'm a grown-a** man, I own a home, I'm the mayor of my city, I'm a military officer and if I get killed over there I will go to my grave not knowing what it's like to be in love," he said in The New York Times' podcast, The Daily (via Refinery29). 
So he when he returned home, Buttigieg came out to his family and his town in a touching op-ed in the South Bend Tribune, hoping that the folks of South Bend could keep accepting him for who he was (turns out, they could).
Pete Buttigieg used a dating app to meet his husband, Chasten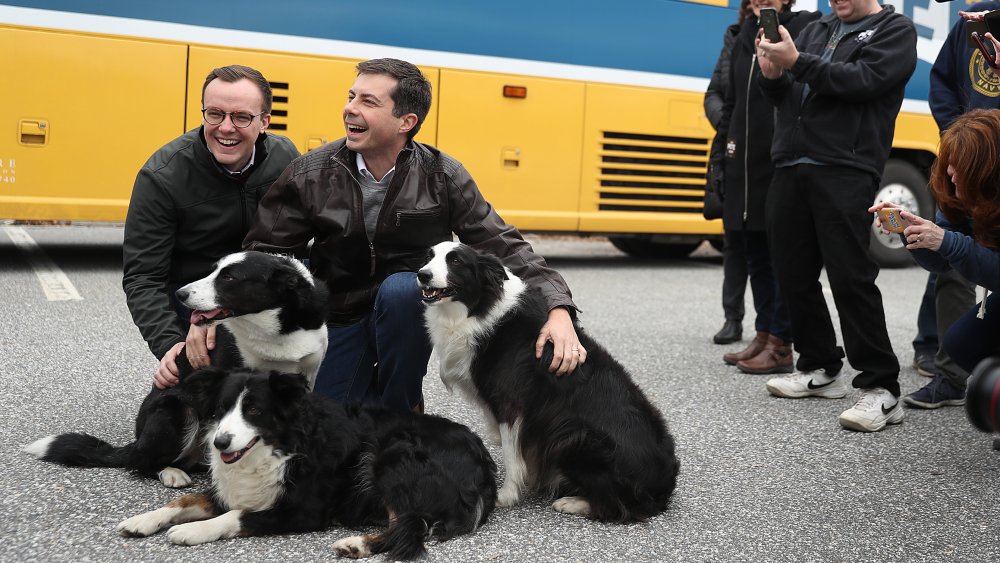 Joe Raedle/Getty Images
From there, Buttigieg decided he was ready to look for love. And what did Mayor Pete do? What any millennial does when in a dating rut and trying to meet that special someone: He tried online dating. After doing the rounds, Refinery29 notes he decided to use Hinge, which only allows a match if you have mutual Facebook friends with the other person. That's where he found Chasten Glezman, who lived more 90 miles away, in Chicago. "I find this cute guy with a big smile and I'm like 'I wanna know this guy' so we start chatting. I was chatting with a lot of people but obviously he's the one I remember, because that was Chasten," Buttigieg said.
Glezman (now Chasten Buttigieg) knows what made him swipe right when he got to Mayor Pete's picture: "I won't lie, it was the picture of him in the military," he tells ABC News. "I'll tell the truth." (Don't worry Chasten — we get it)
Pete Buttigieg and Chasten Glezman bonded over Scotch eggs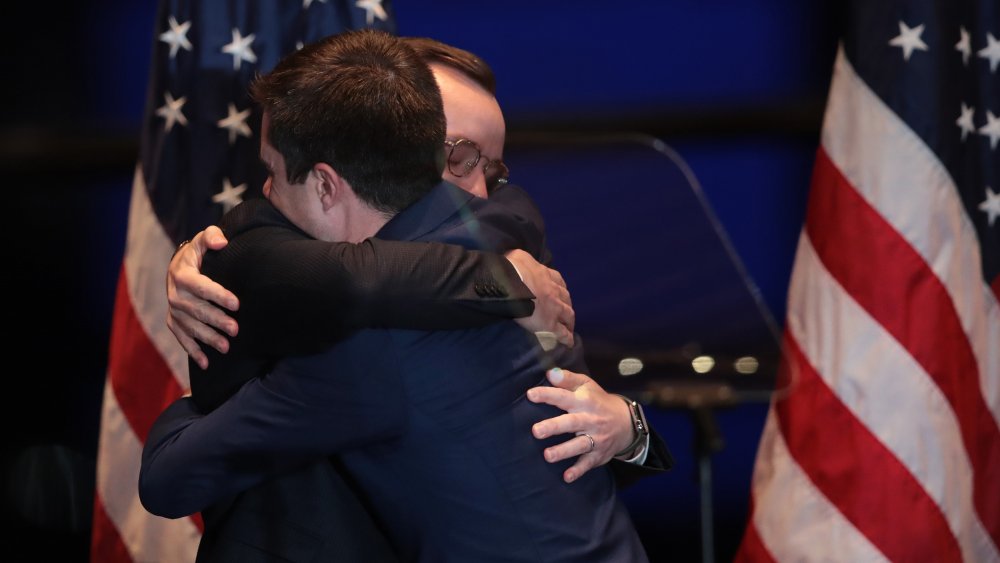 Scott Olson/Getty Images
Ittook a few weeks of FaceTime calls before Buttigieg and Glezman had their first real-time date in South Bend, where they bonded over Guinness and a Scotch egg (via Time). "He [Buttigieg] said, 'You've got to try these,'" Glezman said to The New York Times. "It was a kind of magical moment. I mean, sure, it's a fried ball of meat with an egg in the middle, but when it came to the table my little Midwestern heart leapt." And for Buttigieg, Glezman's embrace of a Scotch egg made him realize he could be the one. 
Scotch eggs turned into dinner, then a baseball game, and a romantic walk. Buttigieg says he could have gone on for hours. "I didn't want it to end. And what I saw was somebody who is so alive to the way in which we can lift one another up, and you got to understand, I had been avoiding, I mean, actively avoiding love for a very long time," Buttigieg tells ABC News. "And [I] tiptoed out to see what it would be like, and met this extraordinary person who let me know what it meant to care about somebody else and lift them up, too, and reminds me every day of the opportunity by holding office even just by being a candidate to make sure others feel seen, and to make sure others know that they're important."
Pete Buttigieg proposed to his husband at Chicago's O'Hare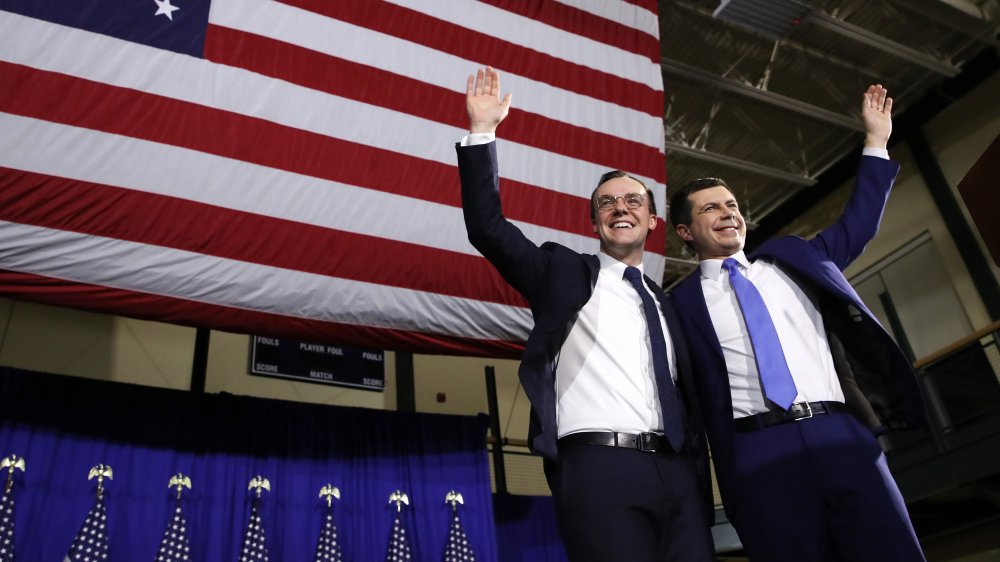 Win Mcnamee/Getty Images
Less than three years after Buttigieg met Glezman, he proposed at gate B5 of O'Hare International Airport in Chicago at the exact spot where Glezman first saw the dashing military officer's dating profile. Time notes that the couple are content together in the way two people are when they believed they would be forever alone. They even have a division of household chores: Glezman, a middle-school drama and arts teacher, cares for the dogs and does the shopping and the cooking, while Buttigieg does the dishes, the laundry, and the garbage. 
Just months into his marriage, and with his husband Chasten at his side, Buttigieg ran a groundbreaking presidential campaign. And while he may have retired his presidential run for 2020, as one of the Democratic Party's rising stars, we're sure we'll be seeing more of Mayor Pete and his husband Chasten in the future.