How Much Money Is Entrepreneur Andrew Yang Really Worth?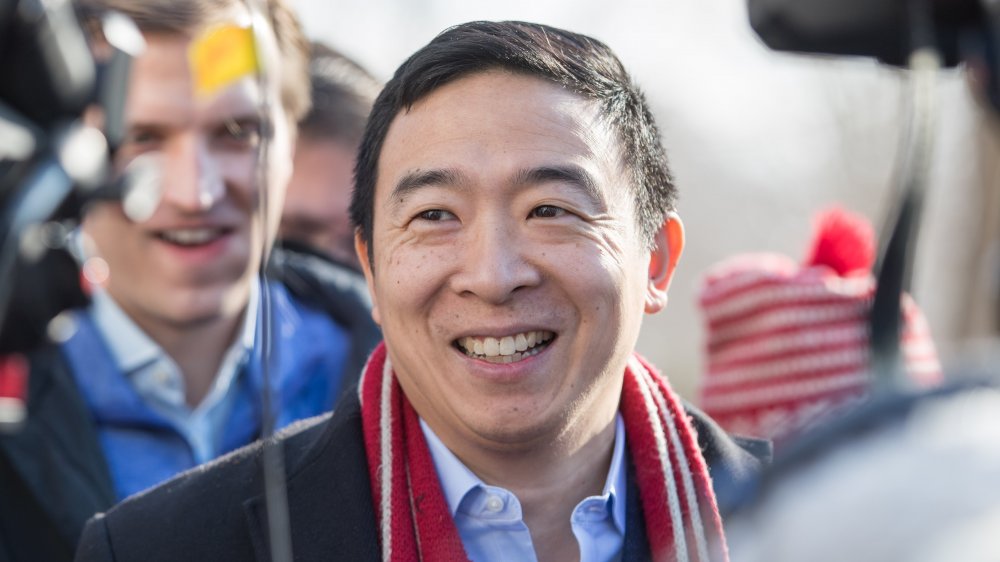 Scott Eisen/Getty Images
The presidential candidate who hoped to send Americans $1,000 per month isn't worth as much money as some of his opponents. Forbes revealed in 2019 that Andrew Yang's net worth is far less than the net worth of many presidential candidates; Joe Biden has an estimated worth of $9 million according to Town & Country, while Tom Steyer had $1.6 billion. 
Perhaps Yang's relatively modest net worth would allow him to be more in touch with the concerns of average Americans; though Yang dropped out of the presidential race in February, potential Yang Gang members can still peruse his platform online. Yang's merchandise store might be closed, but his book, The War on Normal People, can be purchased for $28.
Andrew Yang's financial assets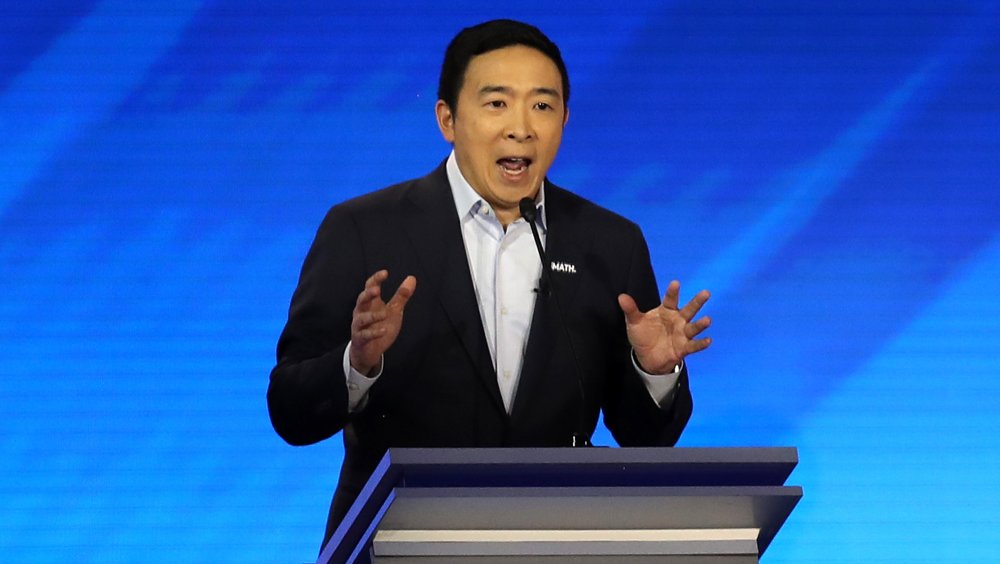 Joe Raedle/Getty Images
After graduating from Brown University and Columbia Law School, Yang spent five months as a corporate lawyer (via the Washington Post). After working at two failed start-ups, he founded Manhattan GMAT, a test prep company that was sold to Kaplan in 2009, which is how Yang said he became a millionaire. In one podcast, he suggested the sale had netted him about $11 million, though Forbes wondered what must have happened to that money. He followed that by spending $121,000 to start the nonprofit Venture for America in 2011. 
Yang left Venture for America in 2017. He lives with his wife and two sons in a two bedroom rental in Manhattan, though they own a 2,700-square-foot house upstate in New Paltz that's worth about $500,000. Forbes reported that alongside modest holdings in Lending Club and Google, Yang had between $15,000 to $50,000 in a venture capital fund called Hustle Fund I, LP, which specializes in "hilariously early startups."
All told, Forbes reports Yang's net worth to be $1 million — not exactly chump change, but nothing compared to big hitters like Biden and Steyer.