Body Language Expert Reveals The Truth About Kamala Harris And Her Husband's Relationship
The marriage of 2020 vice presidential hopeful Senator Kamala D. Harris (D-Calif.) and her husband Doug Emhoff, an attorney, has been dubbed by The Washington Post "a match made in Hollywood," with many of us swooning over the two 55-year-olds' "newlywedom," as University of Virginia presidential studies expert Barbara Perry dubbed it. Certainly, the chemistry Harris and Emhoff appear to share makes for a memorable Instagram post. But is the love between Harris and Emhoff, like so many things in both Washington, D.C., and Hollywood, in fact, an act?
In an interview with The List, life coach and relationship expert Nicole Moore explained how the couple's body language reveals the truth about their feelings. "Kamala Harris and Douglas Emhoff are making history as the new model for modern-day romance. One where the woman is just as powerful, if not more, than the man and... he's NOT threatened by it. In fact, he supports it," she said. "They're truly a power couple whose body language appears to indicate a lack of power struggles between them but rather mutual support and admiration."
Kamala Harris digs Doug Emhoff's confidence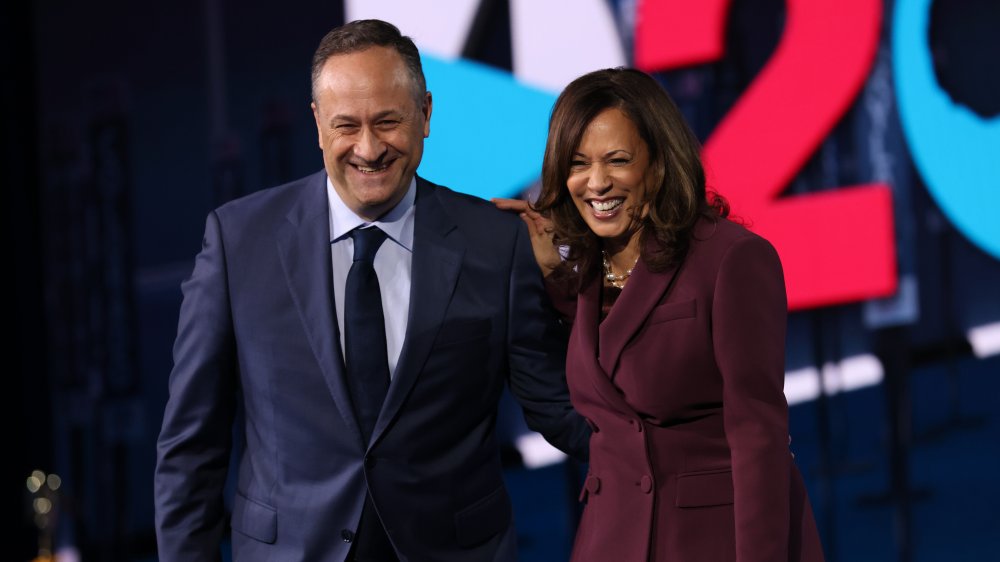 Win Mcnamee/Getty Images
According to Moore, Harris is smitten by Emhoff's comfort within his own skin. "He's confident in who he is, brings his own value to the table and she loves that about him," Moore explained. "She's into him!" 
This was evident to Moore when the couple danced together on the float at a pride parade. "Doug is seen dancing and Kamala's reaction is priceless. She beams, nods her head as if to say 'this is why I love you' and pulls him in for a kiss," Moore said, referring to a video shared by CNN. "Her body language is showing that she loves who he is as a person and loves when he reveals his true self to her. And his body language is clearly showing his comfort within himself. This is a man who knows who he is and is so confident in himself that he can even poke fun at himself and dance on the campaign trail."
Doug feels protective of Kamala's safety
While the VP candidate and her might-be second gentleman may have a modern relationship, that doesn't mean Emhoff isn't also taking on the traditional "male protector" role, according to Moore. "He's her bodyguard, behind her physically but ready to step forward and fight if needed," she said.
This was especially obvious when Emhoff perceived an actual physical threat to his wife's safety. "In a clip where an audience member ran on stage, grabbed the mic and got very close to Kamala, you'll see that Douglas was one of the men who came onstage to take the mic-grabber off stage," Moore said, referring to a moment from a MoveOn panel discussion. "A closeup of his face reveals a ferociously protective demeanor. From his body language, you can see that he'll do anything to protect Kamala — but he reserves the fight for when it's appropriate."
Harris, for her part, enjoys Emhoff's protection. "She leans on him... a LOT," Moore said. "In pictures on the campaign trail, Kamala and Doug are often pictured standing strong together side by side, the body language depicting, 'We are two powerful people choosing to stand strong together.' Or, they're seen with Doug slightly behind her, standing powerful and confident and letting his wife have the space to have the spotlight on her."
Kamala Harris allows herself to be vulnerable around Doug Emhoff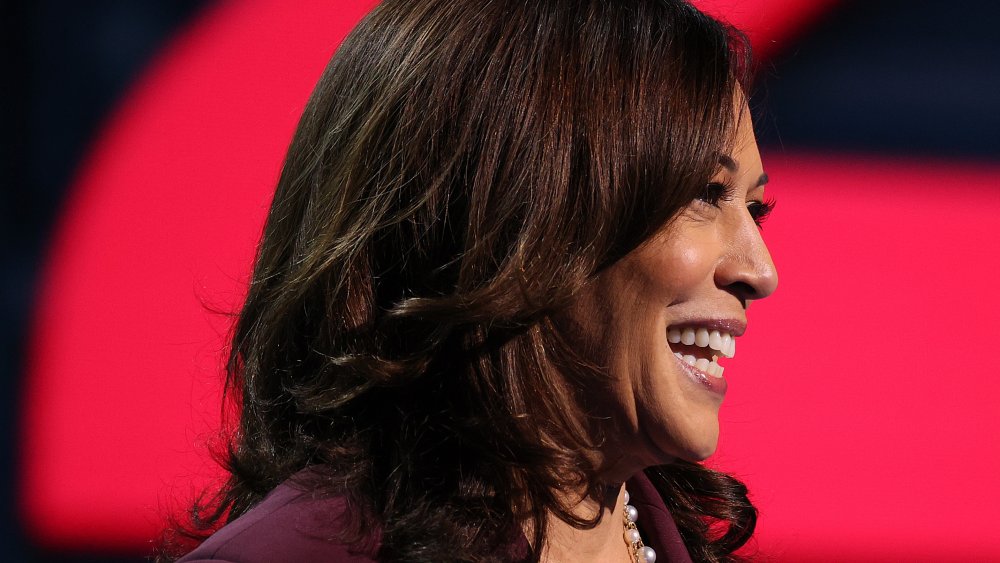 Win Mcnamee/Getty Images
You have to be pretty tough to make it as far in her career as Harris has, and sometimes that means learning to shut people out so you're not hurt by the various criticisms — and betrayals — that can happen in this line of work. But any walls Harris has put up end at her marriage, Moore noted. "Kamala is obviously a woman who has built massive success on her own and did not need a man to thrive. In fact, she got married on the later side. However, what you see in their body language is that she lets this man in," she explained. "She lets him be there for her emotionally and in all ways... She appears to have let her emotional walls down for this man and given him the job of protecting her heart."
While female politicians often are (unfairly) depicted as being overly "bossy" and emasculating, that's not going in in this marriage, Moore said. "This isn't the stereotype of the powerful ball-busting woman with a meek man who is just in her shadow. Doug may be behind Kamala a lot of the time, but he's back there providing so much strength, stability, and power," she said.
Kamala and Doug respect each other as equals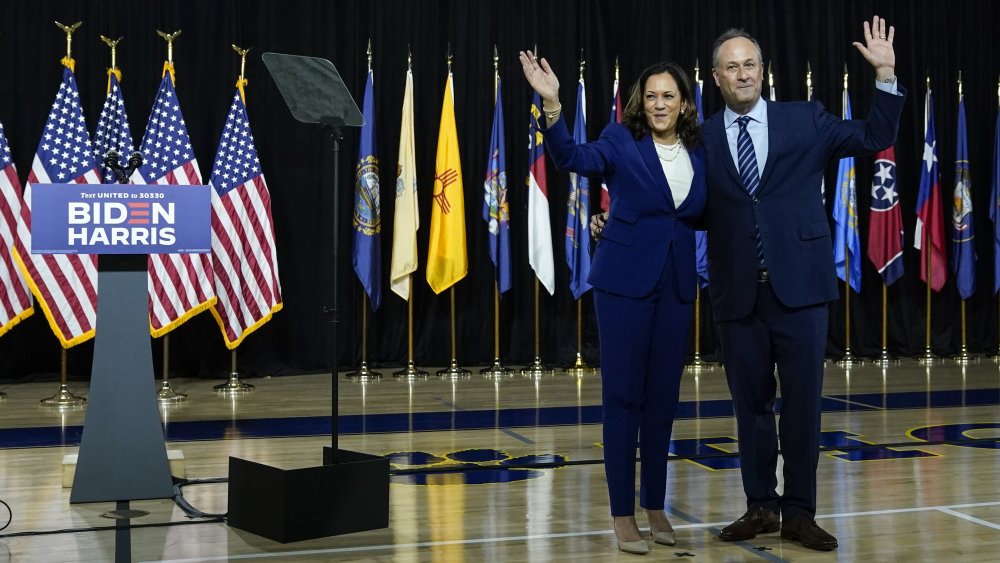 Drew Angerer/Getty Images
According to Moore, Harris and Emhoff share mutual respect and partnership, which she can tell just by looking at these two lovebirds. "When Douglas is talking, Kamala's entire face is turned toward him, not the camera, and she's beaming with eyes of adoration and love," Moore observed. "The body language is clear." When they've been interviewed as a couple, Moore noted, "Kamala isn't rushing to interject with her points or facing the camera to get more air time." Instead, Moore explained, "she's enthralled by her husband and what he has to say. This body language shows that there's a lot of respect between the couple and she sees him as her equal."
The relationship between Kamala and Doug is the fusion of two equal forces, Moore concluded. "This isn't codependent," she said. "It's interdependence where two powerful people come together and decide to be there for each other... they're centered in who they are."