The Truth About Mike Pence's Wife, Karen Pence
Noam Galai/Getty Images
Most of us know a decent amount about our Vice President, Mike Pence. For instance, he's a former congressman and governor of Indiana (via Biography). He's the son of a veteran, and a former radio talk show host. 
But less is known about the second in command's wife of 35 years, Karen Pence. Many may be surprised to learn that like Jill Biden, wife of Joe Biden, Pence counts school teacher as her career, although she is now retired. She is also a mother, and holds another impressive accomplishment that will definitely shock those who wish to learn more about the Second Lady of the United States. Is she an award-winning poet? A master cake decorator? No, but if you guessed Pence is an artist of some kind, you are on the right track.
Karen Pence is an artist and more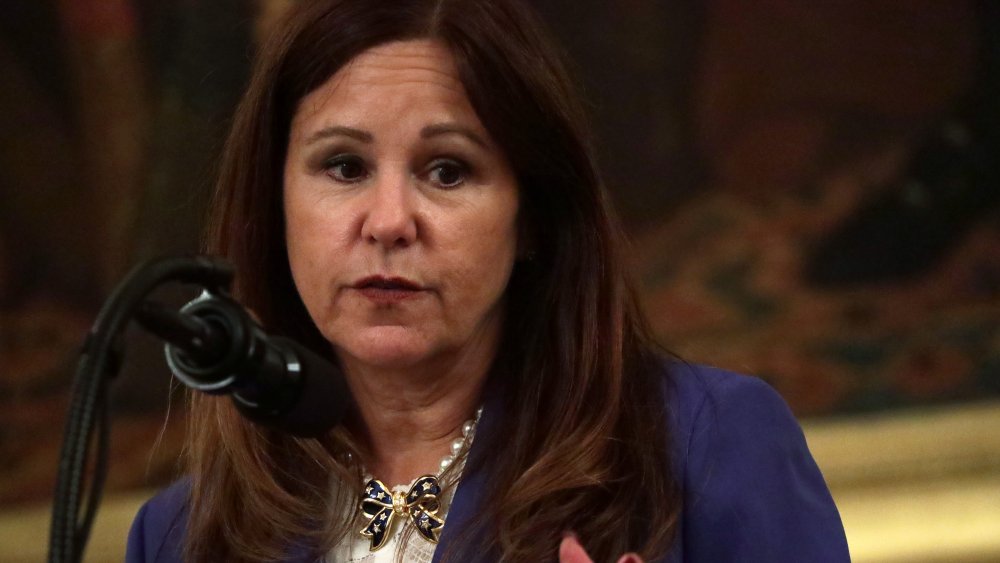 Alex Wong/Getty Images
According to WhiteHouse.gov, Pence is an award-winning water colorist. As such, she has chosen to parlay her love of painting into her role as Second Lady. Pence's passions in office include highlighting the effectiveness of art therapy as a treatment for mental health issues. Her initiative to recognize art therapy as more than just arts and crafts is called Healing with the HeART. She has also donated her paintings to organizations like Tracy's Kids, which provides art therapy services to children suffering with cancer (via The Hill). And, likely given her husband's military service, she has also dedicated her time in the White House to helping military families.
There's more people don't know about Karen Pence, including that she was married before she met Mike Pence, according to Business Insider.
How Karen Pence met Mike Pence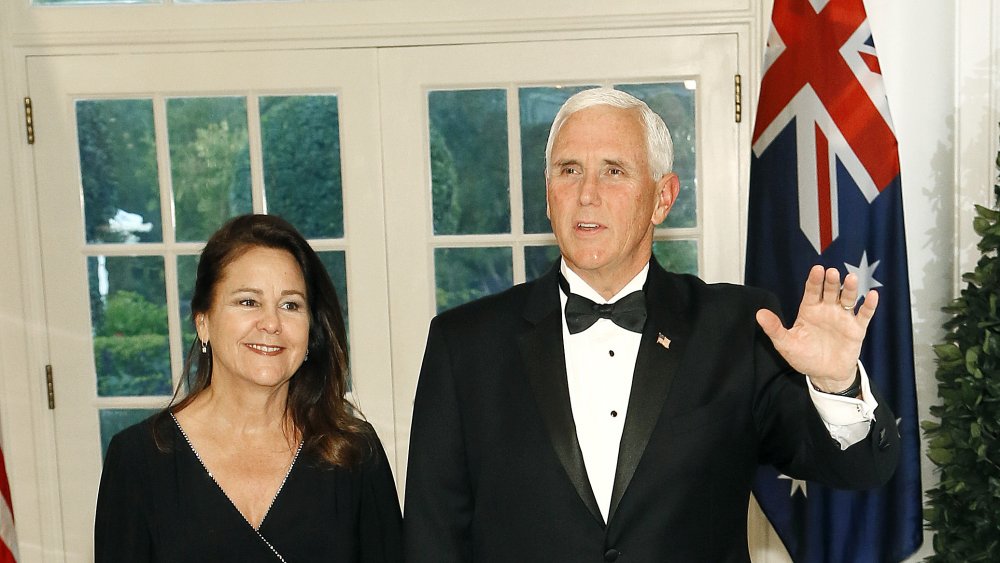 Paul Morigi/Getty Images
After wedding her high school sweetheart, Pence's first marriage would end allegedly because her first love, Dr. John Steven Whitaker, was a medical student, and his schedule was too intense. In 1983, Karen, an Indiana native would go on to meet Mike Pence at church where she played guitar — he was at that time in law school. Coincidentally, Karen's sister attended the same school, and Mike Pence would soon seek out her information via the registrar (via Indy Star). Pence convinced her to give him Karen's number. Adorably, he got too nervous to talk to Karen upon his first phone call and hung up. The good news is the second time, Pence asked out his future wife.
He proposed in 1984 — she'd prepared a gold cross engraved with the word "yes" for the occasion, a meaningful trinket the would-be second term VP still holds dear. After all those years, the Pences are still in love. In 2013, the Vice President told the Indy Star, "She's the best part of my life. Everything we do in public life, we do together. I can't imagine it any other way." The couple shares three grown children: Charlotte, Michael, and Audrey.