The Heartbreaking Deaths Of Larry King's Son And Daughter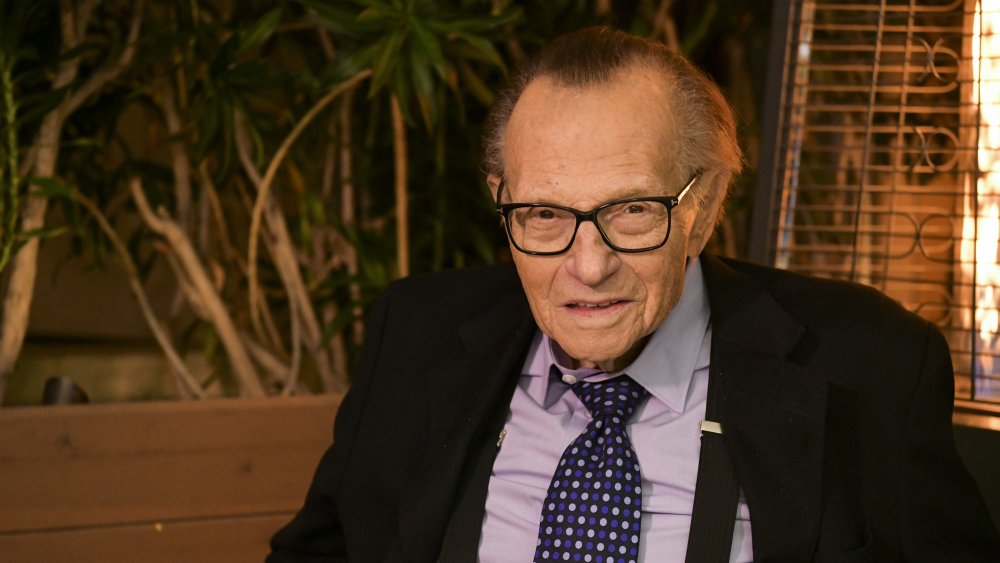 Rodin Eckenroth/Getty Images
Last year was truly an annus horribilis for Larry King. He had suffered a near fatal stroke and had to come to terms with his subsequent divorce from Shawn Southwick after 22 years of marriage, who left him three months after he suffered his stroke. But these events have paled in comparison to the news that King has lost his son Andy, 65, who passed away unexpectedly late last month, and his only daughter Chaia, 51, who passed away just three weeks later after a battle with cancer (via CNN). King, who hosts Larry King Live, is also the father of Larry Jr, who is 58; Chance, 21; and Cannon, 20 (via Daily Mail).
King used social media today to share the news of his children's passing, writing on Facebook: "It is with sadness and a father's broken heart that I confirm the recent loss of two of my children, Andy King, and Chaia King. Both of them were good and kind souls and they will be greatly missed. Andy passed away unexpectedly of a heart attack on July 28th, and Chaia passed on August 20th, only a short time after having been diagnosed with lung cancer. Losing them feels so out of order. No parent should have to bury a child. My family and I thank you for your outpouring of kind sentiments and well wishes. In this moment, we need a little time and privacy to heal. I thank you for respecting that."
Larry King posted the news of Andy King and Chaia King's deaths
Andy King's daughter Jillian told the Daily Mail that her father had passed away suddenly on July 28 from what they believed was a heart attack. "I was in disbelief when I heard. Chaia, with everything she was going through, was more expected. At least we had time to prepare. But there was no warning with him. It was a shock." She continued, "Everyone's feeling pretty bad and broken. Larry is really hurt and upset. He was very sick last year. His kids were all taking very close care of him. He's upset that he's lost them now."
Jillian says their last family gathering happened at Chaia's house, a week before her father passed away. "We were all at his sister's house the Wednesday before he passed. It was just a happy family gathering [and] when I left, he told me he loved me and he'd talk to me soon. They were both such wonderful people. They were lucky to be together in the end."
Larry King adopted Andy when he married Andy's mother Alene Atkins in 1961. They split up in 1963, but got back together in 1967, which is when Alene gave birth to Chaia. Atkins herself passed away in 2017. King and Chaia wrote a children's book together called Daddy Day, Daughter Day in 1997, which talks about divorce from their individual perspectives (via Today).