Why The RNC Has Everyone Talking About The Hatch Act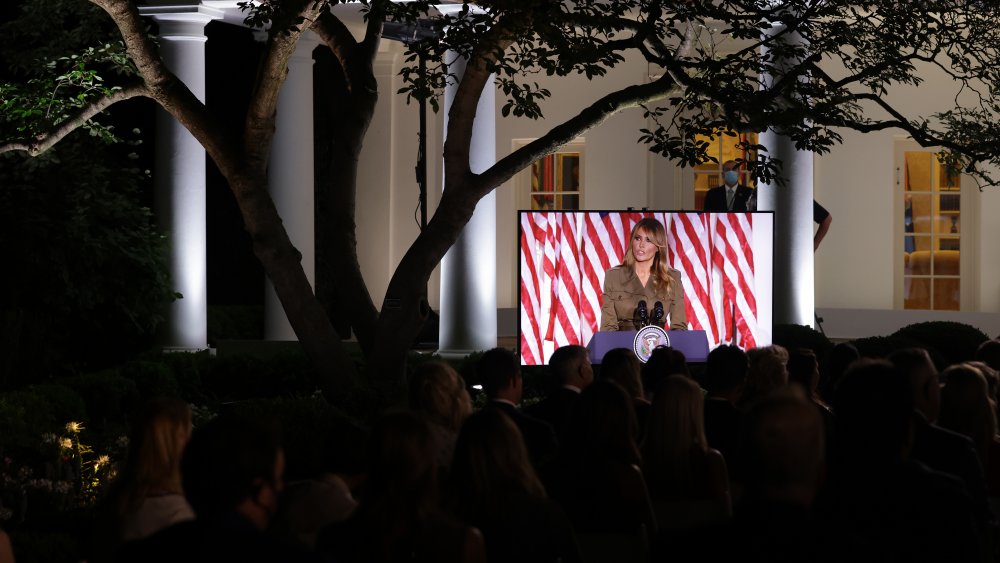 Alex Wong/Getty Images
This year is a special one for American politics. Thanks to social distancing and the pandemic, both the Democratic and Republican National Conventions have been without the crowds, speeches, or balloon drops that we've witnessed in the past. Supporters pre-taped their convention speeches, and we also saw something we've never seen before: federal buildings like the White House used as convention backdrops.
There's a reason why conventions are always held far, far away from the country's symbols of government, and that's the Hatch Act, passed 80 years ago and which bans federal employees from getting involved in politics when they are carrying out their official duties (via The Washington Post). NPR says the act is specific about things like distributing partisan buttons or campaign material in a government building, but it doesn't say anything about holding campaign events on federal grounds. The law may seem out of date, but consider that the Second Amendment to the Constitution, or the right to bear arms, was passed in 1791, per History, and the 19th Amendment granting women the right to vote was passed in 1920, per NPR.
Former head of the U.S. Office for Government Ethics Walter Shaub, who left his post in 2017, has already reacted to the RNC's decision to hold events on federal property by tweeting: "The Hatch Act was the wall standing between the government's might and candidates. Tonight a candidate tore down that wall and wielded power for his own campaign."
Presidential and political appointees are also subject to the Hatch Act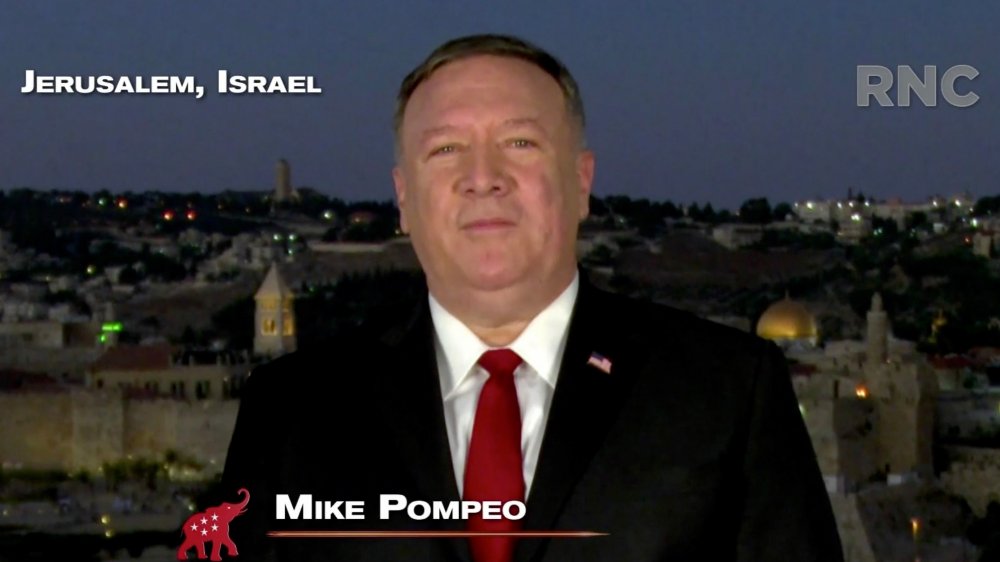 Handout/Getty Images
The Hatch Act is also being discussed because Secretary of State Mike Pompeo, who was in Israel when he addressed the RNC while he was on official duty, actually sent a memo warning State Department employees, "Senate-confirmed Presidential appointees may not even attend a political party convention or convention-related event." The contents are revealed in memos obtained by Politico, which also pointed out that Pompeo is a political appointee. In the same memo Deputy Secretary of State Stephen Biegun also noted, "Presidential and political appointees ... are subject to significant restrictions on their political activity; they may not engage in any partisan political activity in concert with a partisan campaign, political party, or partisan political group, even on personal time and outside of the federal workplace." 
The Los Angeles Times reports that Special Counsel Henry J. Kerner says he's ready to receive complaints with regard to what might be seen as violations of the Hatch Act. "Ultimately, officials and employees choose whether to comply with the law. Once they make that choice, it is the [Office of Special Counsel's] statutory role to receive complaints, investigate alleged Hatch Act violations, and determine which ones warrant prosecution," he said. He also said, "[The] OSC will continue to vigorously and even-handedly enforce the Hatch Act, consistent with its statutory authorities."