Why Melania Trump's Final RNC Dress Might Have Been A Bad Choice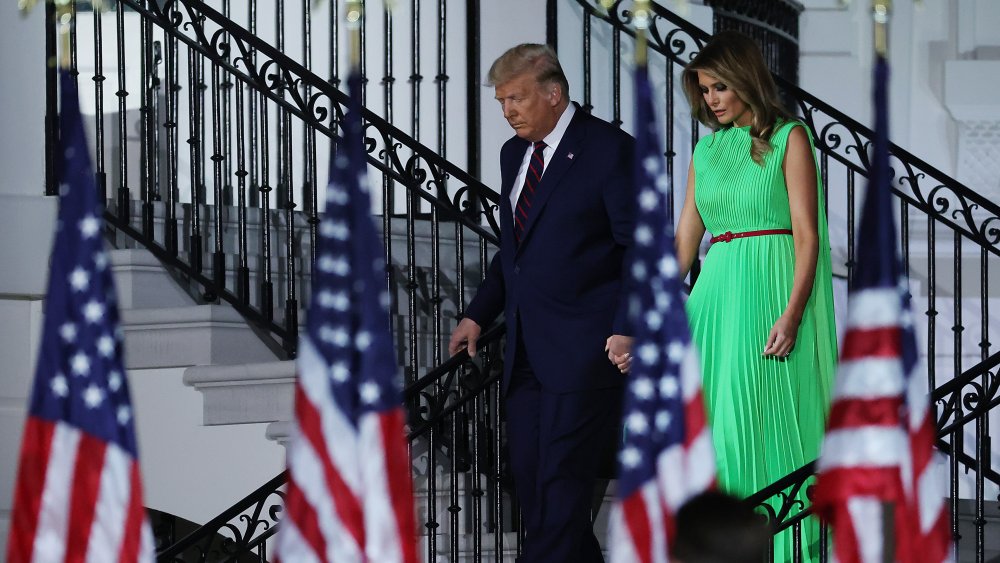 Chip Somodevilla/Getty Images
It was meant to be a majestic moment for the president and the first lady. With the White House as their backdrop, Melania and Donald Trump descended the stairs and walked towards the podium where the president was meant to accept his party's nomination to run for a second term. Melania's fans went wild for the first lady, with one tweeting, "Not many people could pull off that color green that #Melania is wearing and she looks fabulous." But it wasn't long before detractors realized that the first lady was actually wearing a dress close to — if not identical to — the color of a green screen, which is widely used in the television and movie industry. 
But what is a green screen? During the 19th century, special effects experts realized they could take a blank color screen and fill it up with layers of images to make a shot's background look different from what it actually is. The color green was said to have been chosen because it wasn't widely used, either by celebrities or by images (via 90 Seconds). Green screen technology is still in use today and is known as chroma keying; you can spot it in outtakes from different Avengers and Marvel Cinematic Universe movies. 
Melania Trump's green dress became instant internet fodder
One early Twitter comment issued a call to arms from one user who called out the dress' designer (Valentino), how much it cost ($5,500), and what to do with the image, and the Twitterverse rose to the challenge. One user used Melania Trump's dress to showcase unflattering depictions of the president, as well as images from last week's Democratic National Convention with the comment "Needs more #Biden and ice cream and a cat playing a piano." A third one tweeted images with a video of the latest coronavirus death toll on her dress, with the comment "gorgeous dress".
In all fairness, this isn't the first time an international figure has made the mistake of wearing a green screen dress in public. Back in 2016, Queen Elizabeth II also made a birthday appearance in a dress that the internet decided to have fun with, adding images of everything from flowers to a video images of the band Queen singing "Don't Stop Me Now" (via Mashable). It doesn't look like the folks that invented green screens thought the color would become a popular fashion choice at some point. Perhaps that color should be renamed "green screen green" as a reminder that it may not be the best pick for the rich and famous to wear in public.