The Real Reason DaBaby Changed His Name
Jason Koerner/Getty Images
Before he was known as DaBaby, he went by Baby Jesus. And before that, the 28-year-old rap sensation behind this summer's number-one hit "Rockstar" went by the name Jonathan Kirk. Kirk also happens to be the name of DaBaby's second studio album, which dropped last year six months after his dad suddenly passed away. In tribute, the cover features a photo of DaBaby as an infant sitting on his father's lap (via The Face). 
Plenty of rappers assume a stage name, but why did DaBaby decide to ditch his original Baby Jesus moniker? In his intro track of God's Work: Resurrected (via Genius), DaBaby explains that the name was too politically charged, and the rapper felt it could become a distraction. But he told XXL that he wasn't worried about walking away from Baby Jesus. "2017 will be the year of DaBaby," he said. "The name change, it just shows me the amount of love and respect people have for me. To change the name and not lose any traction, that's something a lot of people have trouble doing. When it comes to 2017, we're ready to work."
"I just had that mindset to never settle," DaBaby revealed to Billboard. "That's a credit to my pops, too. He used to say 'the sky's the limit' every time we talked. 'Never be complacent, always strive for more.'" Nominated for Artist of the Year at the 2020 MTV Video Music Awards alongside heavy hitters Justin Bieber, Lady Gaga, Megan Thee Stallion, Post Malone, and The Weeknd, DaBaby has been hard at work building a name for himself over the last few years.
Nobody puts DaBaby in a corner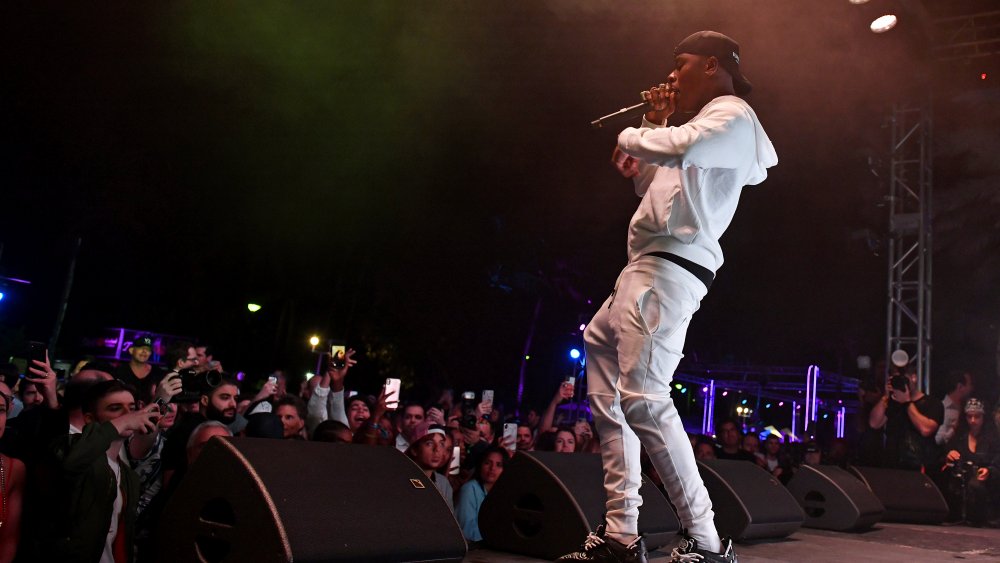 Craig Barritt/Getty Images
The prolific rapper, who released his second number-one album, Blame It on Baby, in April, turned heads at the 2017 South by Southwest festival by donning not much more than a few necklaces and an adult diaper. "He's really funny," says Joie Manda, executive vice president of Interscope Records, DaBaby's label. "I think we're just at the beginning, and he's going to be here for a long time" (via Billboard).
And though he's had some run-ins with the law, including a fatal Walmart shooting in which DaBaby says he was threatened while shopping with his family (via The New York Times), the rapper from Charlotte, North Carolina, is looking to use his platform to guide others toward positive change. "I had already been successful with the things I was doing on the streets; I really kind of got bored with it," he confessed to XXL. "I was all about touching people and influencing people. I always been that type of person. I was the one teaching people things; I just always had a way with my words and I always spoke with substance. I figured, what better way to touch people and change people lives than with the music?"