Why Adele's Latest Look Is Getting So Much Criticism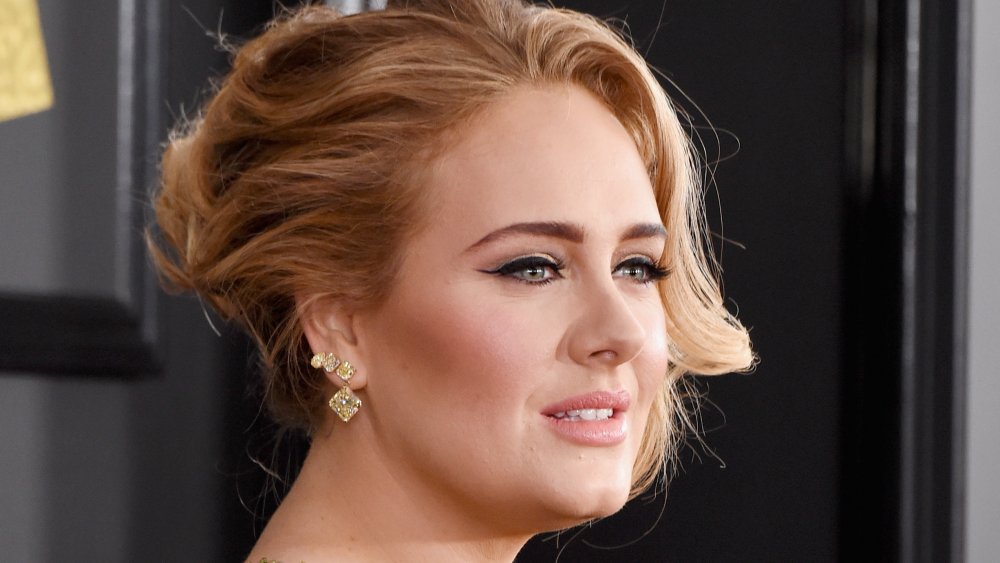 Frazer Harrison/Getty Images
People are not happy with Adele after the singer posted a photo of herself on Instagram. The photo features Adele wearing tie-dye legging, a bikini top featuring the Jamaican flag, and a gold necklace. It's not her outfit, though, that has the internet upset — it's her hair.
In the photo, Adele's hair is styled in Bantu knots, and is embellished with yellow feathers. People quickly took to the comments to react to the look. "Giiiiirl you about to cancelled for cultural appropriation," one Instagram user wrote (via Us Weekly). Another wrote, "ADELE THIS IS A NAH. I REPEAT THIS IS A NAH!!! Take it down and go to your room and think about what you did," while another said, "Appreciate the love of Jamaican culture but the Bantu knots kind of don't sit right."
Adele posted the photo in honor of London's annual Notting Hill Carnival, which celebrates Caribbean heritage and is being held virtually this year due to the COVID-19 pandemic. "Happy what would be Notting Hill Carnival my beloved London," wrote Adele in the caption of her post.
What are Bantu knots?
While Bantu knots are definitely a cute look, Adele was accused of cultural appropriation for styling her hair this way as she is not Black. As noted by NaturallyCurly, Bantu knots have been around for more than a century and "are a traditional African hairstyle." The word "Bantu" refers to hundreds of ethnic groups in southern African that speak the Bantu language. The outlet added that Bantu knots are "a staple for Black women around the world, especially those wearing their hair in natural styles."
The look has been seen on non-Black celebs and models, under the name "twisted mini buns," which has led to a lot of controversy over the years. Khloé Kardashian was notably slammed for wearing the style and calling herself "Bantu babe" in 2016. Like Adele, Kardashian was accused of cultural appropriation.
"In regards to hair, cultural appropriation is particularly offensive because Black women have to fight for our natural beauty to be featured and valued," Banke Awopetu-McCullough, a professor at Monroe Community College told Ebony. "When white women rock our styles without at least giving credit, it's another example of the ways Black women are marginalized."