The Truth About Paulina Gretzky And Dustin Johnson's Relationship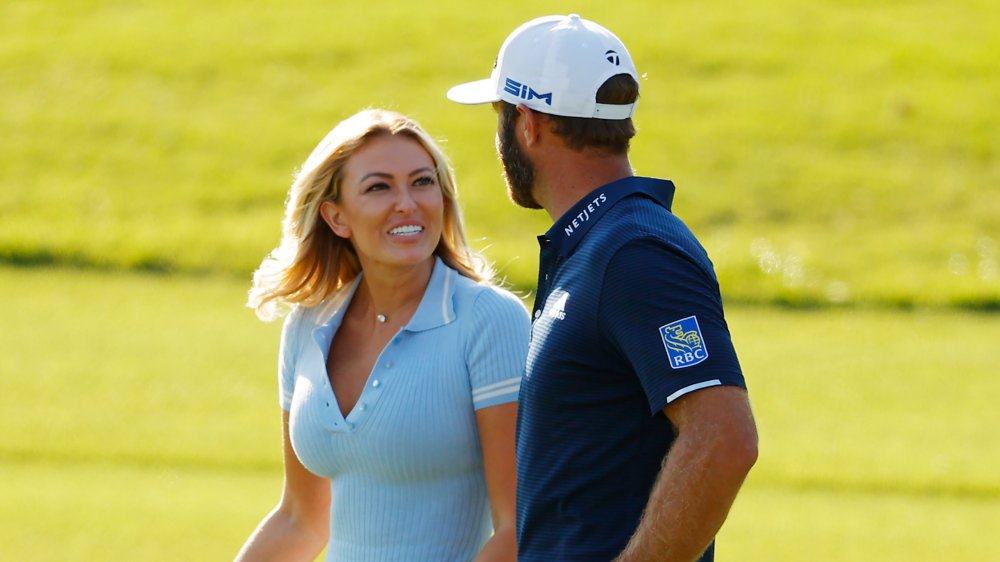 Kevin C. Cox/Getty Images
Paulina Gretzky and Dustin Johnson are a match made in sports heaven. He's the pro-golfing superstar who nabbed the 2020 FedEx Cup (and $15 million in the process), according to ESPN. It was the latest in a long line of wins for Johnson, who also has six World Golf Championships under his belt, putting him behind only Tiger Woods for wins. She's the daughter of legendary hockey player Wayne Gretzky, and is also a pop star and model in her own right, with her song "Collecting Dust" even featuring on Laguna Beach: The Real OC (via Hello!).
They're clearly in it for the long haul, with two kids and a solid foundation. There have been difficult times and fans are wondering when their lengthy engagement is going to result in an actual wedding, but if there's one thing Gretzky and Johnson have proven over the years, it's that they're happily living for themselves and couldn't care less what anyone else thinks. 
Paulina Gretzky and Dustin Johnson met through her parents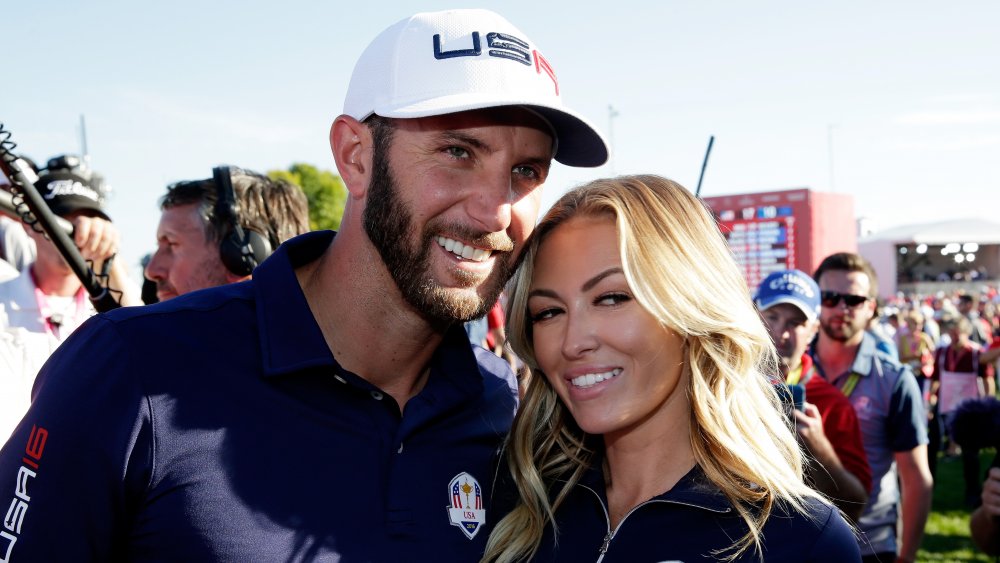 Sam Greenwood/Getty Images
Johnson actually wooed Gretzky's parents long before his future lady. Golf reports the pro-golfer met Janet, Gretzky's mother, at a golf tournament in 2009, joining her and Wayne for dinner afterwards. However, Johnson and Gretzky didn't go on a date until a few years later. Of their initial meeting, the singer told Golf Digest she was embarrassed her mother had talked her up so much. "I'm sure he was rolling his eyes, and so was I when my mom invited me over to meet this golfer she had just met," she said, describing herself as looking like a "ragamuffin." Johnson, meanwhile, was a "really cute guy."
The two reportedly had major chemistry but were both seeing other people at the time, so they remained friends. When they finally went on their first date, in 2012, her parents tagged along, but it didn't deter the couple and they've been together ever since. In 2013, they announced their engagement with a simple photo of Paulina Gretzky's hand wearing a stunning ring. "She said yes!!!!!," Johnson wrote in the caption (via Instagram).
Paulina Gretzky and Dustin Johnson have had several ups and downs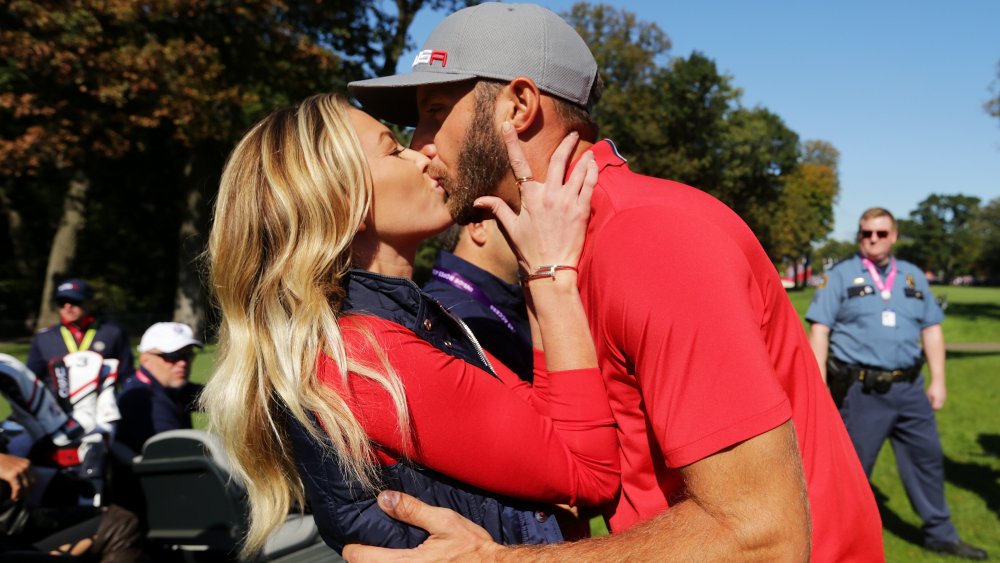 Streeter Lecka/Getty Images
They've held off setting a date for their wedding, with Gretzky explaining to the Golf Digest that they "want it to be right and to fit." The couple have two kids, Tatum and River, born in 2015 and 2017 respectively, according to People. However, their relationship hasn't been without controversy. Johnson has a reputation as the "bad boy" of the golfing world. In 2015, Johnson told Sports Illustrated he was taking the necessary steps to be the best role model possible for his kids.
Infidelity rumors swirled around the couple in 2018 due to Johnson reportedly spending too much time with a lady from his local golf club, Yassie Safai (via TMZ). But the pro-golfer shot down the idea of an impending split on Twitter: "Every relationship goes through its ups and downs, but most importantly, we love each other very much and are committed to being a family." The couple now seem stronger than ever, with Gretzky front and center when her man won the 2020 FedEx Cup (via The Sun).