You Should Add Pine-Sol To Your Pandemic Shopping List. Here's Why
We may have all been setting our sights on Clorox wipes, Lysol, and bleach as the household products that were best positioned to help us keep the coronavirus out of our homes. But it turns out there are a few more on the EPA's list of tested and approved household cleaners. One of those is a glycolic-acid based cleaner you may already know and love: Pine-Sol.
Clorox, which makes Pine-Sol, says it was able to get Pine-Sol on the EPA's list of approved products that kill the virus responsible for COVID-19 after having its multi-cleaner tested at an independent laboratory. The manufacturer suggests using full-strength Pine-Sol with a clean sponge or cloth on hard, non-porous surfaces, and then keeping the surface wet for at least 10 minutes before wiping. Clorox also says its important to remember if the surface is soiled and dirty, you'd need to pre-clean the area before you can disinfect it.
Pine-Sol can work like Lysol and Clorox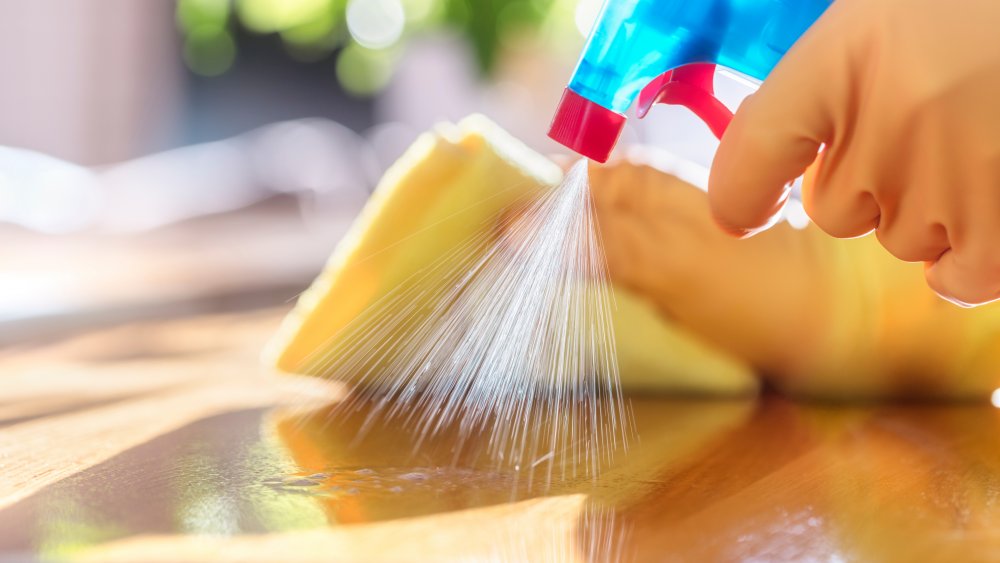 Shutterstock
Good Housekeeping, which reviewed the product, spoke to a brand representative, who confirmed Pine-Sol is listed as "Tuck 3" under the registration number 5813-101 on the EPA's site. Before COVID, Pine-Sol had been used primarily to clean up greasy, soiled areas around the house — if you want to use Pine-Sol as a disinfectant, its best used on hard-surface, high-touch areas like countertops, handles, bathtubs, toilets, tables, and doorknobs. Consumer Reports recommends cleaning these areas frequently if someone in your household contracts COVID-19 or has related symptoms.
Stephen Thomas, chief of infectious diseases and director of global health at New York's Upstate Medical University says, "The importance of viral transmission from touching potentially infected items is much lower than originally proposed." Still, keeping our homes thoroughly cleaned and disinfected doesn't just help keep them COVID-free, it also makes sure we are at lower risk of contracting other infections like the seasonal flu — which unfortunately, could be just around the corner.