Inside Yolanda Hadid's Relationship With Her Boyfriend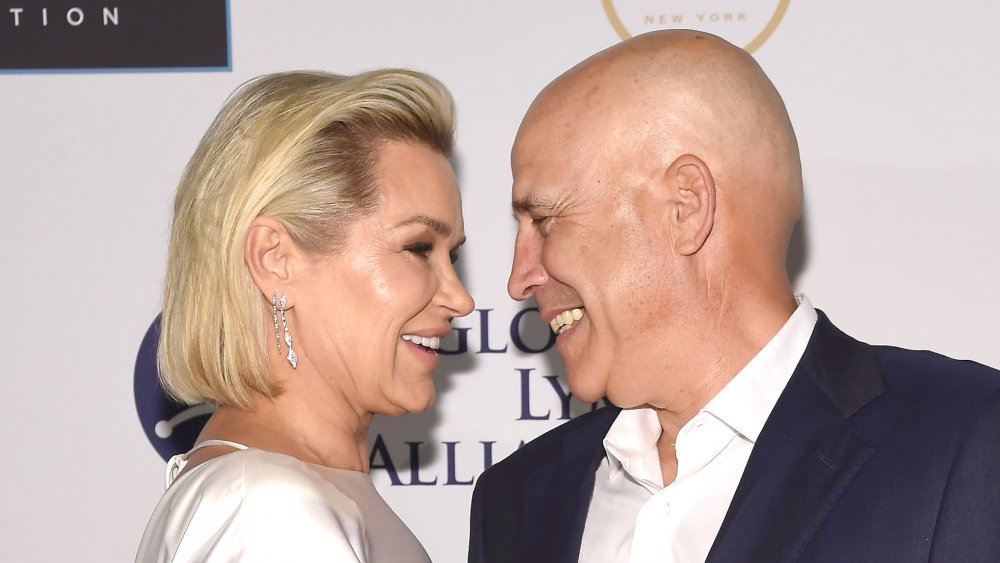 Gary Gershoff/Getty Images
Yolanda Hadid's love life is thriving. The Real Housewives of Beverly Hills alum is head over heels for her boo, Joseph Jingoli, and she's not afraid to show it. Hadid is wearing her heart on her sleeve — and on Instagram.
Hadid recently posted a sweet pic of the two on the social media platform, and penned a heartfelt birthday memo to her "true love" in the caption. "Happy birthday my true love," she wrote. "May each day, love, health and happiness come your way. Thank you for being the quiet in my storm.... You are a blessing in my life!"
Hadid previously opened up about the relationship to Bravo's The Daily Dish. "I don't really want to talk too much about my private life, but yes, I've been in a relationship of 15 months and I'm very much in love with my boyfriend," she said in May. "What has connected us is probably horses and the farm life. We live 10 miles apart, so it's kind of perfect."
Yolanda Hadid and her boyfriend have 'a common bond'
Hadid, who moved to a Pennsylvania farm in 2017 (per Architectural Digest), wasn't looking for love when she moved to the East Coast. Instead, she wanted to take time for herself as she recovered from Lyme disease and healed from her divorce from David Foster. As she told People, Hadid was determined to be "an independent woman" and "just feel whole on my own."
After a while, she felt like she was ready to fall in love again. What happened next sounds like fate. "I really started focusing," she said. "I made a love spiral and wrote down exactly everything that was important to me in a man and he magically just rang the doorbell at the farm."
Hadid revealed that she and Jingoli have something huge in common that helped bring them together. "When you meet somebody that thought he was going to die, like I felt I was gonna die, you have a whole new appreciation for life and you kind of share that, so that's really already a common bond that we have," she said. "To live in the moment, enjoy every day, and not wait. Why take it slow? Let's just go for it and have a great time."