JJ Watt: Here's How Much The NFL Star Is Worth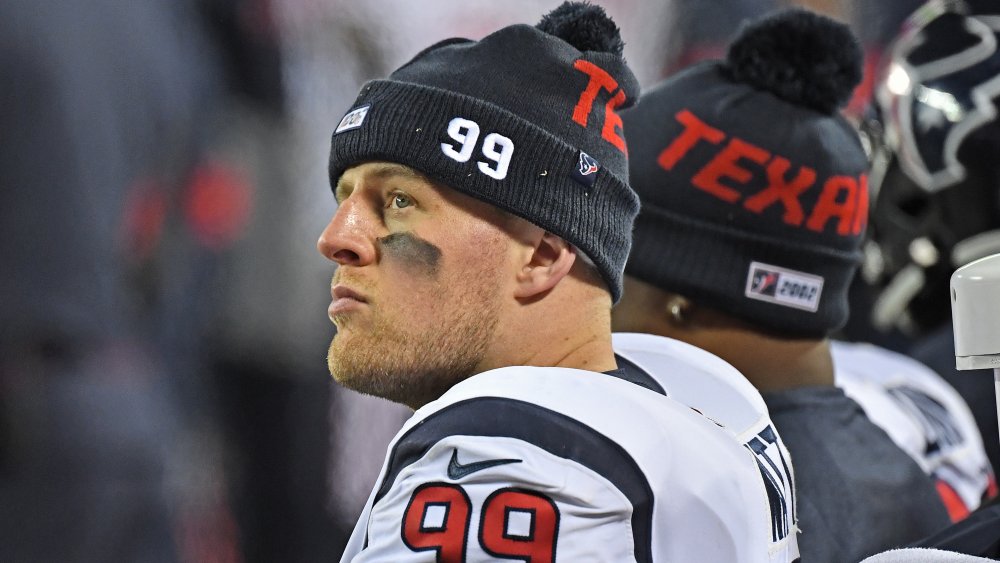 Peter G. Aiken/Getty Images
Houston Texans defensive end J.J. Watt, who is scheduled to make an appearance at this year's Emmy Awards on Sunday, isn't only a fan favorite for his undeniable talent and ever-increasing list of wins, but for his sportsmanlike and charitable persona. This winning combination is serving him quite well both on and off the field, as his current net worth is nothing to shake a stick (or a football) at.
Watt has racked up some impressive titles and credits over the course of his career, not least of which include being named Sports Illustrated Sportsman of the Year and a Walter Payton NFL Man of the Year honoree (via FanBuzz). Watt is the oldest of three football-playing brothers; the younger two Watt men play for the Pittsburgh Steelers. J.J. Watt began his NFL career in 2011, which would have been his senior year of college, as the number eleven overall pick for the NFL draft. Since then, he's earned First-Team All-Pro and Pro Bowl honors five times, and finished with more than 16.0 sacks in a season four times, which ties Hall of Fame inductee Reggie White.
So it's no surprise Watt has racked up not only healthy playing contracts but endorsement deals as well.
Salary, endorsements, and charitable giving, oh my!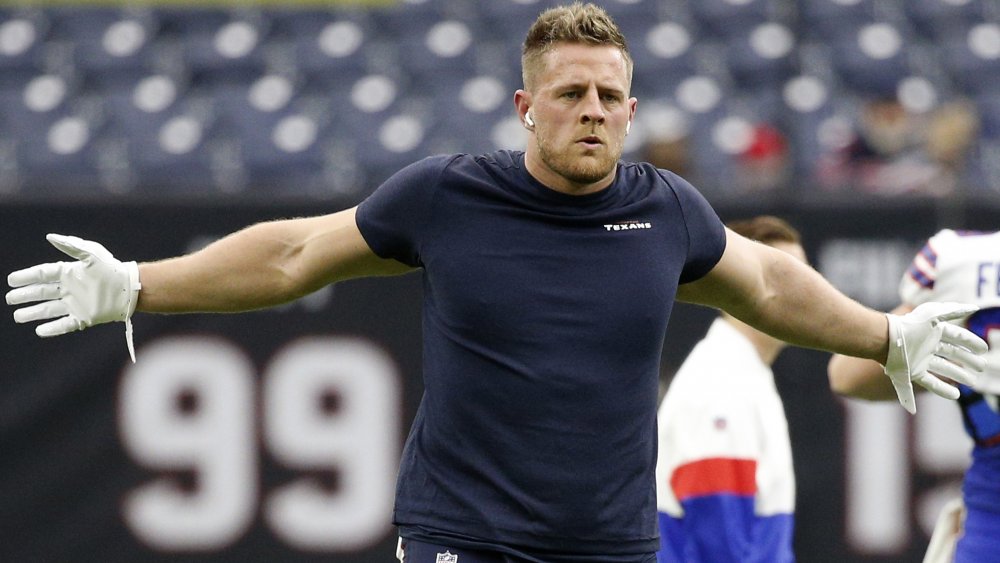 Bob Levey/Getty Images
In 2014, Watt signed a six-year contract extension contract worth $100 million, which, at the time, made him the second-highest paid defender in NFL history (via Sporting News). The details of this deal, according to FanBuzz, included $51.9 million in guaranteed base pay, a $10 million signing bonus, and an annual salary of roughly $16 million. The deal was later extended through the 2021 season. Add to that endorsement deals with the likes of Gatorade, Reebok, Verizon, Ford, HEB Grocery and NRG Energy, Papa John's, American Family Insurance, Bose, Yahoo!, and Fantasy Football, and that's a lot of income.
So what's the grand total? FanBuzz estimates that as of 2020, Watt is worth over $50 million. But lest we begrudge him even a dime of it, we should remember his remarkable charitable efforts. According to Sports Illustrated, Watt and his Justin J. Watt Foundation created a $37 million Hurricane Harvey relief fund that helped rebuild 1,183 homes and 971 childcare centers and after school programs in the Houston area. The fund also helped more than 108,000 kids, and over 239 million meals have been distributed to victims of the hurricane as a direct result of these efforts. And if that weren't enough, Watt's self-titled fund has donated money to more than 500 schools in 36 states to help them create after school athletic programs for middle schoolers.
Talented, incredibly wealthy, and good-hearted? No wonder Watt is among the celebrities folks are most excited to see appear at Sunday's Emmy awards; we can't imagine what else he has left to do, and yet we can't wait to see what he does next.