Gwen Stefani's ACM Awards Look Is Turning Heads
If there is anyone that knows fashion, its Gwen Stefani, who was given the Fashion Icon Award at E!'s People's Choice Awards in 2019 (via E! Online). And while she may have been known for her clashing prints, crop tops, and totally random accessories (via WWD), her look tonight at the ACM Awards promised to be a lot less ska and a lot more country.
The singer used Instagram to show off her outfit for the show — a white denim jacket with gold fringe and matching white denim cutoff shorts. Her bottoms were layered over a Stefani signature, fishnet tights, which were worn under gold metallic boots. Footwear News says these look a lot like Giuseppe Zanotti's metal croc-embossed boots, which features a 4.1 inch block heel.
Stefani makes no apologies for embracing a style that may be a bit of a departure from where it was before. In a 2018 interview with InStyle, she describes her fashion as "More feminine than ever before. It's probably because I'm super in love and have a really manly man [country music star Blake Shelton]. I enjoy letting that part of me come out now because when I was in No Doubt, I never thought of myself as sexy. Even in my 30s, I was a tomboy. I hardly ever carried a purse."
Gwen Stefani has a philosophy when it comes to fashion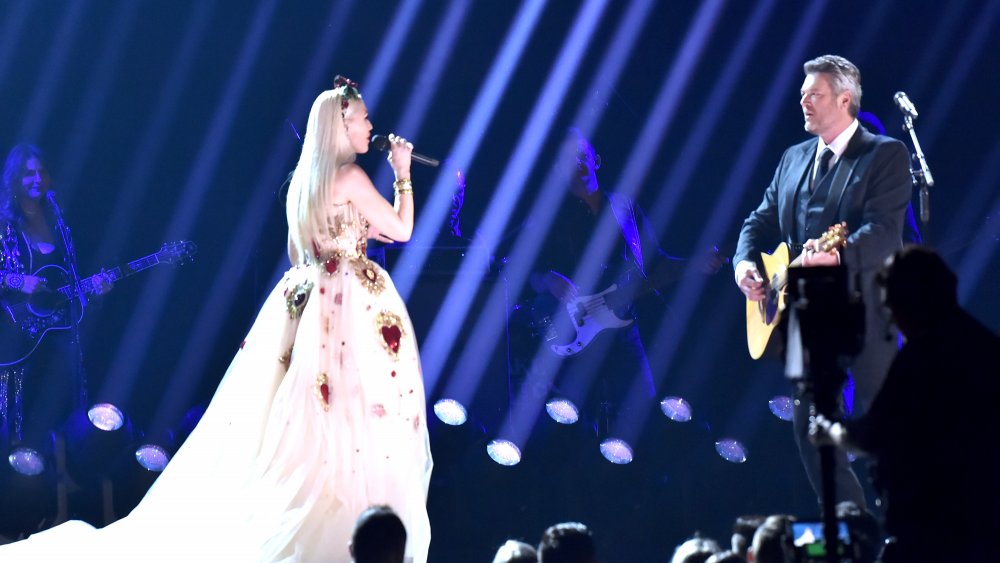 Jeff Kravitz/Getty Images
Some of her fans don't seem too happy with the transformation and left comments under Stefani's Instagram post to express their disappointment. One fan said: "You gotta go back to old gwen. This country gwen is just a no for me." Another fan wrote: "Please go back to No Doubt and follow your original roots." But for every naysayer there were supporters — one said, "You are the cutest human!!!!!!" Another fan commented: "Blake and Gwen are sooooo cute. Two very different vibes and style comin together!"
But if the naysayers expect Stefani to back down, they may have to wait a while. Gwen Stefani has said it is important to stay true to herself, no matter what music genre she happens to embrace. After all, it's not every day we hear celebrities say, "Fashion is about expressing yourself. No rules. If I like something, I don't really care if someone else doesn't."