Is A Hair Diffuser Really Worth It?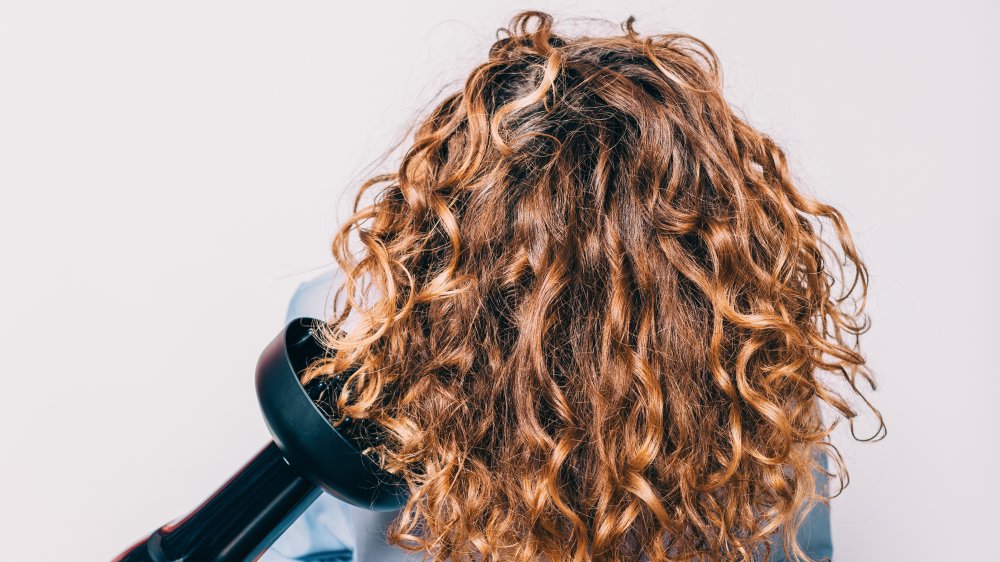 Shutterstock
Anyone with naturally curly or wavy hair knows what a struggle it is to achieve the elusive, perfectly spiraled, frizz-free curl. Pin straight peeps can never understand the pain of setting aside enough time to wash and dry a curly head of hair, let alone the number of products, and the amount of patience it takes to leave the house looking polished instead of poodle-haired. 
When it comes to fighting the war on frizz, the best defense is always a good offense. Aside from treating curls kindly with proper conditioning for moisture, gently using a wide-tooth comb for detangling, and always choosing a microfiber towel or T-shirt after washing, the best weapon in a curly woman's arsenal is a diffuser (via DevaCurl). 
Bumble & Bumble stylist Stephanie Diaz notes that a diffuser attachment for your blow dryer, "disperses the air to reduce frizz and keep from disrupting the natural wave pattern" (via Good Housekeeping). If that's a little too technical, Aveda stylist Chelsey Hildebrand breaks down the benefits of using a diffuser quite simply, stating, "It cuts dry time, reduces frizz, adds volume, boosts your curl formation and gives longevity to your style. It allows you to dry your waves, curls and coils in a controlled environment and is more convenient than air drying" (via Living Aveda).
The right way to use a hair diffuser
To truly reap the benefits of diffused curls and waves, you have to know how to use the attachment. First and foremost, after washing, set your curls with your favorite products that suit your curl type, including a heat protectant (via Good Housekeeping). Many experts recommend giving your hair 10 to 15 minutes of air drying time before you start diffusing to let curls naturally form (via Total Beauty).
Next, set the dryer speed to low and the heat to medium. Yes, it will take a little longer to dry your curls, but you'll avoid damaging your hair, causing frizz, and burning your scalp (via Good Housekeeping and Naturally Curly). Start diffusing your hair with your head flipped upside down. Then, focus the diffuser a few inches away from your roots — it will give you volume and curl definition. If you're looking for tighter curls, Aveda stylist Melissa Guido recommends that you, "Allow curls to fall in place over the attachment and scrunch up to your head, then hold for 30 seconds to a minute and release. This will set the curls and cause them to shrink up more" (via Living Aveda). Next, follow the same steps with your head leaning to each side to ensure even volume and a natural shape.
Finally, when your hair is about 80 percent dry, Diaz recommends letting it air dry the rest of the way to ensure your curls look bouncy and shiny. And most importantly, avoid touching them, or you'll not only relax the curls, but create frizz (via Good Housekeeping).