Jennifer Aniston's Unusual Pre-Emmys Look Is Turning Heads
Actress Jennifer Aniston is no novice when it comes to getting ready for the red carpet. IMDb states that the actress has been nominated for 85 different awards, going on to win 42 of those, including a Golden Globe, an Emmy, and multiple MTV Movie Awards. According to Vogue, getting "red carpet ready" is not anywhere near as simple as it looks, taking a team of people (and some clever tricks) to keep celebrities looking perfect. 
Aniston once shared that she even goes as far as to lay down in the back of an SUV on her way to red carpets to avoid wrinkling her carefully chosen outfits. Aniston stated that achieving picture-perfect red carpet moments is much "harder than it looks," so can anyone blame the star for using this year's remote awards ceremony as a chance to relax a little and take her time getting ready?
Jennifer Aniston posted a photograph to her Instagram page this afternoon, still clad in pajamas, wearing a sheet mask, and holding a glass of champagne. The awards ceremony expert captioned the post, "Emmys prep... in my other mask."
Jennifer Aniston is a pro when it comes to red carpet looks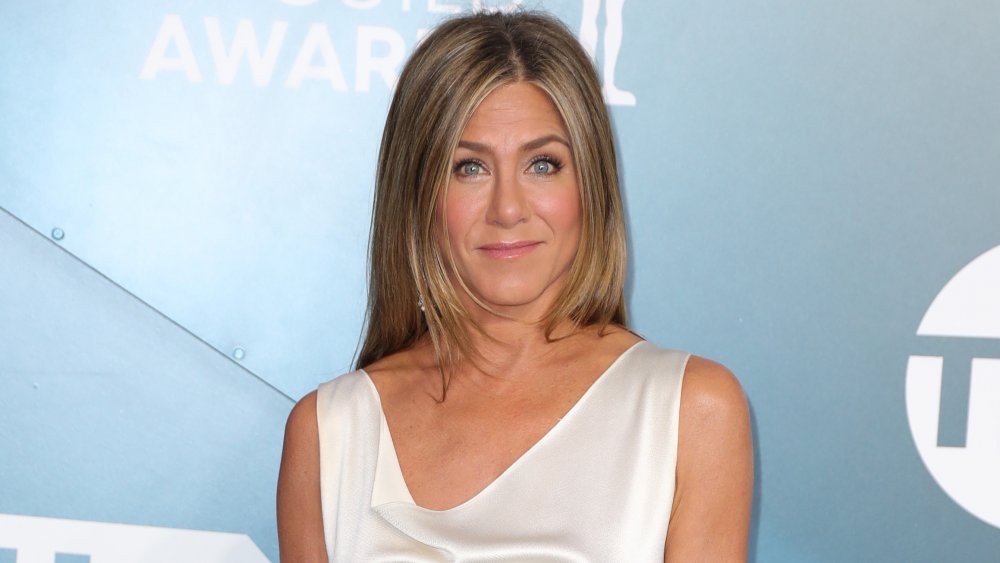 Leon Bennett/Getty Images
If anyone deserves to take a break and practice a little self-care in the hours leading up to the 2020 Emmys, it's Jennifer Aniston. The actress has been attending — and winning at — awards ceremonies since at least 1996, when the hit sitcom Friends won Aniston (and her five castmates) a Screen Actors Guild award for Outstanding Performance by an Ensemble in a Comedy Series. Page Six reports that this year, Aniston is nominated in the Emmy category Best Lead Actress in a Drama Series for her role as Alex Levy on The Morning Show, which airs on Apple TV. The outlet says that they believe Aniston is considered a frontrunner for the award.
According to People, Aniston's pre-show look came courtesy of sleepwear brand Pour Les Femmes. Page Six says that the luxury pajama set and matching robe, which are as of right now unavailable in the light blue color Aniston is sporting in her Instagram post, will set you back about $665. While those are some pricey duds, we're willing to bet they're a bargain compared to Aniston's usual red carpet looks.