Why Everyone's Talking About Dan Levy's Look At The Emmys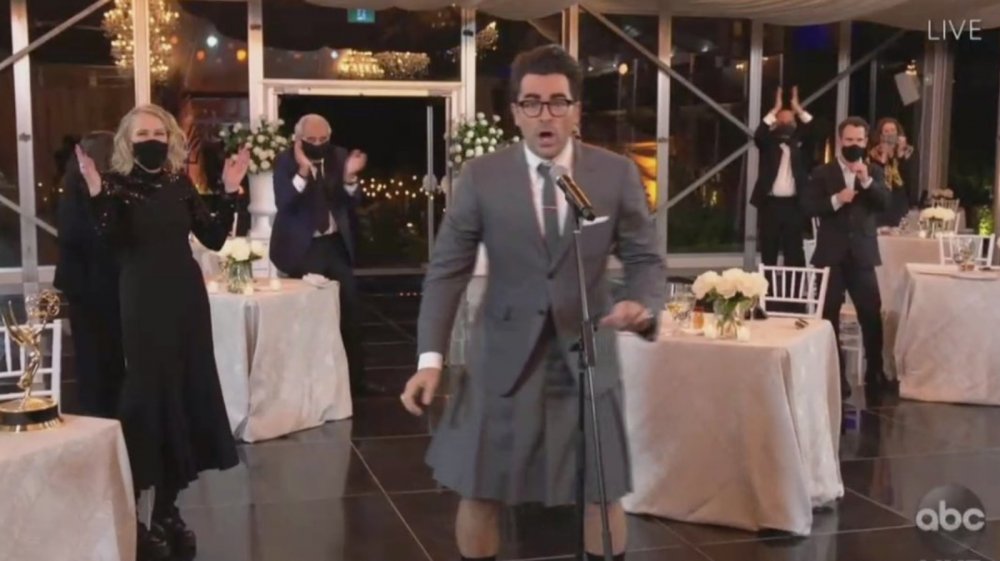 ABC
Fans of Schitt's Creek will know that Daniel Levy loves his fashion (in fact, Elle crowned him the show's style icon, over and above Catherine O'Hara, who plays the show's family matriarch, Moira). So it should come as little surprise that he opted to accept his Emmys by wearing a suit, complete with a kilt instead of normal dress pants.
This is not the first time Levy has worn a kilt — he also wore the Scottish-inspired bottoms designed by Alexander McQueen during his wedding in season six of his award-winning show.
The kilt might not be a normal sight in North America (Dan Levy is in Canada for the show), but they are a standard part of formal wear in Scotland. In its original form, the kilt is woven wool that is wrapped around its wearer. The kilt is considered to be Scotland's national clothing and is worn during both ordinary and special occasions. But this kilt was all-American, with designer Thom Browne putting together both blazer and kilt (via WWD).
Daniel Levy is a style icon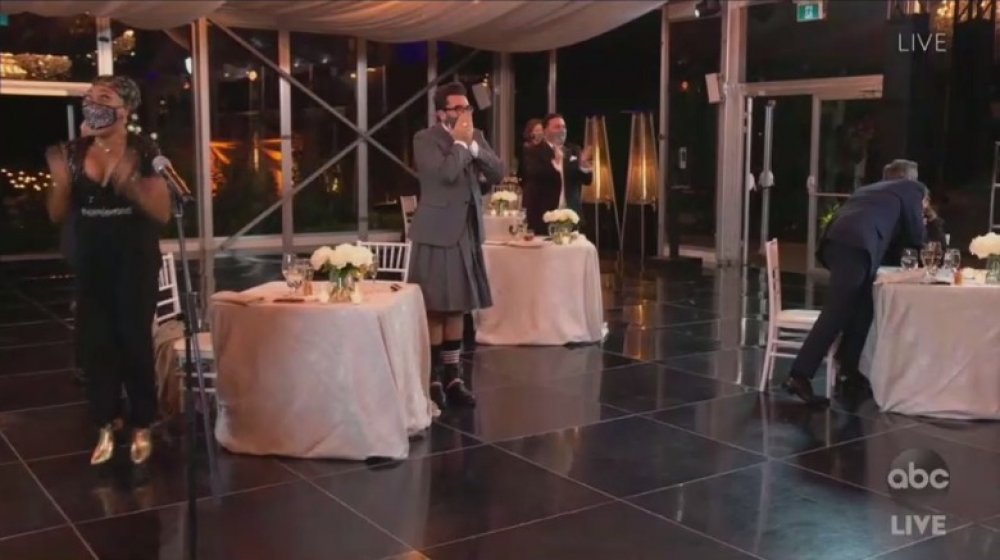 ABC
Suit designer Thom Browne paid tribute to Levy for his fashion-forward attitude, saying, "I am always a fan of anyone who is true to his or herself... this is true fashion... this is true style. I like to showcase these people in any way possible... We need more people like this in the world... bravo [to Levy] for his bravery and leadership," he said (via Page Six).
Dan Levy has told Elle he has made it a point to think about his character's outfits and the look eventually evolved. "I knew that it had the right amount of insanity to make the character look completely absurd in his surroundings," the actor told Elle. "I had always remembered this Helmut Lang mohawk hooded sweater. I knew that's what I needed for this scene... That's the joy of the show, the joy of the job for me, these clothes that I have admired for so long, getting to see, touch, feel, and wear them."