Kelly Ripa's Nutritionist Reveals How He Got Her In The Best Shape Of Her Life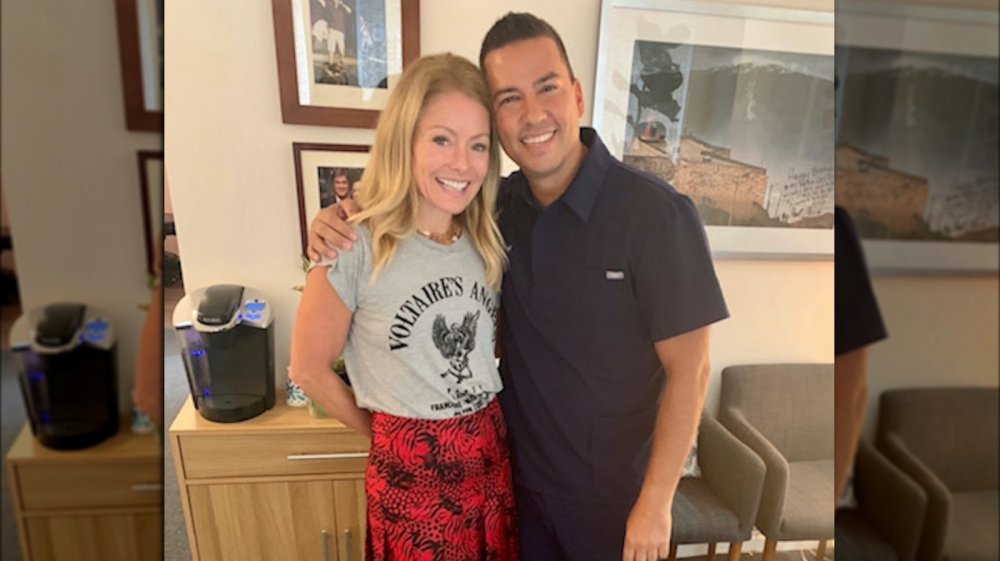 Dr. Daryl Gioffre
You wouldn't be the only one who caught a glimpse of celebrity Kelly Ripa and wondered, "Exactly what is that woman eating to look so fit?" As luck would have it, The List was able to score the answer to this question by interviewing Ripa's personal nutritionist, Dr. Daryl Gioffre, author of the diet book Get Off Your Acid. According to Gioffre, low acid foods explain how the bubbly and buff host of Live With Kelly! – who, incredulously, will turn 50 in a few weeks (per CheatSheet) — has managed to get into the best shape of her life. "In 2015, Kelly did my 7-Day Alkaline Cleanse, and after three days of eating a high alkaline, low acid diet, she felt amazing," Gioffre explained. "I've been working with her ever since."
What exactly does it mean to eat foods that are low in "acid," or high alkaline? According to Gioffre, we are talking about choosing fresh fruits, veggies, and other plant-based foods, and going easy on the highly processed items like fast food, cookies, and crackers. "The high alkaline foods Kelly eats are high in minerals, healthy fats, phytonutrients, fiber, and low in sugar," he explained. "They drive down inflammation, increase energy, and help improve every aspect of your lifestyle — such as workout recovery, immunity, sleep, digestion, joint and muscle pain."
This is what's on Kelly Ripa's menu, according to her nutritionist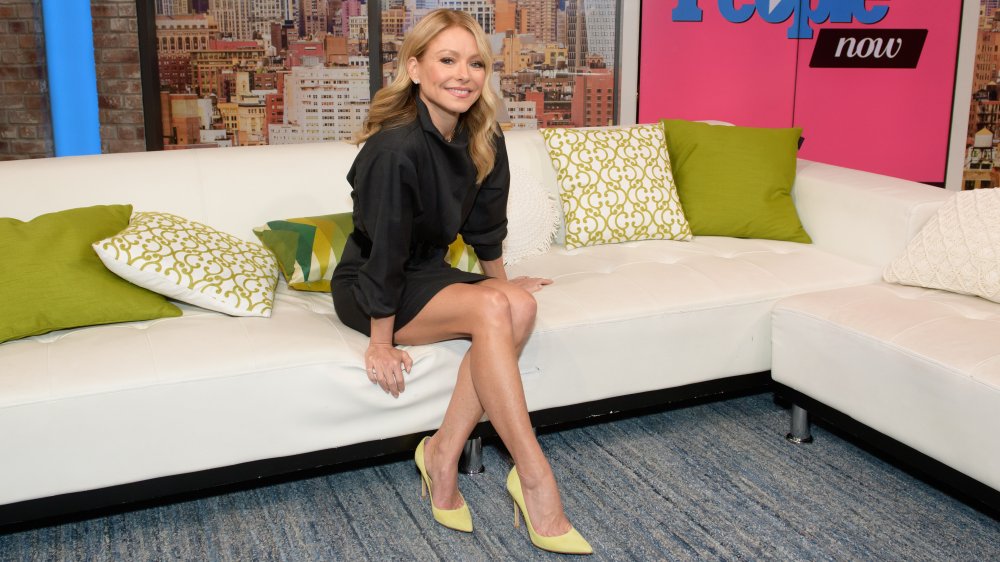 Noam Galai/Getty Images
Foods that help you sleep better and have more energy sure sound great, but what's actually on Ripa's plate? Gioffre said she loads up on "tons of healthy greens, healthy fats, [and] moderate protein — mostly plant-based with the occasional wild-caught fish," Ripa doesn't drink any alcohol and eats very little sugar or grains, he added. She starts off her day with a green juice, and, on some mornings, a detox tea.
After that liquid breakfast, the solid foods she eats are full of greenery as well. "For meals, she loads up on vegetables like sautéed spinach with lemon and olive oil, a salad with microgreens and avocado, or a soup, or a small piece of wild-caught fish," Gioffre said. 
Does that mean Ripa never has a treat? According to Gioffre, she follows his diet 80 percent of the time, so that she can enjoy an occasional indulgence and not feel deprived. "In general, she's a very disciplined person, but what I love most about her is how she does it with balance," he shared. This is an approach we all should emulate, Gioffre added. "Stop expecting perfection or the all-or-none mentality, and build a healthier routine around progress every day," he advised. "When you set realistic and attainable goals, you begin to build more confidence in yourself, and you'll begin to see progress stack in every aspect of your health."