Body Language Expert Reveals How Donald Trump Really Feels About The Upcoming Presidential Debates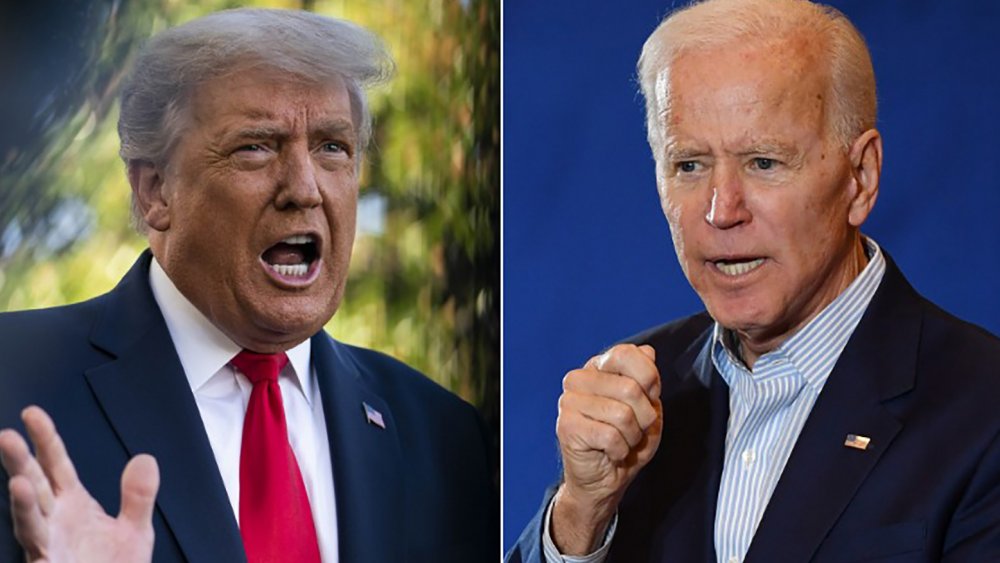 Sarah Silbiger/Getty Images/Ethan Miller/Getty Images
The upcoming presidential debates could be a make-or-break moment for President Donald Trump, who is behind in the polls and has said going toe-to-toe with challenger Joe Biden will expose that the former VP has mental impairment that would make him ill-suited for the most important public service office in our country (per The Washington Post). 
So how confident is Trump that he will emerge the victor? In an exclusive interview with The List, body language expert Dr. Renée Carr, a psychologist, as well as a political and corporate advisor, pointed to some subtle body language cues that potentially reveal how Trump really feels about debating his contender, who he has nicknamed "Sleepy Joe." 
The moniker means to imply that the ex-VP is "not all there," as Trump stated during a June 2020 interview, per Fox News. Dr. Carr told The List that "It's possible that Trump either had true information, or he observed and personally concluded that Biden was ill." The psychologist added, "He believes what he is saying... The sincerity of his thought is evidenced by Trump's softening of his eyes and voice." But just because Trump might believe what he's saying, it does not make it true.
Ready for more of Dr. Carr's observations? Here's what else the political advisor had to say about Trump ahead of the presidential debates.
Has Trump's opinion about Biden changed?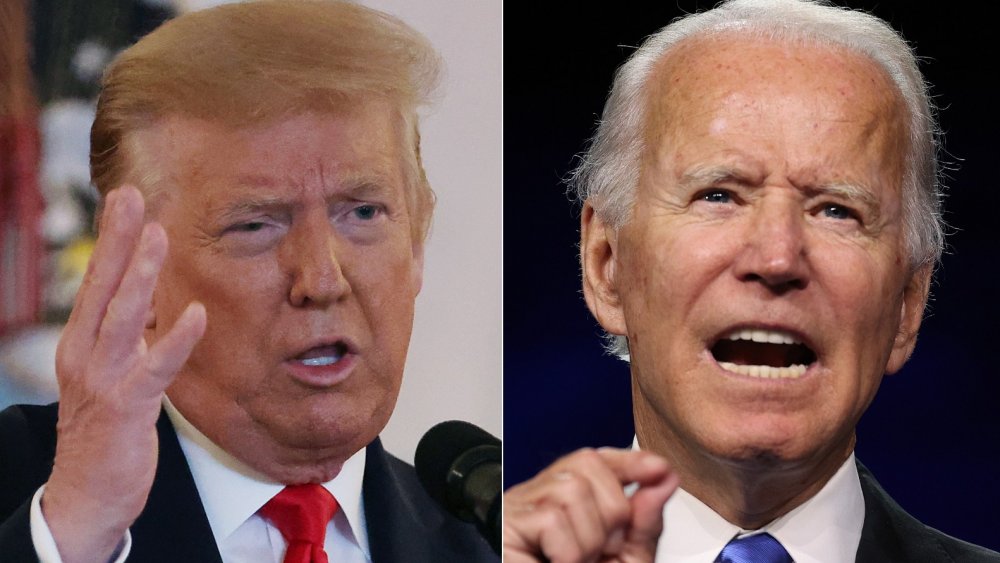 Chip Somodevilla, Win Mcnamee/Getty Images
Despite the "Sleepy Joe" label President Donald Trump bestowed upon Joe Biden, Dr. Renée Carr speculated to The List that the president's opinion about Joe Biden has since changed and that he now sees the Democrat as a threat. In fact, in August 2020, Trump called for a drug test before the first debate, seemingly implying that Biden has used illicit substances to improve his competency.
"This type of behavioral response is a way to reduce personal insecurities when a previously discounted opponent shows–or begins to show — an unexpected prowess," Dr. Carr told The List, referencing a past comment Trump made about Biden. "I don't know how he [Biden] could have been so incompetent in his debate performances and then all of a sudden be OK," Trump told The Washington Examiner. Dr. Carr explained, "This shows that President Trump previously regarded candidate Biden's debate skills as lacking and of no real threat. The only reason for an improvement in Biden's debating, Trump concludes, is that there must be some external factor accounting for an improved performance." She added, "This allows Trump to psychologically deny that Biden possesses any true internal characteristics or strength that pose any real threat to Trump's debating."
As for Biden's response to the drug test request? The former VP's campaign said, per Politico, "Vice-President Biden intends to deliver his debate answers in words. If the president thinks his best case is made in urine he can have at it." Trump responded on Twitter, writing, "Joe Biden just announced that he will not agree to a Drug Test. Gee, I wonder why?"
Trump might be using this psychological technique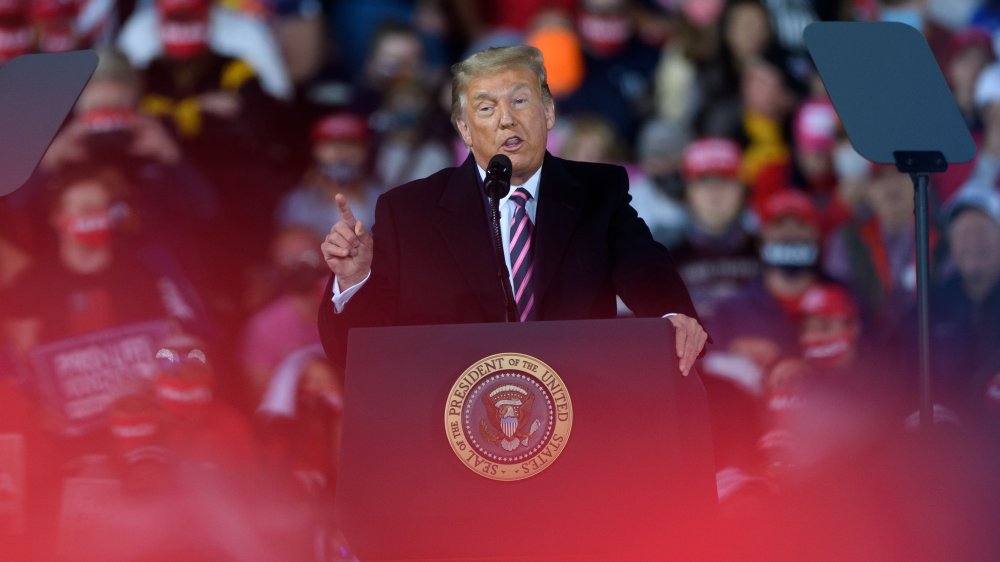 Jeff Swensen/Getty Images
In September 2020 during a rally, President Donald Trump said about Joe Biden, "Don't underestimate him." So what caused Trump's shift in thinking?  "By telling the crowd, 'Don't underestimate him,' President Trump is unknowingly using a psychological technique termed, 'inoculation," Dr. Renée Carr explained to The List. "He is injecting into the minds of his followers the thought that Biden might have a decent debate performance." This supposed inoculation is critical since Trump's spent years building up the "Sleepy Joe" perception of Biden.
Trump also warned of Biden's skill, saying, "He's been doing this for 47 years," which is another inoculation effort, according to Dr. Carr. That's because the comment manages the public's expectations and protects Trump's reputation in case his own performance during the debates is lackluster. But, per Dr. Carr, Trump isn't deploying the technique of inoculation simply to manipulate voters — he's also doing it to protect his ego. "By adding this fact, Trump is setting-up both a soundbite and ego protection on which he can rely on in the future in the event Biden outperforms him during the presidential debate," she explained. "This is a subconscious preparation and defense mechanism to avoid possible embarrassment in the future."
Of course, no one can really know what Trump is truly thinking. Either way, it will be interesting to see how all of this plays out at the presidential debates.