The Truth About Jazz Jennings' Siblings
Jazz Jennings arrived in the spotlight since 2007 when she was interviewed by Barbara Walters about being a transgender child. According to The New York Times, since the interview, Jazz has had a doll modeled after her, written a children's book and starred in her own TLC reality show, I Am Jazz. In the show, viewers were also introduced to Jazz's family, including her twin brothers Griffen and Sander and sister Ari (via Heavy).
Older sister Ari Jennings has a lot to be proud of. Before college, she was salutatorian of her high school. According to Heavy, Ari's former role as Princess Jasmine in a play is what inspired Jazz to pick her name. Ari is a self-proclaimed performer and shows her love for music sharing, "words can't even describe how much I miss performing on stage. Closing my eyes and singing to the world was my escape."
Jazz Jennings' siblings share the spotlight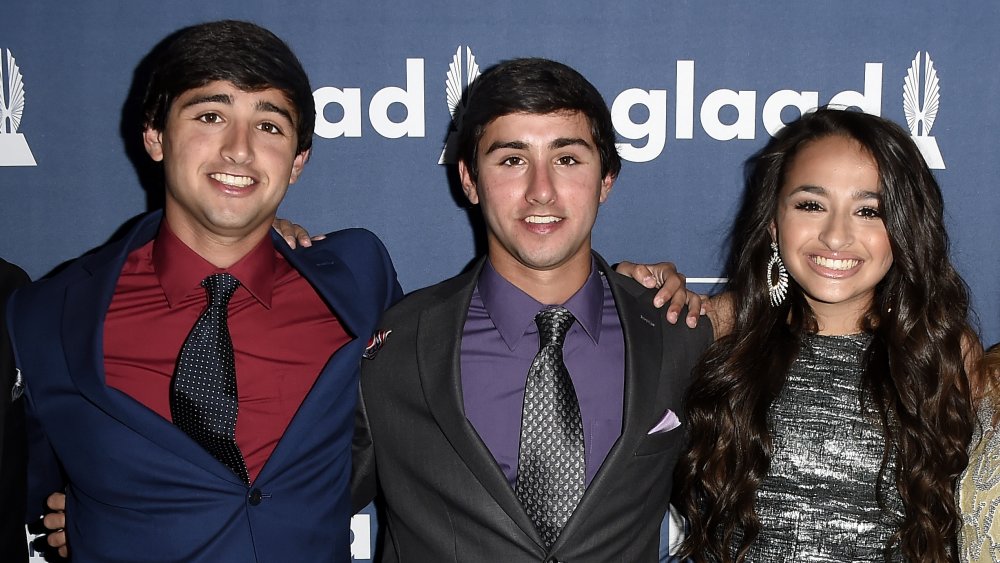 Frazer Harrison/Getty Images
Though Sander Jennings regularly appears on I Am Jazz, being a reality star isn't always fun. "I enjoy being on the show, but it comes with difficulties," Sander revealed in an Instagram post. "Many people do not support my family and I, which is tough. I stay strong for what I believe in though" (via Distractify). Sander clearly wants to use his platform for good, with many Instagram posts supporting the LBTGQ+ community alongside his many shirtless workout videos.
Sander is currently studying law with his twin brother Griffen at the University of Florida. According to Sander's Instagram, he can now add Chief Marketing Officer alongside his resume of awesome older brother and law student. Sander writes on his Instagram "I am excited to announce that I have become the Chief Marketing Officer for @pridepalacelgbt. Pride Palace is an apparel company aimed at encouraging all people to physically embrace their pride through innovative products, powerful messages, and a commitment to spreading love."
The Jennings siblings support each other
Jazz's older brother Griffen is also known for his supportive brother role on the show. According to his Instagram, he is set to graduate law school in 2023, and seems to be fully embracing the student life. "Turning stress into progress👨🏻‍💻 #lawschool #workhardeveryday" he captions at the bottom of a photo of him holding a coffee and working on the computer. Like his brother, Griffen uses his platform to support LBGTQ+ causes. He also loves to show his school spirit, frequently dressing in University of Florida colors.
What all three Jennings siblings have in common is their unconditional love for Jazz. When speaking about having a transgender sibling, Ari has advised, "Always be there for them. Support them. Listen to them. Never put them down. Just have an open mind and open heart and just always be there for them 100 percent" (per Heavy).