What You Should Know Before Buying Michael Kors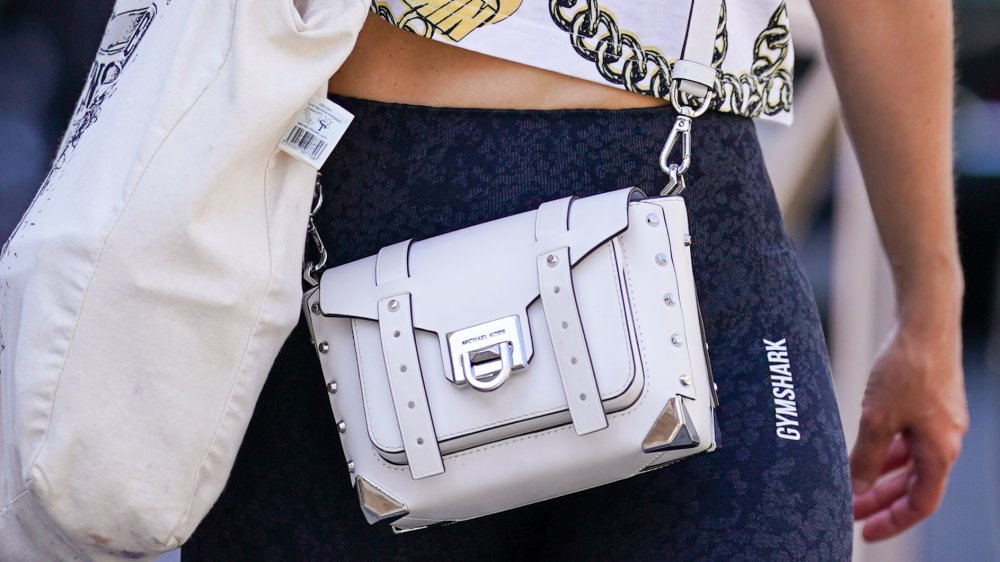 Edward Berthelot/Getty Images
There was a time when women wouldn't hesitate to drop a few hundred dollars to buy something with the name Michael Kors on it, but those days seem to be long gone. While Michael Kors is still positioned as luxury brand, it has has lost some of the luster that made it such a draw during its heyday in the early part of the 2000s.
As a label, Michael Kors is best known for its handbag designs and its use of Saffiano leather, which is created in a process originally invented and patented by Italian design house Prada (via Dalgado). The leather features distinctive diagonal lines and a cross-hatch pattern which is pressed by machine into the wax coating of the leather. The coating makes it possible to use cheaper, lower-grade leather — but this drawback is offset by the fact that the coating doesn't just make the leather sturdy, it also becomes resistant to stains, scratches, and water. 
Purses by the designer are often adorned with an MK print, with branded lining, or feature a signature keyring. The Chicago Tribune also says Michael Kors pieces are easy to identify because they will either have the designer's name on a metal plate, or a large MK logo, depending on the design. The prices on Michael Kors handbags range from $100 to $150 for smaller ones, with limited edition purses costing upwards of $500.
Michael Kors has an image problem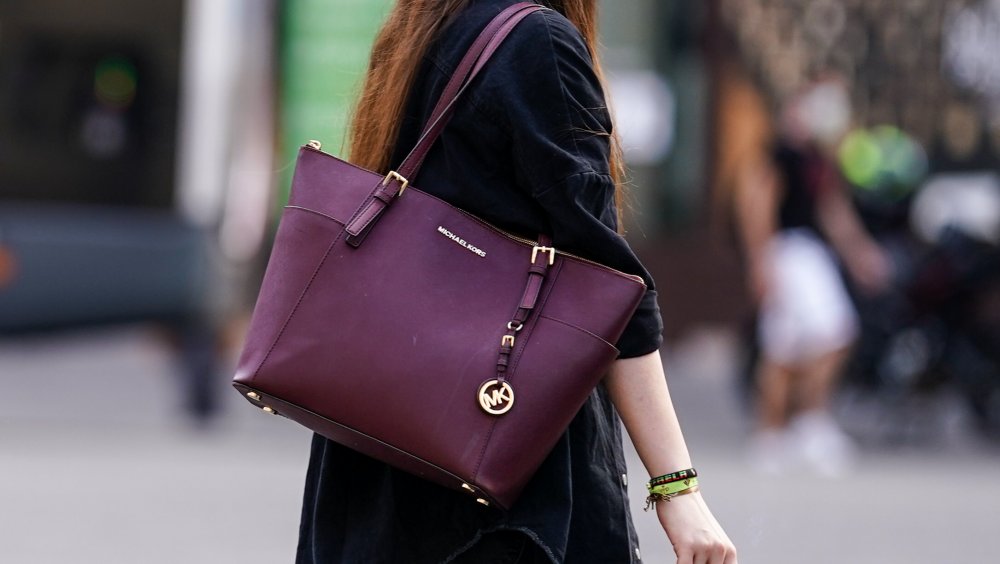 Edward Berthelot/Getty Images
Michael Kors has an image problem that ties in with its mid-priced line MICHAEL Michael Kors. Newsweek says the brand's association with department stores like Macy's has made the brand overexposed, visible everywhere, and less luxurious in the process.  
In November 2018, Neil Saunders, managing director of GlobalData Retail wrote, "While there is nothing wrong with a luxury brand being edgy or even gaudy, we would argue that there is a subtle distinction between this and being seen as lowbrow — and unfortunately for Michael Kors, it falls squarely into the latter camp. This is a shame as some parts of the range are appealing, but these gems get lost in a sea of 'stuff'" (via Business Insider).
Saunders said that Michael Kors also suffers from having a number of different labels at different price points, which all fall under one brand. It's "difficult to justify a $2,450 Michael Kors Collection handbag when a Michael by Michael Kors clutch bag is available in Macy's Last Act clearance section for a little under $51," he said.
So it seems with Michael Kors, it would be smart to wait until the design you want goes on sale (because if you've spotted it at a department store like Macy's, chances are it will), or go to an off-price retailer like TJ Maxx or Nordstrom Rack to have a look around.