Joe Biden's Pre-Debate Tweet Is Raising Eyebrows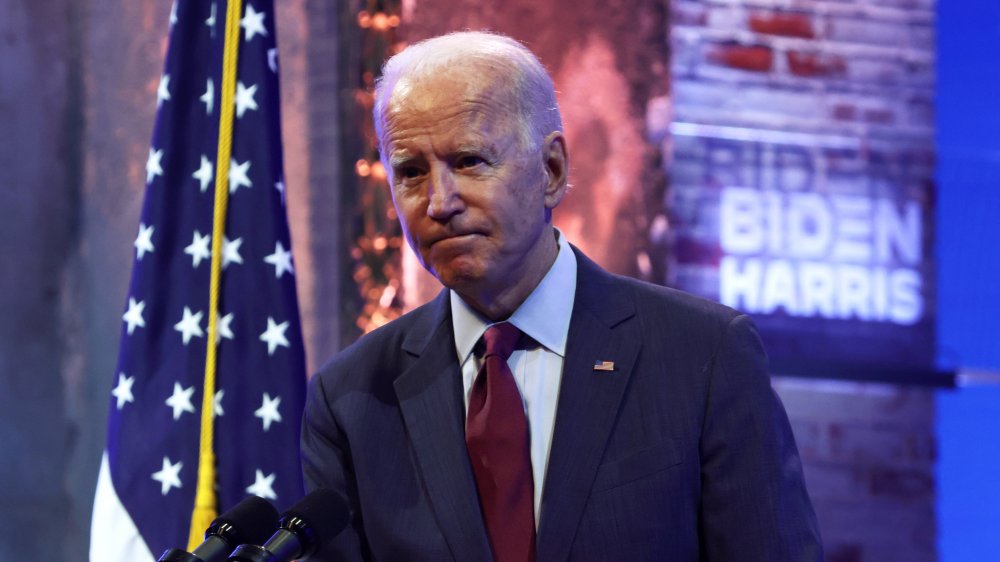 Alex Wong/Getty Images
Just hours before the debate, Fox News' anchor Bill Hemmer offered up this interesting tidbit: "The Trump team asked to inspect the ears of each debater for electronic devices or transmitters; the [Democratic presidential contender Joe] Biden team has not consented to that. The Biden team wanted to break every 30 minutes; the Trump team said we will not have that." In reporting the Biden earpiece conspiracy theory, Vanity Fair noted that the notion is now being reported as "legitimate" by certain news outlets. 
Biden's deputy campaign manager Kate Bedingfield has since responded to the conspiracy theory, saying, "It is completely absurd. Of course he is not wearing an earpiece, and we never asked for breaks. If we're playing that game, then, you know, the Trump team asked that Chris Wallace never mention the number of COVID deaths once during the debate. You can consider that confirmed from the Biden campaign. See how easy that was to try and throw out a distraction?"
An earpiece check was not the only request President Donald Trump had for his opponent. On Sunday, he demanded that Biden be subjected to a drug test in a tweet saying: "I will be strongly demanding a Drug Test of Sleepy Joe Biden prior to, or after, the Debate on Tuesday night. Naturally, I will agree to take one also. His Debate performances have been record setting UNEVEN, to put it mildly. Only drugs could have caused this discrepancy???"
Joe Biden responds with a tweet that turned heads
Just ahead of the debate's start on Monday, Joe Biden appeared to troll Donald Trump by offering an image of what his debate prep looked like in a tweet with the caption: "It's debate night, so I've got my earpiece and performance enhancers ready." 
Of course, one tweet can raise plenty of eyebrows, and this one did on both sides of the aisle.
One critic responded: "Sure Joe. You declined a drug test, ear piece inspection – something you always use in addition to teleprompters, and need breaks at 30 minute intervals. #UNFIT" Another said: "Ok, but why did you refuse to take a drug test and have a third party check for an ear piece?" A third tweeted: "Then why don't you consent for an inspection @JoeBiden if you are so confident. Show us Americans that you can do this without help. It may even sway a few of us. Otherwise we think you are hiding something."
Biden's supporters also took the tweet and went with it. "I love how you guys are so scared of Biden that you say he has dementia but now you say the only way he's going to be good tonight is because he will be fed the answers and is on drugs I mean how disconnected from reality do you live?" one supporter said. A second tweeted: "it will be SO great to have a president who actually smiles and cracks jokes. Not to mention honesty, integrity, and sincere concern for all the people in this nation...." A third simply said: "I'm ready for a President who understands the value of Jenni's ice cream."