What Kaley Cuoco Really Looks Like Underneath All That Makeup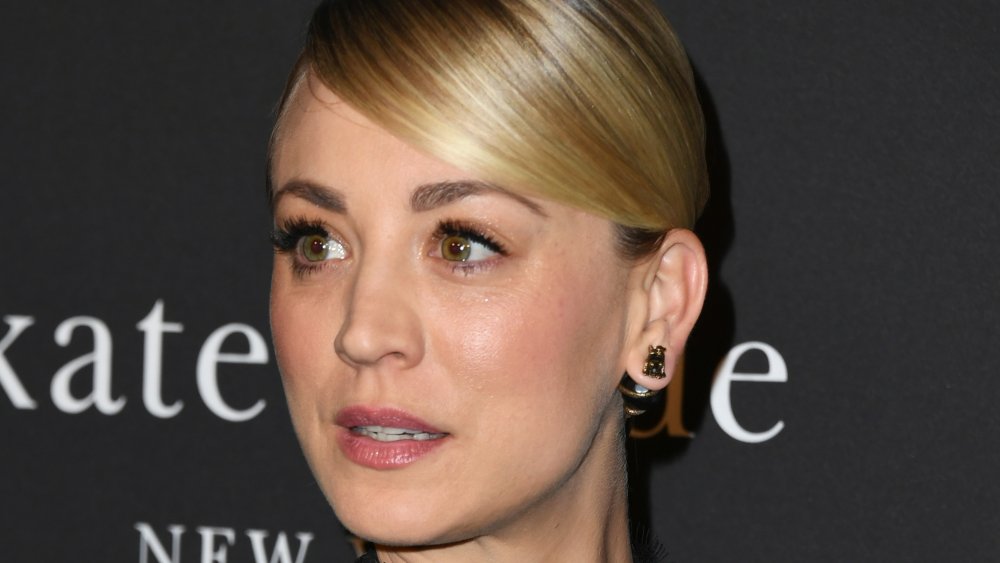 Jon Kopaloff/Getty Images
At just 34 years old, Kaley Cuoco has Hollywood in the palm of her hand, but the down-to-earth beauty seems more content spending time with her horses and dogs than indulging in celebrity decadence (via CBS). With her honesty about body image issues, plastic surgery, and acne struggles, Cuoco has grown into a woman who refuses to shy away from telling her fans the candid truth about life in the spotlight (via Cosmopolitan and PopSugar). It's that refreshingly straightforward attitude that bonds her with her supporters, and is just one of the many reasons The Big Bang Theory star is so universally adored.
With an acting resume that spans 30 years, Cuoco is as comfortable on a red carpet as she is at home in sweats, and she readily shares photos of both with her Instagram followers. Not surprisingly, she's stunning whether she's wearing Balenciaga or simply bare-faced with bedhead (via YourNextShoes and Women's Health).
Kaley Cuoco admits that plastic surgery and Proactiv helped give her confidence
A fresh faced and make-up free Kaley Cuoco at 34 is all smooth, clear skin, and confidence, but she didn't always feel that way. Many teens suffer with self-esteem issues, and hormonal acne doesn't exactly help. But when you're suffering with acne as a teenage celebrity, it's even more disheartening. Back in 2012, Kaley Cuoco admitted in a PopSugar interview that before she found Proactiv, she suffered through years of acne while filming 8 Simple Rules as a teenager. She explained, "I had acne as a teen and it made me so insecure to be on camera — not a good thing when you are on a television series."
Learning to feel confident in her own skin was a process for Cuoco, and like most celebs, she initially denied having any work done. However, she's looking to reverse the stigma of plastic surgery, and revealed to Women's Health, "Years ago, I had my nose done. And my boobs — best thing I ever did. Recently, I had a filler in a line in my neck I've had since I was 12...if it makes you feel confident, that's amazing" (via Cosmopolitan).
Amazing and confident is certainly a good look on Kaley Cuoco, whether she's glammed up or makeup free.