The Zooey Deschanel Cameo On Bones You May Have Missed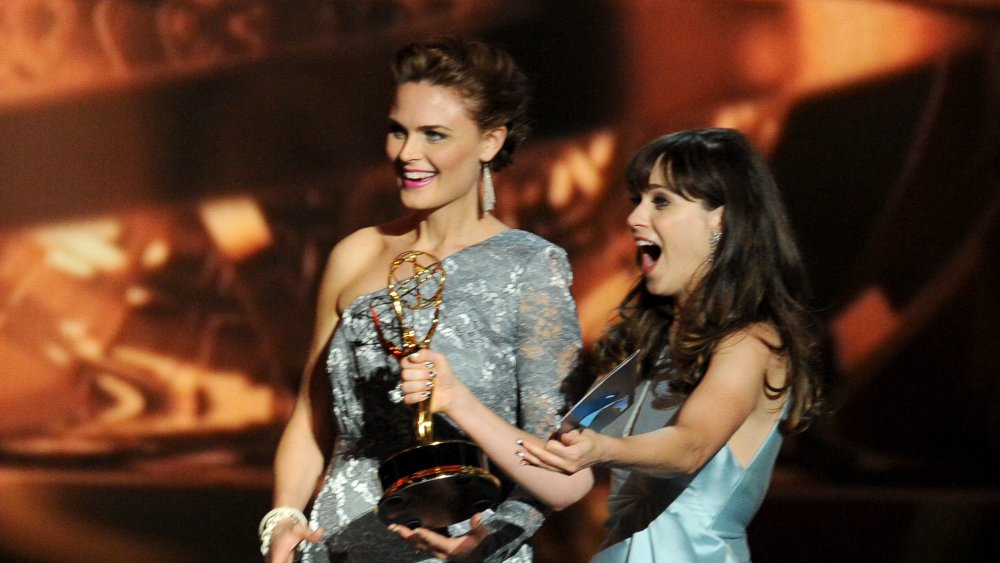 Kevin Winter/Getty Images
You probably already know that Bones star Emily Deschanel and New Girl star Zooey Deschanel are sisters, but did you know that Zooey once joined her older sister as a guest star on Bones? In 2009, Zooey appeared on the show's fifth season holiday special. And no, her character, Margaret Whitesell, wasn't Bones' secret, long lost younger sister—she was her long lost second cousin (via IMDB). 
In the episode, Bones' father even alludes to the actors' real life relationship, saying, "Well, it's an uncanny resemblance. You're practically sisters." (via YouTube) 
"I love the show – I think it's a great show. Emily's always great,"  Zooey said in a Fox interview about the episode (via YouTube). "She's not biased at all," Emily joked. 
"Emily's always interesting..." Zooey teased, side-eyeing her sister, but she reiterated. "No, I'm kidding." In the same interview, Zooey revealed that she hadn't seen any recent episodes of the show—oops. 
Emily and Zooey Deschanel on working together
The Bones episode marked the first time the sisters appeared together on screen, though they had been in plays together when they were younger. What was it like working together? "We had fun and hope to do it again sometime," Emily told BuddyTV, "but—" Here, Zooey interrupted her sister: "But not for too long." Emily agreed.
Zooey pointed out that, because Emily was a producer on the show, she was technically working for Emily. Not that that was a bad thing — she said the shoot went smoothly, and she had a great time. "You're one of my favorite employees," Emily told her sister. The pair also shared with BuddyTV some other celebrity siblings they admired: the Kardashians, the Olsen twins, the Arquettes. "I like those sisters who design Rodarte," Zooey added. "They're cool." Emily may never have appeared on Zooey's series New Girl, but there's plenty of time for more Deschanel sister collaborations in the future. Here's hoping!